I love unique places, weird locations – and even mark them by the Flyctory Obscura tag – The more I love it when these places are even entertaining or educative. The Takis Pattchis Museum of Industrial Pharmacy is definitely the latter, so that I wanted to share it with you as one of my first postings returning back from a trip to Cyprus. The museum is located right in the heart of Limissol (or Lemesos, how the city is called in Greek).
Museum of Industrial Pharmacy – Location & Admission
The museum is located right in the heart of Limassol. The Carob Museum and the Medieval Museum are direct neighbors of the place. The area is a nice option for hanging out for a drink or Cypriotic / Greek food as well. If you don't for the country's public transport, you will also find parking in the area. However, as in all historic towns, you may have to solve challenges of one-way roads, narrow lanes and rather small parking lots.
TheTakis Pattichis Museum of Industrial Pharmacy has free entry. It is opening from Tuesday to Sunday between 9:30 and 18:00 hrs, closing half an hour earlier on Sundays.
Museum of Industrial Pharmacy – The Visit
The museum is documented in Greek and English. Furthermore, there is an interactive screen, which allows you to dig deeper into any exhibit, as well as specific topics or the background of the museum. The level of documentation is fine, the staff is also very knowledgeable and helpful. For example, I did not get that tablets have been put into the blisters with manual help int he 1970's – and she explained it perfectly to me. In general, you felt the pride about his workplace of that customer service manager.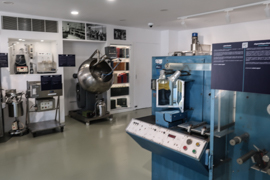 The museum is not overwhelmingly large, but it covers all parts of the production process. If you want to learn how to produce a tablet, fill a capsule or put ointment into tubes, you have the chance to have a look in here. Furthermore, there is a nice range of historic to rather modern scales which allow to accurately produce medicine. The background of the museum, by the way, is a company which is producing generic drugs on Cyprus.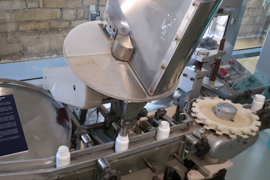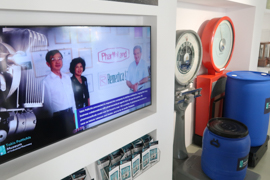 Museum of Industrial Pharmacy – Services
The museum does not have a shop or special services. As mentioned above, though, the staff was very friendly and motivated. We absolute loved to spend some 30 minutes in the museum.
Museum of Industrial Pharmacy – My View
I absolutely loved this place. They state to be unique in the world – and I feel they might be right. It is a very educative place which is focusing on a topic you typically might not care about too much. The great staff, the location and the presentation turns it into a great hidden gem in the world of small, specialized museums.
Flyctory Obscura
Flyctory Obscura-tagged reviews represent weird, unique, entertaining places of all kind:
Flyctory.com – Best in Travel 2022
Here are all Travel-related postings published in 2022 with a rating of 4.5 or better: