While nature lovers, highland road freaks and horse riders roll over Iceland in summer, the key attraction in fall and winter time are likely the Northern Lights in the Nordic country. Many tourists hope that during the couple of days they spend on the island at least one night will give that magical greenish gloom in sky. Not too surprisingly that there are not only tours to the best spot and masses of hotels advertising themselves as great sighting place. Aurora Reykjavik (rarely also called Northern Lights Center) in the heart of the Icelandic capital, however, is claiming to be the only museum on Iceland about Aurora Borealis. I had a look into it in October 2021.
Aurora Reykjavik – Location & Admission
Aurora Reykjavik is located at the harbor area of Reykjavik. Multiple other attractions are around, e.g. the Saga Museum, the Reykjavik Maritime Museum or Whales over Iceland. If you arrive by car, there is a gravel parking lot at Rastargata – but most visitors may likely walk in from their hotel or after they have been at one of the other places around or in city center. Bus 14 is also giving a convenient connection to the museum.
Aurora Reykjavik is open daily from 9:00 to 21:00 hours. Adult admission is 2,000 ISK, roughly 13.50 Euro.
Aurora Reykjavik – The Visit
The museum is very well structured. The first section is about the Northern Lights and mythology. This might sound a bit of weird at first sight, but people in the past had very different ideas and stories about why these lights occur – and obviously, their most straight-forward explanation felt to be some god-ish explanations. Thus, this section is much more educative, but also entertaining, as it may sound at first sight. As you see in the pictures, Aurora Reykjavik is really beautifully illustrated, all the presentations in the museum come in high quality.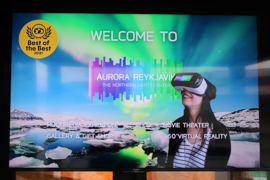 Thereafter, the visit becomes more scientific and the museum explains why Northern Lights are in fact happening and why Iceland is such a good spot to see them. Again, the section is very well done.
A lot of Insides about Icelandic Northern Lights
After that "basic and introduction", you learn a lot about Northern Lights in Iceland, including good spots. The museum, however, exceeds that part. The owners are obviously experts in the topic and have a lot of picture and movie material (you may later buy a DVD in the gift shop…). On screens, but also in a small cinema-alike location, you can explore some of the pictures they took on tours. A very cool thing is also that they have a section which tells you how to do perfect Northern Light pictures with your camera – there is even a "simulation chamber" to give it a practical try.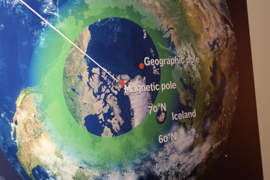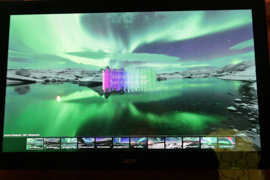 Your visit concludes with an a few minutes VR experience, which allows you to explore the Northern lights virtually. You even get a free hot drink at their small cafe – so if you feel the Icelandic cold while being on the VR tour, you may warm up right thereafter in a real world sense.
Aurora Reykjavik – Services
While you are enjoying the VR show and explore Icelandic Northern lights in this special way, you also get a free hot drink (coffee, tea or hot chocolate). Overall, the staff is super-friendly and helpful. In the cafe area, Aurora Reykjavik is driving a shop with a lot of Northern lights items, which also includes DVDs exclusively recorded by that place.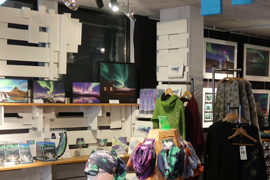 Aurora Reykjavik – My View
Aurora Reykjavik is a bit of a hidden place, but in fact a great experience. The staff is super-friendly and also helps you with a lot of hints to plan your own Aurora Borealis tour. The museum is giving you a great bunch of information. Even if you are not hunting Northern Lights on your Iceland trip, I would definitely recommend to visit them. It is a high quality place with very convenient opening times.
(Greater) Reykjavik
Here are all my postings related to (Greater) Reykjavik:
Museums & Exhibitions – 2021 Top Picks!
Here are the 2021 published Museums & Exhibitions reviews which lead to a Top Pick!: