If you use the Madrid Metro Line 1 between Bilbao and Iglesia, you will likely notice that you pass another station, Chamberí. Despite it is one of the original Metro Madrid station, it has closed its operation in 1966. However, the track is still in use. Due to the fact that the station has been quite well preserved, it could be opened in 2008 as a museum. I visited this interesting place in April 2019.
Platform Zero Chamberi received my "Hidden Gem 2019" Award as a non-well known, but great attraction.
Platform 0 Chamberí – Location
Andén Cero, how it is called in Spanish is located right at Plaza de Chamberi. The closest metro station is Iglesia. However, it is also just a short walk from Bilbao. You access the ghost station by a circular staircase or an elevator. There are no accessible ways to reach the tram station level, though. Together with the historic Pacifico Power Plant, which ones provided electricity to the metro, it acts as the Madrid Metro Museum.
Admission to the museum is free. The Opening Hours are limited, though: you may visit the Ghost Station on Thursdays, 10:00 to 13:00hrs, Friday 11:00 to 19:00hrs as well as 11:00 to 15:00 on Saturdays and Sundays. Likely due to safety regulations, the place roughly just serves 50 people in parallel – thus, you need to expect to wait in a queue overground before you are allowed to enter the museum. There are regular guided tours (for free). I guess, though, that they are done in Spanish only.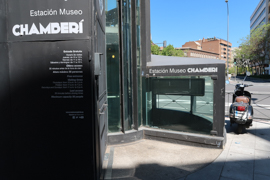 Platform 0 Chamberí – History
Chamberi was one of the first metro stations when the tram system opened in 1919. However, in the 1960's the Madrid metro system prolonged the length of their trains. As Chamberi was very close to Bilbao and Iglesia, it has been decided to close down the station. Until now, the station is still crossed by Metro Line 1 trains. There is just no stop at Chamberi. When you visit the station, you see the cars passing by. As the station had been bricked up, it was well conserved and kept its good condition until 2008, when "Andén 0" opened as a museum.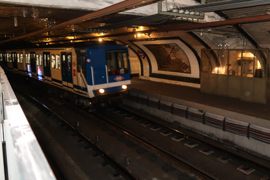 Platform 0 Chamberí – The Museum
After you went down to station level, you first see an introductory video. The seating is in an old staircase of the station, fitted with cushions. As I was just short before station closing and the video is in Spanish, I skipped it and just watched a little bit of it before I left. Quite nice one, though. Then, you are at entrance level. It is amazing how well the old facilities are preserved here. You see the old ticket booth and the gates.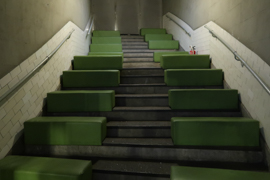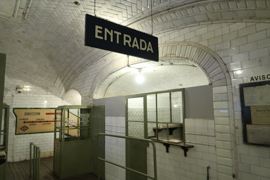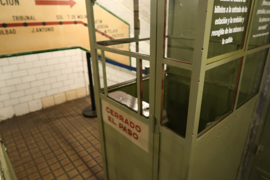 Though all the staircases down to platform level are still in great condition, only one platform, the Northbound direction one, is open for public. As the trains do not slow down at Chamberi, you are protected by a acrylic glass wall down there. On the non-public side, there are some screens which illustrate life at the operating times of the station. You can watch the lovely advertisements painted on tiles on both sides of the tracks as well.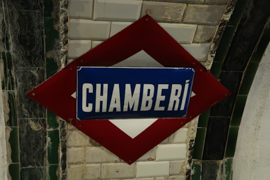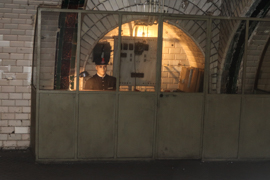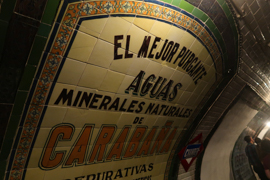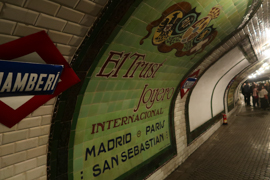 Platform 0 Chamberí – My View
Anden 0 is just a small hidden place in Madrid – but it is definitely a gem, which is worth visiting, even if you are not a tram or railway enthusiast. I loved my travel back in earlier times of the Madrid metro system and absolutely recommend you to visit it if you are around and have time for some queuing (I guess it much easier on weekdays). Lovely!
Technical Museums – Other Postings
Here are all other Flyctory.com postings dealing with technical museums and exhibitions:
Spain on Flyctory.com
Here are all postings about Spain: