If you are a puck-addict, Toronto is your Mecca – and the old-fashioned looking building at the crossing of First and Yonge Street is your temple: the Hockey Hall of Fame is a must-visit for every ice hockey fan. I felt having my third visit within five years, but being the debut in that place for my wife could be the perfect opportunity for a more neutral review of the exhibition.
Hockey Hall of Fame – Location & Admission
The Hockey Hall of Fame – or HHOF is very centrally located and just a very short walk away from Union Station (or King Station by Subway). The building itself is quite majestic – the entrance, however, is from Basement Level of the nice Brookfield Place, which also features some shops, a nice foodcourt and a Canadian coffee and hockey legend Tim Hortons store, which is nicely decorated with hockey memorabilia. You may also book some of the HHOF rooms as event venue.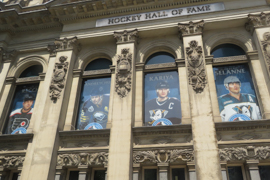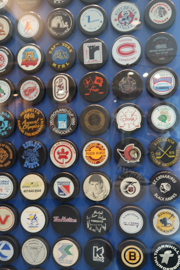 The admission is 20 CAD per adult. Your hand gets stamped so that you may enter and exit during your visit at the same day. Tickets may be pre-purchased online, which is likely only profitable if you feel you might spoil the souvenir shop after your visit – online ticket holders receive a ten per cent reduction on the prices there.
Hockey Hall of Fame – NHL Stars and Memories
Finally, these are the exhibitions you might go for when you visit the Hockey Hall of Fame: memories of stars of the game, old jerseys, equipment and other memorabilia. There is quite a vast collection – and it is really nice to see that the museum is not just looking at the players, but for example also on the managers. Another highlight exhibit is the Montreal Canadians locker room. Of course, there are also all Stanley Cup winners.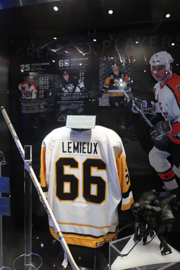 Hockey Hall of Fame – International Hockey
As it is the part of the museum, which is closest to European hockey, I absolutely love the section on international hockey. One key part is the IIHF Hockey Hall of Fame, which also includes some nice memorabilia like German manager legend Xaver Unsinn's famous hat. Another section deals with Olympic hockey – already updated with the heroic German silver medal in South Korea. The section I honestly like most is the exhibition of hockey jerseys of worldwide national teams – if you ever felt to see an Irish, an Australian or an Indian national team kit or just Germany and Austria side by side, that's the place to go. There is also some sort of interactive wall where you can click through memorable moments of the IIHF hockey countries. Unfortunately, whenever I tried to refresh my memories on German hockey, the exhibit crashed down. Maybe an Olympic Silver Medal was just not foreseen in the system 😉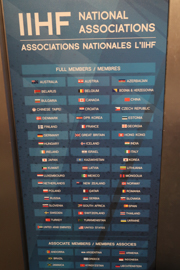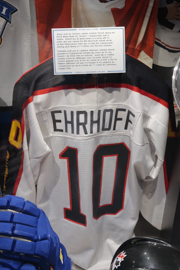 Hockey Hall of Fame – Temporary Exhibitions
The Hockey Hall of Fame tries to assign some space to temporary exhibitions. During my July visit, there has been an exhibition of goalie masks of all ages of hockey. The space was comparably compact, but in general, it has been sufficient to look at the design of different ages.
Hockey Hall of Fame – Interactive Exhibitions
I absolutely like the interactive part of the Hockey Hall of Fame: the two most eye-catching exhibitions are the live game experience, where you can either shoot against a virtual goalie or have to save the pucks from attackers storming towards you as a goalie (no reason to be afraid, they use soft pucks). I love the experience being a goalie. Around that area, there is also a space where you can comment a hockey match or battle a friend in a match of table hockey. There are also some quiz monitors.
You may review you goalie or sniping performances as video and share these on social media – unfortunately, this technical feature did not work at my visit.
Hockey Hall of Fame – Stanley Cup & More
The upper level of the exhibition hosts the highlight of the Hockey Hall of Fame: Yes, you may take a picture with the Stanley Cup! The staff is comparably friendly, they do not prevent you to take pictures by yourself – they are just not allowed to assist you.
But the so called Esso Great Hall features much more: all the NHL trophies are displayed in there and all Hall of Famers are shown on board in that room. There is also the original Stanley Cup displayed a bit too extravagantly in a vault. Quite impressive and maybe also quite unique to see so many original trophies in parallel. To exit the museum (through the souvenir empire, of course), you have to go back downstairs and take another staircase.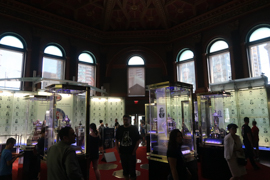 Hockey Hall of Fame – My View
If you are a hockey addict and visit the magical place for the first time, you will simply love the holy grounds of hockey. The masses of exhibits in a comparably small space and the display of all the NHL trophies are definitely impressing. Having been at the HHOF for the third time in a comparably limited time period, I have to add two views on that: first of all, you need to have a certain addiction to the sports… not just being interesting. The lower level of the Hockey Hall of Fame is finally majorly a collection of hockey jerseys, hockey skates, sticks and pucks.
The Habs locker room is impressive and I like the IIHF Hall of Fame wall, but there is not that much of diversity in the exhibits itself. Secondly, there are temporary exhibitions, which are quite interesting and amazing, but very limited in the space they have been assigned. I love to go to the HHOF and play a round or two at the goalie simulator – but this one could be located in any better video game arcade as well. Thus, like many speciality museums, don't visit it too often and it will keep its magic!
Toronto 2018 – Gallery
A full gallery of pictures taken during my time in Toronto in July 2018 may be found here:
Flyctory.com in Toronto
Here are all postings related to Toronto:
Flyctory.com about Ice Hockey
Here are all ice hockey postings on Flyctory.com: