Just some sneakers and high heels? The Bata Shoe Museum in Toronto promises much more than that and wants to introduce the visitor to the culture and history of shoes and shoemaking.  Thus, this place felt like a must-visit for a shoe lover and a shopping addict (me and my wife).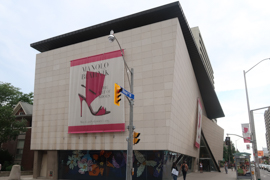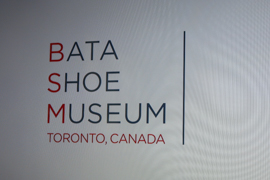 Bata Shoe Museum – Location & Admission
The Bata Show Museum is located on Bloor Street, close to the St. George Subway station and a short walk away from the Royal Ontario Museum. The building shall remind of a shoebox, while at least requires some creative thinking.
The adult admission to the museum is 14 CAD. There are also family ticket programmes. The museum is open from 10:00hrs to 17:00hrs, Sunday opening at noon. On Thursday evening, the museum opens until 20:00hrs with a suggested donation price during the prolonged hours.
Bata Shoe Museum – All About Shoes
You start your visit in the Basement where you start with All about Shoes, which gives an insight on the development of footwear over ages. In the recent history, it majorly covers ladies' footwear. A very interesting and also well-presented start of the exhibition, which leads you back to ground floor. There are also shoes from different regions of the world and shoes by decades since the 1900s. You also find special shoes like Apollo moon landing boots (spare pair) or shoes which have a very high plateau as this is necessary to reach certain elevated areas of an Arabian hamam room to drive it. Other highlights are shoes which have been originally worn by the pope or shoes which can be used to crack coconuts.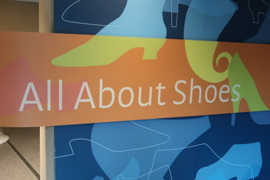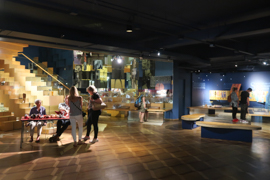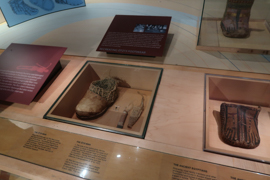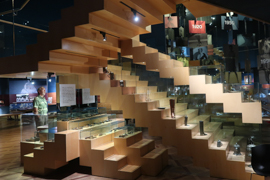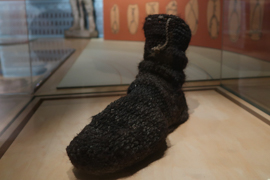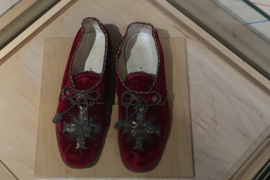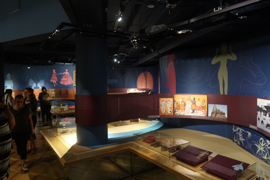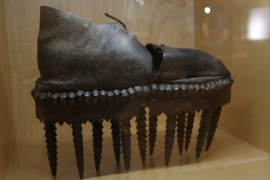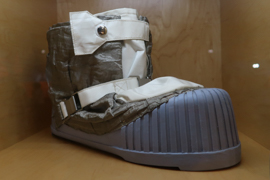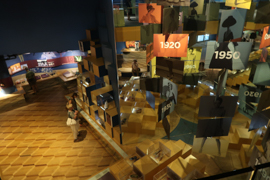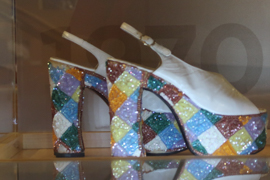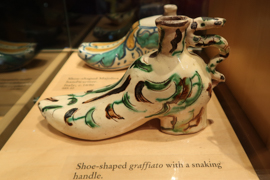 Bata Shoe Museum – Artic Shoewear
One key focus of the Bata Shoe Foundation is to drive and fund research on historic shoes in different regions. One key interest of Sonja Bata has been Arctic shoewear, so that this topic is also covered in the Bata Shoe Museum: the exhibition Art and Innovation: Traditional Arctic Footwear from the Bata Shoe Museum Collection illustrates the differences of footwear used in different Artic nations, including the materials and methods used. This might sound a bit lame, but was really interesting and thus one of the core exhibits of the museum. There are also some jackets and other clothing, items majorly made of different kinds of fur. The exhibition also shows how different cultures decorate their footwear differently.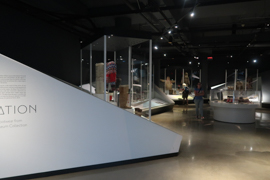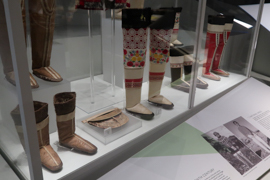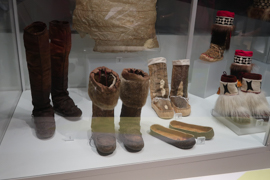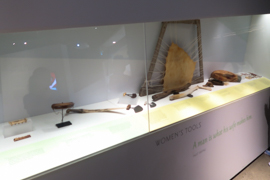 Bata Shoe Museum – Posh and Glittering
For those of you who are love to use shoes as an eyecatcher, I am sure you can add some ideas in the The Gold Standard: Glittering Footwear From Around Globe collection, which also gives views on how shoes have been used to be a bit more glamorous through different cultures and ages. Gold and glittering items are of course the key elements here, but also the idea of having extremely high heels or Chinese foot binding shoes.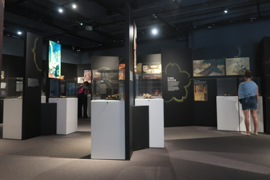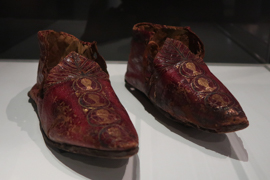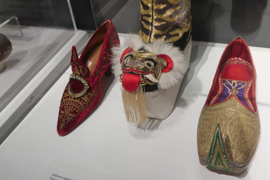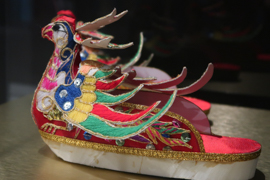 Bata Shoe Museum – Manolo Blahnik
Some people just headed directly from the entrance to third floor, which hosted a very special temporary exhibition (open until 6th January 2019). They did miss a lot of this museum, but somehow, due to the topic Manolo Blahnik, the somehow-godfather of amazing shoes, you might understand these people (majorly ladies) a bit. The exhibition does not just give you loads of very high-heel and posh ladies footwear, but also some interesting insights on life and work of the Canary-born designer star for footwear. For many shoes in the exhibition, there is also the original design draft painted by Blahnik in the gallery. Some of the shoes may feel too extreme, but in general, it is an amazing exhibition, which is included in the admission price. By the way: this exhibition is a moving one. It has already been to Europe before and might be around you after it leaves Toronto.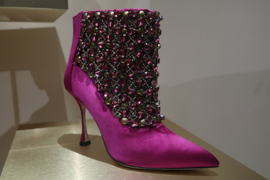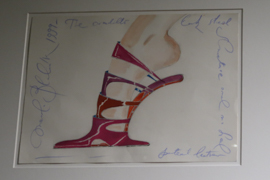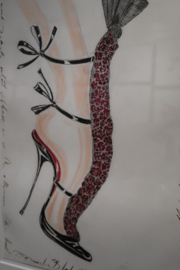 Bata Shoe Museum – There ARE Sneakers in there
Another small exhibition is located in basement as well: it deals with the work of shoe designer Bobbito Garcia, who worked with several companies and wrote some articles like "Confessions of a Sneaker addict". A couple of his designs are displayed in that area.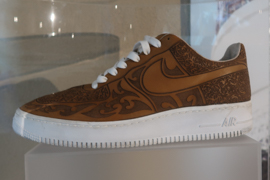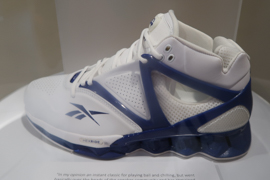 By the way: furthermore, you are able to try out some fancy (means: weird) shoewear in that area as well.
Bata Shoe Museum – My View
The museum is much more than having some sneakers next to some high heels: I loved the way it is educative and teaches me some new stories. As stated above, I have been absolutely impressed by the Arctic Footwear exhibition, but also liked the character of the other galleries. If you are in Toronto and have some 60 to 90 minutes time, you should absolutely visit this place – to me, it is a definite top pick!
Bata Shoe Museum – Online Museum
If you are interested in that topic, you might like to visit the Bata Online Shoe Museum, which is under development, but already covers some interesting topics.
Toronto 2018 – Gallery
A full gallery of pictures taken during my time in Toronto in July 2018 may be found here:
Flyctory.com in Toronto
Here are all postings related to Toronto:
Other Top Picks
Here are all other reviews which I rated as excellent and assigned the Top Pick! Award: