Expo 2020 Dubai
95 AED (adult one-day ticket)
Delayed by one year due to Covid-19, Dubai hosts the Expo 2020, the World Exhibition in between 1st October 2021 and 31st March 2022. I visited this interesting event (which was my second Expo after the 2000 one in Hanover, Germany) in early November 2021 and finally decided to share my thoughts about it in this general posting as well as general and overview posting as well as in dedicated postings about each section of the exhibition grounds. This posting also features the central Al Wasl Square. Hope you enjoy!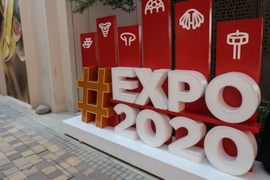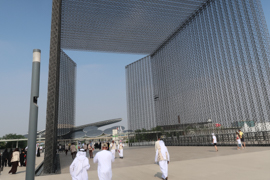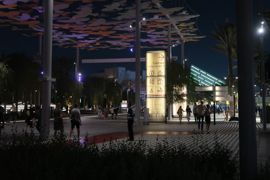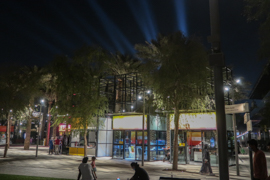 What is a World Exposition?
The World's Exposition – also called World's Fair is an international exhibition. The first world exposition has already been held in 1851 in London. However, until the 1980's the fair concentrated on presenting technical innovation and cultural exchange. The first time the wording Expo has been used was for Montreal 1967, which has also been branded as Expo 67. Baseball fans may remember the former MLB team Montreal Expos, which had been named according to the event. In 1988, the World Expo 88 in Brisbane, Australia, for the first time used a more national branding. Nowadays, it is an exhibition, which is majorly having two focuses: some countries rather focus on their potential to do business with them, while other rather try to improve their image and to attract tourists. Typically, current topics are in focus as well. Dubai features a lot of exhibits about sustainability, for example.
Expo 2020 – Location & Transport to the Grounds
The Expo 2020 grounds are located South of the city of Dubai. Dubai World Central Airport (DWC) is not too far away. On reason for that is that the Expo 2020 has originally been intending to boost the development of the airport, which so far has been a fail.
Expo 2020 by Metro
In general, there are two ways to get to the Expo: by metro rail or by road. The metro is likely the most convenient option. For the exhibition, the Red Line of the Dubai Metro has been split into two branches. The major part of the metro now heads from Rashidiya / Center Point directly to the Expo 2020 grounds. Therefor the original Red Line, which continued from Jabal Ali to UAE Exchange, did only commute between these four stations. For the new connection to the Expo grounds, six new metro stations and the upgrade of Jabal Ali to a transfer station had to be performed. The trip from there to the Expo 2020 grounds lasts almost twenty minutes.
While some parts of the Expo infrastructure feel to be built for rather low capacities, the new metro station feels excellent and very effective. We used this option for two of our three days of visit and have been really pleased with it.
Expo 2020 By Car
On our last day, we arrived at the Expo grounds by car, as we also had a hotel change from the Avani Hotel Ibn Battuta Mall to the ME Dubai Hotel. The parking areas around the expo sites are huge, there are several options at each entrance gate. Standard parking is free and includes a free shuttle bus to the designated entrance gate area. Dubai 2020 tells that nobody has to walk longer from his car to the entrance for more than 600 meters – which feels plausible after our experience. The shuttle service runs more frequently than every five minutes. There are multiple lines, but sufficient volunteers who help you if you forgot the right one.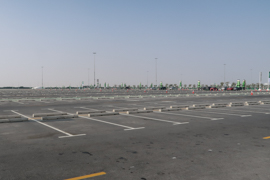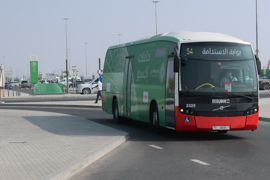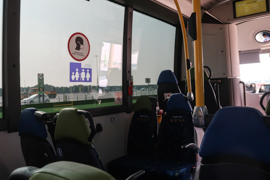 You may of course buy Premium Parking or go for a valet option to have quicker access to the grounds. If you happen to drive / have rented a Nissan, there are designated premium parking lots for you close to the entrance – an interesting part of a sponsorship deal.
The Posh Option – Stay at the Expo 2020 Grounds
Last, but not least, there is the coolest option for your Expo visit: you may stay at the grounds in the Rove Hotel Expo 2020. The prices there are really high, even for Dubai relation, but therefor, you are right at the ground and the ticket is included. However, your car is parked at a designated part of the normal Expo parking lots, so that you have to carry your suitcases to the hotel.
Expo 2020 – Tickets & Pandemic Measures
Especially as the ticket sales, there have been several discounted options in the first two months of Expo 2020, but in general, three ticket options: the one day ticket is 95 AED, about 23 Euro. People of determination, senior citizens and kids 17 and younger are free.The Multi-Day Pass is about double the price, 195 AED, but is already valid for 30 (consecutive) days after your first visit. A Season Pass for the whole opening from 1st October 2021 to 31st March 2022 is 495 AED. There are also tickets with lounge access and similar bundles. Expo 2020 initially stated that you have to explicitly reserve for certain high peak days – but so far, I haven't seen a single one noticed.
Before entering the grounds, there is an airport-style security screening. The information regarding what accepted / tolerated in your personal luggage are unfortunately not very precise. While, for example, food and beverages are explicitly banned according to the website, water is at least tolerated. I would definitely recommend to bring at least an empty (refillable) plastic water bottle with you on the grounds (see below).
Covid-19 Restrictions
There are rather high requirements regarding Covid-19 on the Expo grounds. You either have to be vaccinated or have a negative (RT-)PCR test to enter the site. The PCR must not be older than 72 hours. A single day ticket includes one PCR test at the Expo 2020 testing site (which means, you have to be there some one to two days before). If you have a Multi-Day Pass you even have the to receive up to three tests on yourself. On the Expo grounds and in the pavilions, there are Hand Sanitizer spenders almost everywhere. Mask is mandatory.
Smart Queue Options
Any ticket includes ten so-called Smart Queue options – something which you might know as Fast Pass or similar from amusement parks: you beat the line by having a fixed time slot at which you arrive at the attraction – or here: pavilion. Even though the website speaks of ten smart queue tickets per day, in fact you have ten active in parallel in the future: once you used a smart queue option, it is freed again. During our trip, it has even been helpful for very short notice arrivals and sometimes cut down our waiting time by 30 minutes.
However, there are some limitations: the key one is that some pavilions do not offer Smart Queuing. Two ones where this feels to be especially painful are the German pavilion (Sustainability District) and Japan (Al Forsan District). You have to queue there unless you are really important. Secondly, if you reserve too many of these options, you need to  have a really good feeling how much time you need for a pavilions – otherwise too much planing creates too many gaps. The Emirates Pavilions (Al Forsan) has a mandatory pre-reservation, but this is not part of the Smart Queue options. The fast option is booked via the Expo website or app.
Expo 2020 – Transport on the Expo Site
To ease commuting on the expo grounds, there are several options: the People Mover buses connect the different sections of the grounds. Alternatively, there are Expo Explorer routes with train-alike vehicles, which help you to move within a section. Active people may rent a bike for a ride or even a whole day. You can hire golf buggy drivers for single trips or even the whole day as well.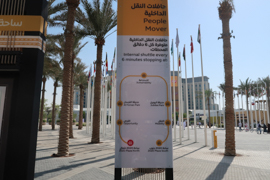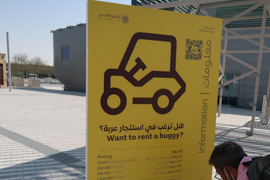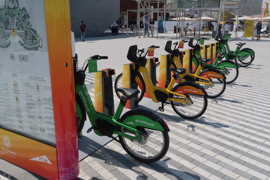 Walking around the Expo Grounds
The most straight-forward (and: most frequent) way of travelling through the expo grounds, however, is of course walking. If you are on a day trip and just have time for the highlights of Expo 2020 – or if some of the slot times available force you into long transfers, you may end up walking quite a bunch of steps. Luckily, the structure of the grounds typically do not really demand these long transfers.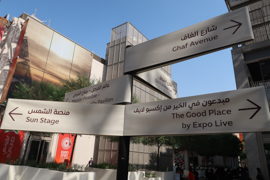 Expo 2020 – Overview of the Expo Site
The Expo 2020 grounds look a bit like half of a flower blossom to me. If you arrive by Metro, you definitely enter the ground through the main gate and head right into the main square, Al Wasl Plaza or Al Wasl Square. From there, you can reach all five districts or areas, which have different color codes. Three of the areas, Opportunity (orange), Mobility (blue) and Sustainability (green) have own entrance gates and facilities, mainly for road passengers. The other two areas are smaller and named Al Forsan and Jubilee.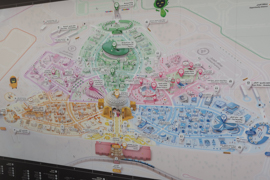 Each section is introduced in separate postings. Here are the five sections from left to right as in the map above – the linked once are already published:
Expo 2020 – Al Wasl / Central Square
The Al Wasl Square (sometimes also Al Wasl Plaza) is the main place of the Expo grounds. From here you can reach all sections of the Expo site. The dome-alike structure offers a great projection area for an evening light show. There are also music shows as well as a daily flag ceremony in this area. Some nice dining and shopping options are located the square as well.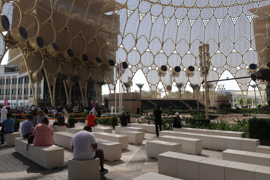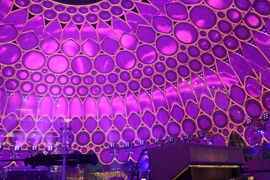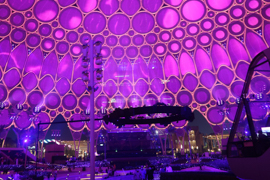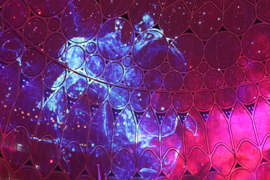 Expo 2020 – Events
During our visits, we were already too exhausted to visit some of the evening concerts which are held on one of the large stages – but the Expo 2020 program features some real world-famous acts. During our stay in early November 2021, there was Riverdance on stage, for example. The best option to stay informed is the Expo website.
The Expo 2020 Passport – Or: How Much Time Do I need?
The most popular Expo 2020 souvenir is the Expo Passport. For each pavilion you visit, you can stamp it at the end of the visit. Sounds like a cool challenge to complete this trip – unfortunately, it leads to the situation that (too) many people don't care about the presentations and just rush through pavilions to gain the stamp at the end.
Even if you do so, I would guess that you will at least need two days, maybe more, to finally end up with all stamps. In the section reviews, you will finally see that we visited some fifty country pavilions, which is a bit more than a fourth of all of them (total: 192). This took us 2.5 days. On top there are special topic pavilions and places run by sponsors. Even if you are really quick, you might need some five or six days at least. As these days are very exhausting, also due to the climate conditions, I would recommend not to do them in a row. Nice feature that the multi-day pass is valid for 30 days – you might take one or two relaxing pool or beach breaks in between.
Expo 2020 – Eat & Drink
From posh (a.k.a.: expansive) to basic options, there are a lot of options to grab a bite on the Expo grounds. Our favorite places were local-style restaurants driven within the major pavilions. Why not having typically Estonian food, for example. There is also a nice street food market in the Mobility district. One of the sponsors of Expo 2020 is a food delivery service, which even runs restaurant style places, to which you can order all kinds of food available on the grounds (and available in their systems). Fun to see the automatically moving robots on the Expo grounds. A very good option to grab a quick bite are the Zoom convenience stores which are located in all Visitor Centres.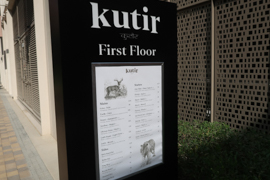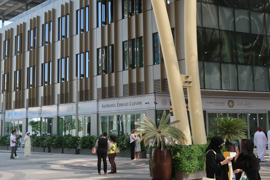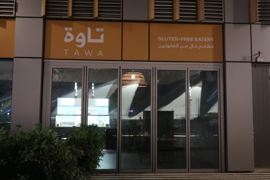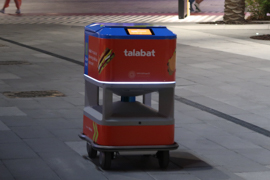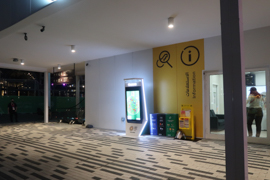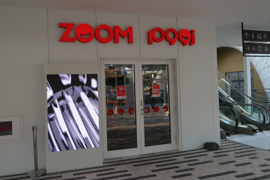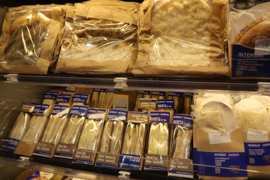 Drinking Problems…
One huge problem due to the U.A.E. climate is hydration. We too frequently saw people being driven away in the golf buggies with the red and blue ambulance lights. Unfortunately, Expo 2020 does not to a good job there. I highly recommend to bring an (at least empty) water bottle with you. There are water dispensers all over the ground. The posh ones sponsored by Aquafina even give you water with a selection of flavors for free. You are asked to buy a bottle with a QR-code, but there is a sample next to machine.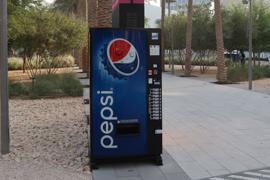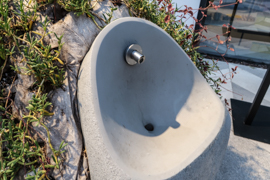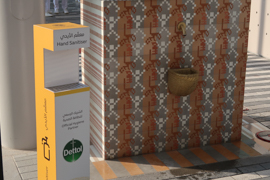 However, neither the locations of the (often sold out) chargeable Pepsi/Aquafina can dispensers or the free water dispensers are marked in the official Expo maps. The drinks dispensers are thereby very cheap (2.5 AED, about .60 Euro), I also paid for the same can four times the price in a food court. We also questioned ourselves whether drinks being sold majorly in cans is a good statement for sustainability. Even with mandatory-to-buy bottles, the Aquafina sponsored machines would have been such a great deal, but the company pavilion told us that at our time of visit, they were just available in three pavilions.
Expo 2020 – Shopping
Of course, you have the opportunity to spent some extra funds and take the Expo home with you. There are not that surprising options like shirts or plush toys, but also very posh items to buy. Apart from that, most pavilions sell some local products in small shops close to the exit, which I absolutely loved.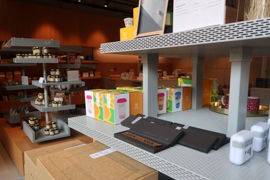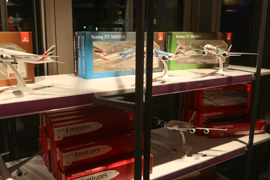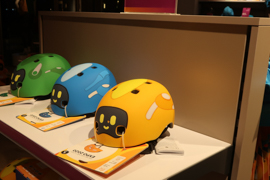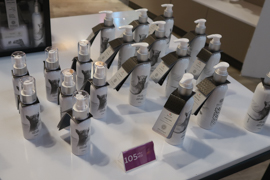 Expo 2020 – Services
There are a few luggage lockers. I would not rely that you get one, though, they feel to be really limited. The staff is super-helpful and really ease your visit. For major parts of the grounds, there is free WiFi available. However, I still preferred to use a tourist SIM, just because it is more flexible.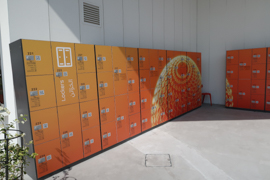 Going with kids to the Expo? The key issue might be the climate (especially if you are not local) – but the world exposition definitely gives you memorable experiences for the small ones. There are also some playgrounds at Expo 2020. Many school groups visit the place as well. Last, but not least, you can chat and become friends with one of the mascot robot. If you are doing a really good job, they will even give you a smile for a selfie picture.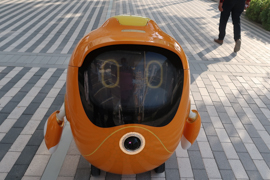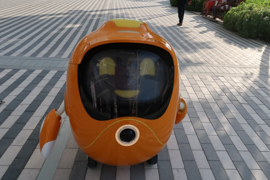 Expo 2020 – My Favorite Pavilions
The best pavilion on the Expo 2020 is likely the Japanese one – but as I wrote in the Al Forsan district post, you need a lot of time to get into it. My favorite pavilions were:
Best Themed Pavilion: Terra in the Sustainability District
Best Large Country Pavilion: Germany in the Sustainability District
Best Mid-Size Pavilion: Thailand in the Mobility District
Best Small-Size Pavilion: Cambodia in the Sustainability District
Best Sponsored / Partner Pavilion: DP World in the Al Forsan District
I feel all of them should be on your bucket list, even on a one-day visit. Apart from Germany, the queues in all those pavilions are reasonable.
Expo 2020 – My View
For me, who is interested in so many nations and loves to travel, Expo 2020 is a dream. You at least get a short view into so many countries. Most of the organisation is great – the issues about water supply, however, definitely spoiled my visit. Some pavilions like Japan or the Emirates (airline, not U.A.E.) pavilion are just too limited in their capacities. If you plan a trip I would definitely recommend to go for some rest days in between of your visit days as well.
Expo Postings
Here are all postings about Expo World Expositions, currently only the 2020 one held in Dubai:
Flyctory.com in Dubai
Here are all postings about the entertainment wonderland Dubai: