While I did the "traditional Flyctory.com way" on the outbound trip from Dusseldorf to Krakow and flew LOT Business Class, I went for the alternative on the inbound return: I went by rail. The first part of the trip was serviced by the star of Polish state railroads PKP, the Express InterCity Premium, short: EIP. I was really curious about how it would be like to travel the Polish high- speed train. My first stage took me from Krakow to Warsaw, where I had a night before going back to Germany. Here are my thoughts.
Express InterCity Premium – The Network
The main operating network is the so called CMK Central Rail Line. It connects Warsaw with Krakow or Katowice. CMK stands for Centralna Magirstrala Kolejowa, the tracks have been completed in 1977 already and could have been the first high-speed rail tracks in Europe – if there was according rolling stock at that time. Trains are typically prolonged, e.g. to Wroclaw. The train I was riding (see below) started in Krakow, but then went on from Warsaw to Gdansk and further on to Kolobrzeg in the very Northwest of Poland, very close to the German border.
Express InterCity Premium – Rolling Stock
Riding the EIP in Poland was like meeting a good, old friend: since 2013, the PKP is using Alstrom ETR 610 New Pendolino trains on their EIP service – the same model family which Swiss Rail uses to operate the ECE 451 / 452 between Frankfurt and Milan. For the PKP, the Model is called ED250 – this model does not come with the technical key feature of the Pendolino trains, the tilting in curves to allow for higher speed. Each train comes with seven cars, one of them only being first class. The total capacity of the silver and blue high speed train, which made 291km/h on Polish rails on speed tests, is 57 people first class and 345 second class.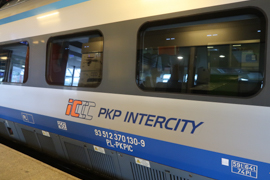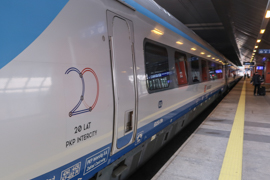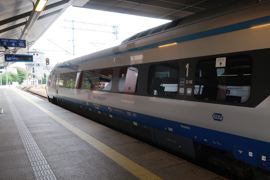 Express InterCity Premium – My Trip
My ride was the EIP 3800 on 29th August 2021. The train was expected to leave Krakow on time at 13:47. Until Warsaw Zachodnia, the train ran non-stop. If you book early, you should get a first class ticket, non-refundable, for some 129 PLN (about 30 Euro). Tickets go on sale a month before the trip. However, I had severe issues paying with a German credit card. Finally, I bought a ticket from Krakow to Germany, which may lead to some really nice discounts. Booking and seat reservation is mandatory. The total ride time is about 2:30 hrs from Krakow Glowny to Warszawa Centralna – comparing to a Google calculated time of 3:15 hrs / 292km. This also underlines by thought that there are quite some parts of the route at which the train cannot travel at full speed.
Express InterCity Premium – First Class Wagon
The first class wagon is at one end of the train. Already before entering the compartment, there are luggage racks – and there are some more in the first class area as well. Smaller luggage may be placed overhead as well. Seating is a classic 2-1 seating. Some seats are facing each other with a foldable table in between. There are power sockets for every seat as well as a reading light over your head. Like in the German ICE train, you have displays, which might even be able to show reservations – but it just replicated the seat numnber, which felt a bit of odd to me.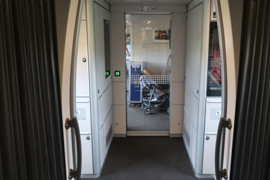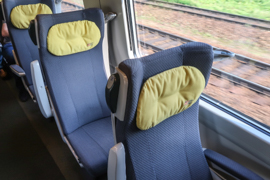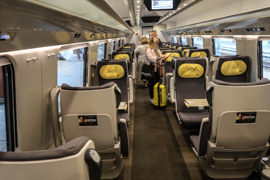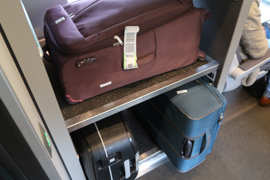 The toilet was a typical train toilet. However, the people in the train were really a bit rude regarding their behavior. The share of people wearing masks during pandemic restrictions was very low, also compared to the passengers in the Berlin-Warszawa Express the day later. The toilet floor was already wet and ugly before we reached Warsaw. You need to emphasize that the train was put in service and cleaned in Krakow before.
Express InterCity Premium – Service
There are a lot of overhead screen in the Express Intercity Premium in Poland. However, they were only used for security advice and advertisement. You never had a map where you are, information about your trip or the schedule of the train. I felt that was really poor. All announcements are Polish only. However, the staff was really attentive and friendly and spoke English when they got that I don't speak their language. The train features in-train WiFi, which actually worked quite well. However, you needed to re-login every fifteen minutes. Not sure if I could have done better – all the screen instructions were Polish only.
First class cabin features sandwiches and two snacks. You could choose between three different buger bun alike sandwiches, which were actually really nice. In addition, I had coffee and water. I really appreciated that service.
Express InterCity Premium – My View
The Express InterCity Premium was definitely a nice experience. It is good, modern standard of traveling with really nice service. Even though stations like Warsaw Central still need some refurbishing to be really efficient and attractive, I feel rail definitely beats other transport between the two large Polish cities.
"Rides on Rail" Postings
Here is everything about trains, trams and other rail vehicles:
Flyctory.com Sports Coverage
Here are all different postings about all kinds of sports: