The Covid-19 situation limited my potential to travel between Dubai and Abu Dhabi during the last two years. One place I thereby deeply miss is the Last Exit road stop between the two emirates. During my visit in February 2022, I had a look at one of the other Last Exit outlets, at Al Khawaneej in the North of Dubai. Here are my impressions.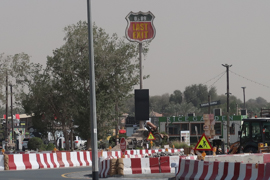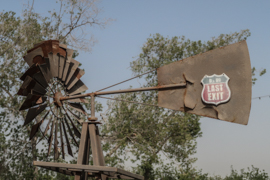 Last Exit Al Khawaneej – Location & Transport
In contrast to the "main" Last Exit place at the E11 motorway, Last Exit Al Khawaneej is not located at a major travel route. It is close to the crossing of D54 and D89, right South of the interesting Quranic Park. Right adjacent to the Last Exit area, there is the lovely Al Khawaneej Walk, which also offers cafes and restaurants and a supermarket. The main area of this Last Exit, however, also includes a drive through concept, where you can grab different kinds of food right from your car – or sit down at one of the benches provided.
Last Exit Al Khawaneej is operating from 6:00 to 3:00 hrs. Some food outlets might have more limited times, though. Admission to the place is of course free. However, you are asked not to use the place for commercial photography, see below. Driving distance from Dubai Airport is some 15 km.
Last Exit Al Khawaneej – Atmosphere
This outlet of the Last Exit brand is representing North American farm life. The design contains historic pick up cars, cow statues, tractors, and North American-style windmills. I feel that it is superbly done. The food trucks feel to beautifully match into the area, which is also featuring large parking lots – so if you don't know your favorite bite yet, you may walk around and order then. You see on the picture below that there is quite a wide range of cuisines, from sushi to pasta, burgers and barbecue, as well as other Asian and Italian food.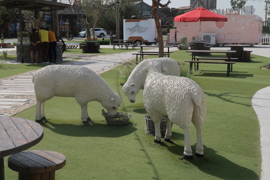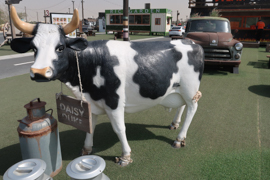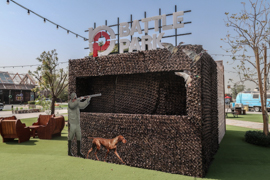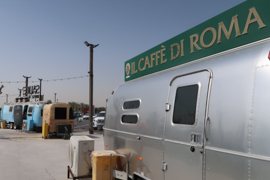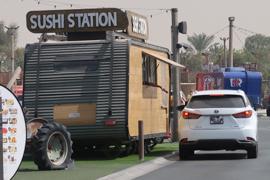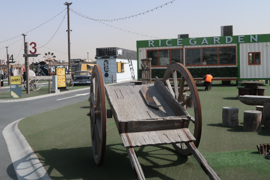 Last Exit Al Khawaneej – Indoor Restaurants
It is very hard to determine as a visitor, where Last Exit is ending and where you start visiting the Al Khawaneej Walk area – but around the lake separating these two places, there are quite a number of additional cafes and restaurants. This is unique compared to the E11 places, which practically only run self-service booths.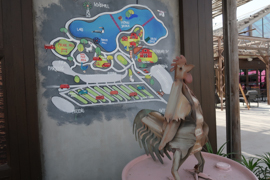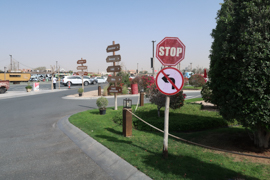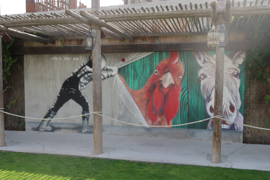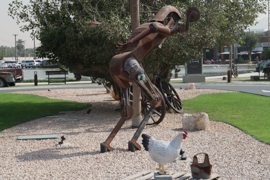 Last Exit Al Khawaneej – Food & Services
I cannot judge on the food as a whole, as I just went for a cheesesteak at one of the places (which was delicious). There are sanitary facilities. I ran a bit into trouble with the security of Last Exit, as there seemed to have been too many influencers using the atmosphere of the place for commercial photography. The staff dealt the situation very friendly and professionally, though – and after they checked my credentials, they also allowed me to take additional snaps for my review (I was almost done, anyway).
Last Exit Al Khawaneej – My View
I do love the Abu Dhabi-bound and Dubai-bound places at the E11 more – but Last Exit Al Khawaneej is definitely a great place to visit, to have a bite and enjoy the very special atmosphere of these places. And: if you are mainly focusing on visiting Dubai on your trip and don't go to the Dubai Parks, this outlet might also be much more handy for you to visit. Cool one!
Flyctory.com on Eating & Drinking
Flyctory.com is not a culinary blog. Nevertheless, here are all posts dealing with Eating and Drinking:
Lounge Reviews on Flyctory.com
Here are all Lounge Reviews on Flyctory.com: