Name the Emirates Palace, think Yas Island with Ferrari World or be historic and say it's the Louvre Abu Dhabi – if you ask me about the key attraction of the Emirates' capital, I will always name the Shekh Zayed Grand Mosque. The iconic temple, which you may also know just as the "Grand Mosque", is just too amazing to me. I had multiple visits to this place, here are 2019 impressions.
This posting comes with a gallery with 115 major size pictures. They are located in the travel gallery.
Sheikh Zayed Grand Mosque – Location & Admission
The mosque is located at the very Eastern end of central Abu Dhabi. Skeikh Zayed Grand Mosqie is of course the iconic landmark of the area, but there are some other very interesting places like the beautiful Sheikh Zayed Bridge or Zayed Sports City. You typically reach the mosque by car or taxi, it is of course also included in most hop-on-hop-off sightseeing tours and similar operations. If you come by car, there are plenty of parking spots, outdoor and garage available, for free.
Entrance to the mosque is for free. However, you need to reserve a time slot for your visit. You can walk in and queue, but this may take you one or two hours waiting time in peak periods. Thus, I highly recommend you to pre-register for your visit. You receive a QR code, which you should print out and have with you during the visit. The mosque is open Saturday to Thursday 9:00 to 22:00 hrs. On Fridays, it opens at 16:30, but is open for worship, of course, before. Ramadan times may differ.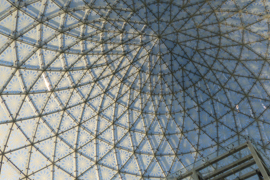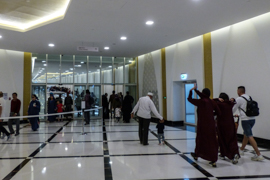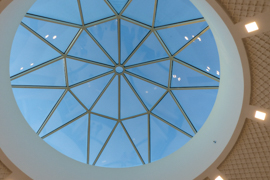 Sheikh Zayed Grand Mosque – Dresscode
I personally feel that some Arabian dress code rules are less frequently enforced nowadays, e.g. in shopping malls. Sheikh Zayed Grand Mosque is a religious place, though, where you have to respect the Arabian dress code rules (which make sense due to the climate anyway). Finally, this just means that you shall at least cover your shoulders and knees (long sleeves are appreciated) and women need to cover their hair. Women can rent abayas for free.
Sheikh Zayed Grand Mosque – The Visit
Nowadays, you start your visit of the Grand Mosque in the visitor center, which apart from all services holds the security screening. After you passed that you follow a walkway which brings you right in front of the mosque.
In The Mosque
You likely first take some looks of the mosque from outside before you get in. I won't bother you with too many architectural details (also because I am not good int those), but if you for example try to count the domes, you should end up with 82. There are four minarets, one in each corner, which are 106 meters high. The building is roughly 420 times 290 meters large.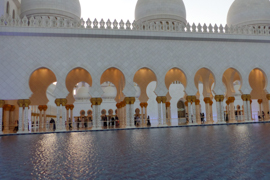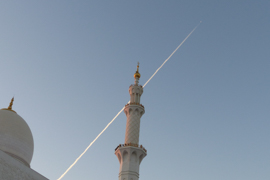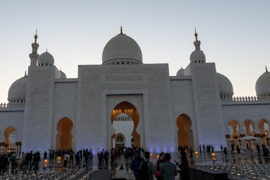 The area which you likely visit next is the huge mosque yard. It gives a lot of fantastic views – apart from the floral design of the marble floor. The courtyard itself measures 17,000 square meters.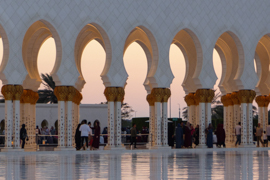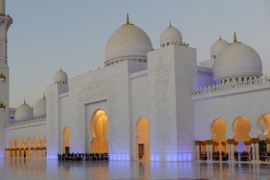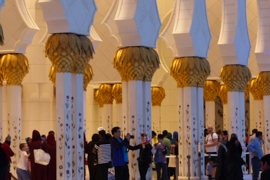 On the opposite side of the point where you enter the building, you can have a look into the Grand Mosqie facilities, including a small part of the prayer rooms and the famous carpet.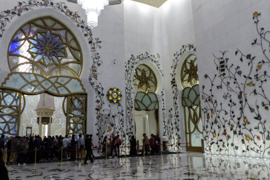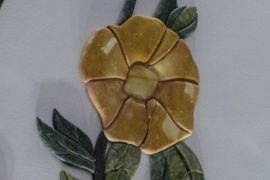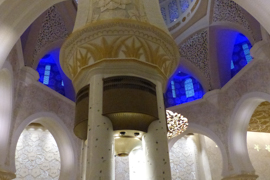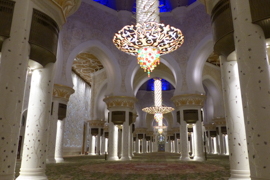 After I left the mosque building and went into the park around the park, the sun was just setting. I love these breathtaking views of the park and iconic building.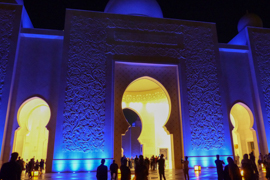 Sheikh Zayed Grand Mosque – Services
The mosque offers all services you need. However, there was no free WiFi at my time of visit. At the end of the tour, you can of course spend some Dirham on memories to take away – either a bit more on the kitsch and touristic side, but also a bit more spiritual elements.
Sheikh Zayed Grand Mosque – Gallery
I just love this place – and thus, I want to share 115 pictures with you in the travel gallery:
Sheikh Zayed Grand Mosque – My View
It is a bit of a shame: during my first visit of the mosque a couple of years ago, you were still able to see a lot more of the facilities. Nowadays, there are just too many visitors, too many tourists, to give you all those views. Nevertheless, Skeikh Zayid Grand Mosque is just breathtaking and mind-changing – together with the recently opened Presidential Palace, I would see this place as the most memorable and important one during your time at the U.A.E. capital. Lovely place, especially during sunset – and of course a Top Pick!
Google Streetview
Some of the areas which are nowadays hidden to the public can be explored by a dedicated Google Streetview site, which is quite amazing:
United Arab Emirates – More Postings
Here are all posting of related to the United Arab Emirates:
Other Top Picks
Here are all other reviews which I rated as excellent and assigned the Top Pick! Award: