On my Four Contries, Four Trains  trip in summer 2020, my rail trip on Day 2 was an absolute highlight of whole travel: for the ride between Milan and Rome, I chose the Italian high speed rail Frecciarossa 1000, the premium product of the Italian rail system. It was my first trip in that train – and more than that, I could check out their very finest product: at the top of the train, I could check out the Executive Class, the highest out of four comfort notches available. Here is my view of having a three hour trip through Italy luxury style..
This ride was my Favorite Non-Aviation Travel Experience during 2020.
Frecciarossa 1000 – Network
Frecciarossa ("Red Arrow") is the common label for all Italian high speed trains traveling with a speed of 300 kilometers per hour. Thereby, the network spans over all Italy. However, there is a strong concentration of the network in the (economically stronger and more densely populated) North of the country. There are also other long-distance high speed services in Italy, the so called Frecciaargento ("Silver Arrow") and Frecciabianca ("White Arrow"), which also connect the very South of the mainland. Connecting Turin with Milan, Florence, Rome and Naples is one of the key connections of the Frecciarossa 1000
Frecciarossa 1000 – Rolling Stock
The Frecciarossa 1000 is an integrated train consisting of eight coaches. The train length is 202 meters, the total capacity of one train is 455 passengers plus two handicapped seats. The train has been originally constructed by Italian rail manufacturer AnsaldoBreda and Canadian Bombardier Transportation. AnsaldoBreda is nowadays Hitachi Rail Italy. The Italian Rail owns 64 Frecciarossa 1000 trains, which are also called V300 Zefiro or ETR 1000. Rarely, you also find the name ETR 400. In contrast to the "traditional" Frecciarossa ETR 500, the engines are spread over the whole length of the train (the ETR 500 has engines located at both end of the train).
All Frecciarossa trains have four classes. Standard compares to Second Class coaches at other rail companies. The Standard Class takes about half of the length of the train. The Premium seating with its red seat color is already a significant upgrade to this experience so that you already receive a welcome drink and a light snack. The Business Class compares to First Class coaches in better high speed train services like the TGV. It is coming with 1-2 seating for example. During my trip, I have been curious to the premium product on the Frecciarossa 1000, the Executive Class, located in coach number 1. You will find details of the service below.
Frecciarossa 1000 Executive Class – At The Train Station
If you travel Executive, you have access to the FRECCIALounges at your departure station. The lounges are however currently only available at Rome Termini, Milan Centrale, Bologne Centrale, Florence Santa Maria and Napoli Centrale. There are also less posh FrecciaClub lounges in other Italian cities like Torino, Venice or Bari. In general, you can leave the lounge directly to the platform area – however, due to Covid-19, you had to exit through the entrance gate to pass the mandatory temperature check before boarding. I separately reviewed the FRECCIALounge Milan Centrale.
Frecciarossa 1000 – Executive Class Setup
Executive class is located in coach 1, right at the head of the train. There are ten seats for Executive class passengers, which are held in a noble light brown leather. The configuration is 1-1, so that every seat is having window view as well as direct aisle access. On each side of the coach, there are two sets of two seats facing each other and a single seat. The red circles you see on the pictures below are to maintain social distancing. You are in general requested to start unboarding when the train has come to a complete stop. Like in all Italian long-distance trains during Covid-19, there are designated entry and exit doors.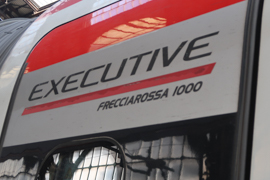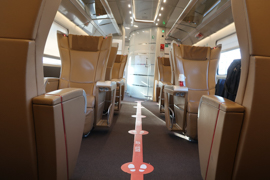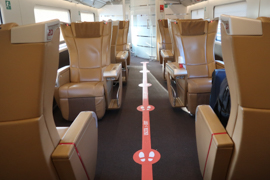 The chair is extremely comfy. Trainitalia gives a seat width of 74cm and a seat pitch of 1.5 meters. Each seat is equipped with a table, two power sockets (which also hold other standard Central European plugs apart from Swiss ones and electrically adjustable footrests and backrests. The table is located in one armrest. There is also a slot for magazines or similar, which has not been used during Covid-19. It is not too visible on the pictures, but you can also turn your seat in both directions by some 30 degrees (my estimate).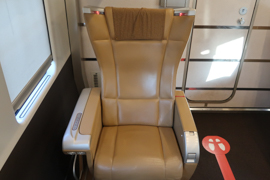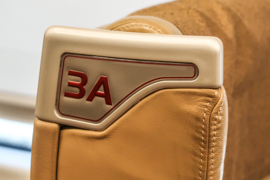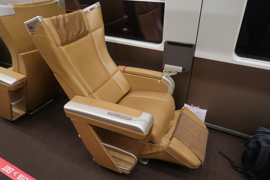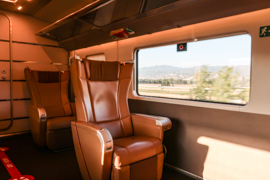 Before you enter the Executive area, you pass the galley. There is also a wardrobe, where you can hang your jacket. I have the lovely priviledge to  be in the Executive Class on my own. The information screens mounted on the roof were very helpful and gave information about the current speed and location as well as the expected arrival time. The train I have been using services Milan Centrale to Rome Termini directly apart from as stop at a Milan suburb station – which also meant that we passed Florence without stopping. The train featured WiFi. Compared to WiFi in the German ICE, it has been rather on the slow side.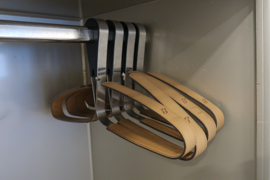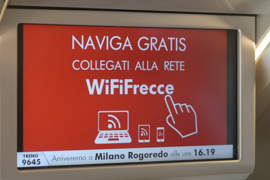 The sanitary facilities were very clean and absolutely fine. There were not amenities or similar things. You could make use of sanitizer, though.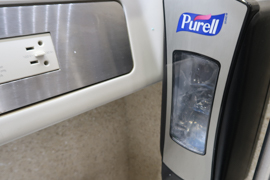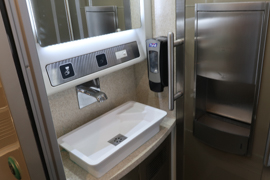 Frecciarossa 1000 – Executive Class Service
Alread before departure, the very kind train conductor gave me a welcome bag, which included sanitizers, but also a paper table cloth, a can of water and sanitizers.
The meal service in Executive Class differs with the time of travel. My train was in the afternoon, so that I unfortunately missed a warm dish and got the snack service, which was, regarding the food regulations in Italy at that time, really pleasing. It contained of a lovely sandwich and a little quiche, later I got fruit salad and a chocolate tartlet. The selection of drinks was outstanding and featured several wines and even different strengths of coffee. Even though I just stuck with sodas and an espresso at the end of my meal, I really loved the service, which was very welcoming and hearty and made it feel like a luxury travel.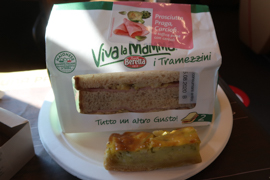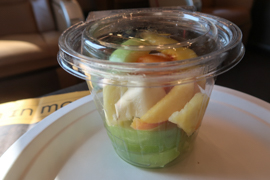 Frecciarossa 1000 – Other Classes
Due to the hygienic situation and as you are asked not to do so, I did not take too many views of other classes. The working area, which is assigned to the Business class, however, was also located in Coach 1, so that I had a loo k there. The five seated working room with a large monitor is outstanding – you could really have a three hour meeting on high speed rails between Miland and Rome, if you wish.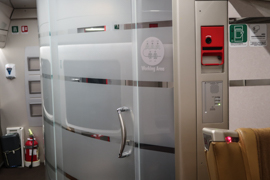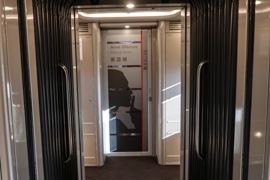 I took this view of a standard class 2-2 table seating through the window to give you an impression. I feel that the level of comfort is still quite nice – the trains look very welcoming, modern and well maintained.
Frecciarossa 1000 – My View
I could have done the same route for (significantly) less money. And I would have arrived in Rome at exactly the same time. But definitely, I would not have created this absolutely memorable moment in my life. The Frecciarossa 1000 Executive Class is a beauty. It is breathtaking. I absolutely loved the product – if the WiFi would have been better (which is likely quite a challenge during a traveling speed of more than 300 kph), this train ride would have been perfect. Thus, it was just damn close to that.
Frecciarossa network map taken from Trenitalia.com website
"Rides on Rail" Postings
Here is everything about trains, trams and other rail vehicles:
Flyctory.com about Italy
Here are all postings related to Italy: