Watching Dubai from the (currently) world tallest building, the Burj Khalifa, just feels like one of the biggest must-dos for first time visitors. The At The Top trip with its different packages and access levels is one of the best-sellers of the U.A.E. mega-city. In November 2021, my wife and I went for a very different Burj Khalifa experience: we went for High Tea at the At.mosphere Lounge in iconic skyscraper. The place is located on the 122nd floor, just some two levels below the lowest At The Top visit. An amazing and posh experience. Here is my detailed review.
Armani Hotel / At.mosphere – Location & Access
The At.mosphere restaurant is driven by the Armani Hotel, which is located in Burj Khalifa. This also leads to a key access difference to the At The Top tours: while you access the very touristic visit of Burj Khalifa through the basement of Dubai Mall, you enter the Armani Hotel through its main entrance for the At.mosphere. This also means that it is quite a walk from the Dubai Mall metro station to the hotel entrance. I would thus recommend to either use your rental car (hotel valet parking is free for At.mosphere guests) or go to the hotel by taxi.
High Tea / Afternoon Tea at the At.mosphere is served daily from noon to 16:00 hrs. You may of course visit the lounge for a Morning coffee in the clouds (from 7:00 to 9:00 hrs) and dinner (17:00 to 2:00 hrs). There is also the At.mosphere restaurant, which is offering breakfast, lunch and dinner. To reach the lounge, there is a designated reception and elevator, which brings you to level 123. From there, you take the stairs down to the lounge. You have to pre-book the afternoon tea, which may be sold out way in advance.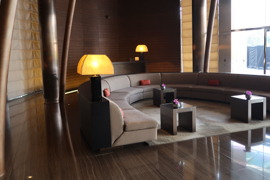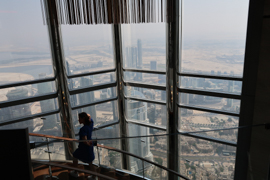 At.mosphere Lounge – Atmosphere
The setting at the At.mosphere Lounge is really beautiful. There is an outer ring of tables, which is located right at the window and offers beautiful views of Dubai Mall and surroundings. If you want to save some money (see below), you may also go for a table on the interior part of the lounge. I would say that the style of the lounge is high quality, but still not too posh. There was also live background music during our afternoon tea. The lounge give a dress code for this event, which includes collar shirts, no sporting shoes etc. – I have to say that I in general dislike that many people tend to just make (or: just break) this request by the hosts.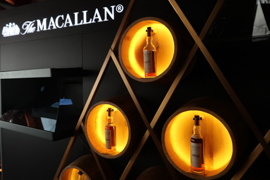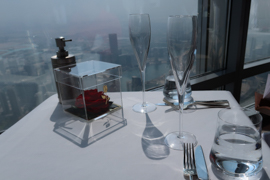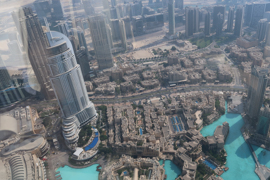 Another Great View of Dubai… From The Loo
Sorry, but you just cannot describe the At.mosphere lounge without giving you a look to its toilet. Ain't that a great view from the loo? This place has definitely been a photo spot during our time on Burj Khalifa.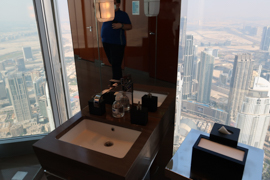 At.mosphere – The Afternoon Tea
There are two menus for the Afternoon Tea. If you sit on a window table, you have to go for the Luxurious Menu, which also includes a main course and sparkling wine. At a window table, the price at our visit was 503 AED (including all taxes and service fees!), roughly 120 Euro. The same menu is 430 AED if you are not sitting at the window and 664 AED with champagne instead of sparkling wine. As I had to drive, they had a lovely alternative for me. The menu includes free drinks from the Afternoon Tea menu, which is not only holding teas and coffees, but also iced tea drinks and mocktails. Some drinks lead to an additional charge, e.g. very specialized kinds of coffee.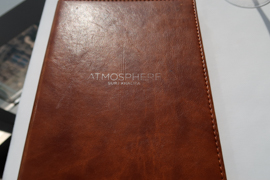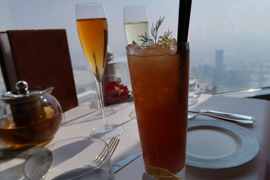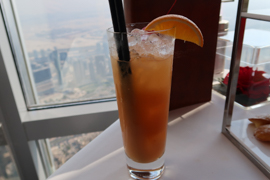 The menu started with an amuse bouche, which was, as you can see, served with some liquid ice effect in a Burj Khalifa stand. Really impressive beginning, which also lead to one of Instagram's favorites of the meal. Thereafter, there was a very classic, but also really nice selection of sandwiches. Almost needless to say that it was really fantastic food.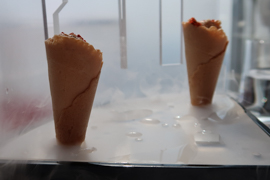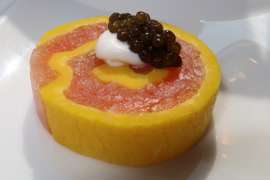 A Main Course and the Sweet Treats
A very special part of the At.mosphere Afternoon Tea is that it also includes a main course. There are two choices available, I went for the Chicken Ballotine, which you see above, while Sarah had fish / Catch of the Day. Especially as this afternoon tea is served comparably early, it is really a nice alternative way of interpreting this relaxing food event.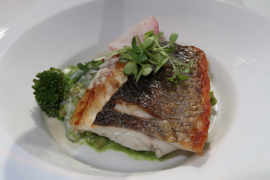 Then, we came to the sweet delights, which finally filled us up with lovely treats of all different kinds. A really nice and also versatile selection of pastries, which was very enjoyable, before we came to my absolute favorite about afternoon tea, scones with clotted cream and preserves.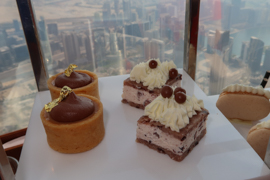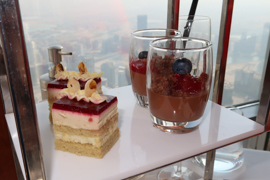 At.mosphere – Service
Starting from arriving at the hotel, the service was excellent. The service in the lounge was great as well. I expected us to have one, maximum two glasses of sparkling wine, but they refilled us until we finally switched to hot tea. The staff was very attentive and the atmosphere was really relaxed. Just towards the of our afternoon tea, when almost all tables were taken, there were very minor waiting times.
High Tea at At.mosphere – My View
Excellent food and a great value for money (simply deduct the price you would pay for an At The Top stay at Burj Khalifa) – we definitely will have high tea at the Armani Hotel / At.mosphere lounge when being in Dubai the next time. The scenery is awesome, but the food and service is even better. A great – and much more relaxed – way to enjoy the world tallest building. Definitely recommend it.
Flyctory.com on Eating & Drinking
Flyctory.com is not a culinary blog. Nevertheless, here are all posts dealing with Eating and Drinking:
Luxury Hotels
Here are all my postings related to Luxury Hotels: