I haven't been too future-looking when I recently introduced the Car Rental category. I felt that even if I rent a scooter or an ATV one day, it will somehow fit in there. However, one of the first rental reviews you now got on my blog is actually a boat. No wheels this time – but as the remaining criteria are that similar, I just felt to put it into that category.
The rental company we used was Seashore Boats, which are located at Santa Ponsa on Mallorca. My wife found their offer – so far, we weren't even aware of that you are able to rent a boat even without a license if the ship is just not too large and does not have that much power. We just had to try it on our trip in late May 2021.
Seashore Boats – The Boat
The only difference I do between a car and a boat rental is that I will include the boat into consideration for my rating as well. For our Seashore Rental, this did not lead to any negative effect anyway. The boat was manufactured by the US company Bayliner and has a capacity of five persons, 730 kg max. In theory, it may operate with significantly bigger engines, but for the licence-free rental, it operated at the limit of 15 hp. You had a deck at the front and back of the boat, both with storage underneath, as well as a ladder to get into the water on the back.
The boat was quite easy to maneuver, I got very quickly into it. A nice feature of it was the ability to charge your appliances via two USB ports and to play your music due to Bluetooth connection. Seashore Boats provided us a box for our shoes (which must of course not be worn on board) and a sealed box for our valuables. Furthermore there was a cooler with ice, which even came with two small bottles of water.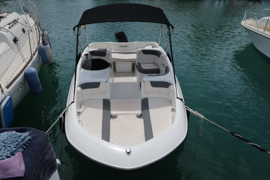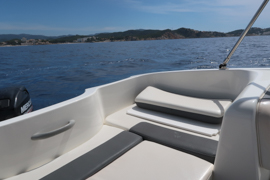 Seashore Boats – The Location
The boat is located at the yacht harbor of Santa Ponsa, the Club Nautic, which is located South of the key touristic area. There is a road right down at the harbor area, but you are not to drive there as a tourist. However, there was free parking at the main harbor management building, which has been very handy.
There are some bars and restaurants right at the harbor. It is a lovely place to hang out and relax a bit before or after your cruise. The naval facilities also feature toilets (and even showers), if you need them. They are locked, however, but the harbor workers are super-friendly and open them for you.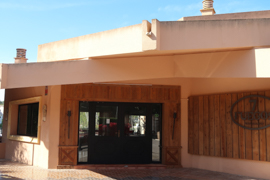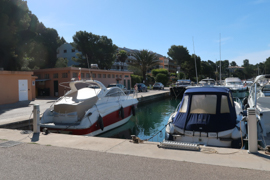 Seashore Boats – The Rental
As we wanted to try out whether we like feeling like a captain at all, we went for the shortest option, a two hour rental. On the day of our rental (27th May 2021), the rental fee was 120 Euro, including gasoline and all handling of the boat (e.g. the instructions). In addition, you had to pay a deposit of 150 EUR during the rental, which is also your liability in case of damages. A typical damage, for example is anchoring at places where you do not manage to get the anchor back.
The communication before the rental was excellent. We knew the exact location of the boat and had several mails and WhatsApp messages introducing us to the rental and rental conditions. The company offers contact in German, English and Spanish – our rental manager Daniel is originally just a couple of kilometers away from the place we actually live.
Seashore Boats – Receiving / Returning The Boat
The rental started at 10:30 – we were asked to be at least 15 to 20 minutes earlier for all the contractual staff and the technical introduction. We were rather early (typically German – and Daniel was already there). The introduction was very efficient and friendly. He also showed us how to fix the anchor and made a test with me so that I understood how to fix it on the boat. There was also an introduction to safety measures and emergency equipment on board. The whole introduction, including paying the deposit (the actual rental needs to be paid at rental, but is refundable for a certain period) took less than 20 minutes. Daniel steered the boat through the harbor and was still on board while I did some first tries to do it on my own. Then he left the boat at the exit of the harbor. At this point, I already felt suprisingly safe and familiar with the boat.
Seashore Boats – Some Trip Impressions
Part of the introduction was also that Daniel showed us some places, where we may go to – and others which we should avoid. There is a laminated map on board which shows the area you are allowed to travel in as well as areas where the water is to rocky or just too low so that you should avoid to get too close to them. We finally just enjoyed cruising through the sun and exploring the area. Two hours is too short to really anchor and spent some time in the water. You can do it, but we felt it is too stressful for us. We had an amazing time on board and really enjoyed the sun.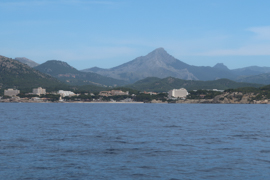 Seashore Boats – My View
We definitely have been at Seashore Boats at a perfect point in time. The weather was great, there was no wind and only towards the end of our rental, there were a bit of higher waves. We absolutely loved our time there – and if we had the opportunity, we would definitely go for a second time with the company (or try out other locations). I can absolutely recommend the company's services – they did excellent. Thanks Daniel for being a great host and boat renter.
Ships & Water Travel
Here are more Flyctory.com postings about Ships & Water Travel:
Spain – Travel Postings
Here are all my Travel postings related to Spain: