The Curacao National Park Shete Boka and Christoffel Park offer very different, but fascinating views of the island's flora and fauna. Shete Boka is thereby showing Curacao's rough Northeastern coastline and the amazing power of the ocean, while Christoffel Park includes the island's highest peak, Mt Christoffel, which is 375m high. Christoffel Park is the largest National Park on Curacao.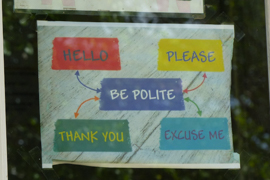 Shete Boka / Christoffel Park – Location & Admission
The entrance booths to Shete Boka and Christoffel Park are in real close proximity, less than 3km separate from each other. The adult admission for Shete Boka is 10 USD, while Christoffel Park is higher priced, 14.50 USD per adult. Christoffel Park admission however includes admission to Savonet Museum, see below. The park is opening its doors at 6:00 hrs already, but therefore closes at 15:00hrs. If you want to do the hike to Christoffel mountain, you will not be allowed to do so any more after 10:00. The key reason is the killing heat, which may happen in the area – the National Park advises to at least take two liters of water with you for the trip – I have to admit that I had a similar consumption that day just for visiting the place by car with windows down and stepping out here and there. Shete Boka is open from 9:00 to 16:00hrs. The website suggests you might somehow be able to access the park even later, but there won't be any rangers or security around any more. I would definitely recommend to have sufficient water with you for Shete Boka – you have to do short hikes here and there to fully enjoy the sights of the park.
Please note (see below) that Christoffel Park driving contains two routes. You will not be allowed to enter either of these routes after 13:30 hrs.
Shete Boka – Curacao's Rough Coastline
You enter Shete Boka roughly at the center of the area. In general, there are two options to discover the area: the straightforward option is to park your car at the visitor center and hike around the area on signposted routes. The more popular option is to drive your car to different viewpoint parking lots and from there take comparably short hikes to viewpoints. The first one starting right at visitors center and heads to the amazing Boka Tabla cliff which shows beautifully how the Ocean has cut a rough coastline into the Curacao island. The highlight of that stop is a cave, which is flooded with Ocean water – you have a magnificent view from below the rocks on the rough sea.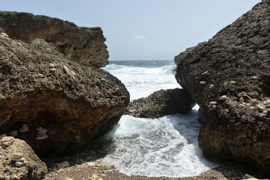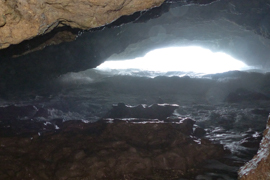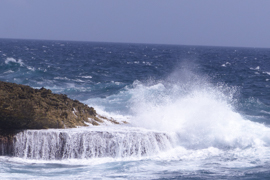 As a second stop, you head on South to Boka Kalki. This is the longest walk to a viewpoint and even covers some forest-alike routes, which makes the hike quite humid and exhausting. At Boka Kalki, you should not miss to look out for numerous species of crab – lovely place to just hang out and enjoy nature. Loved it! Of course on any of the stops, you may hold in and enjoy lizards and iguanas.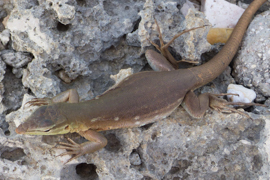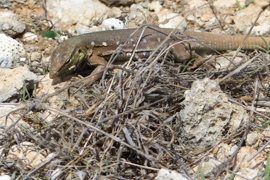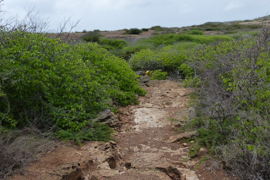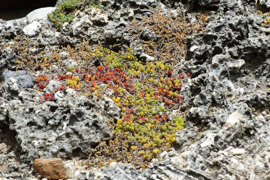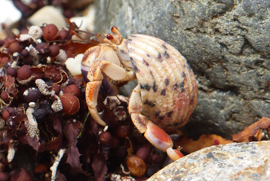 The next stop is Boka Pistol, which is right next to the parking lot. It is hard to describe this place: the high ocean waves are pressed into a narrow canyon-alike thin crack of rock, which additionally speeds up at the water before it hits the wall of rock behind – this shoots the water out to oceanside and really gives an pistol-alike bang. Quite amazing nature!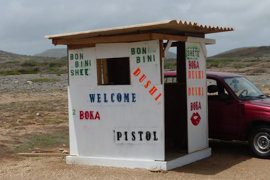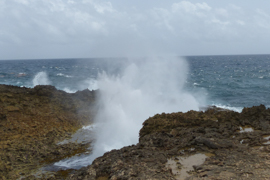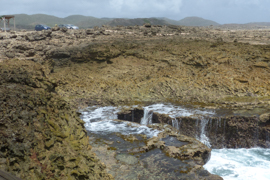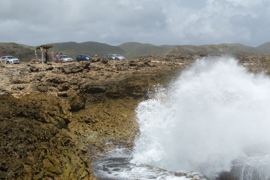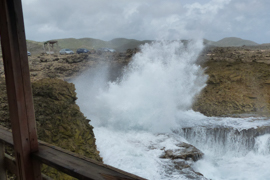 For the final stop, Boka Wandomi, you have to go back the route and continue on to the Northern side of the national park. There is a wider canyon which is used by tourists forming words out of stones, but the key attraction is the natural bridge, where you can cross the rock, while ocean water is flowing on to coastline underneath – a nice experience!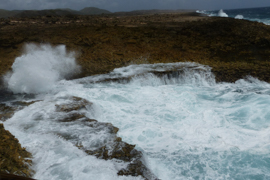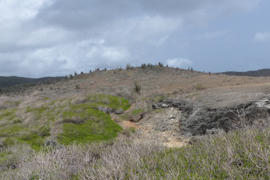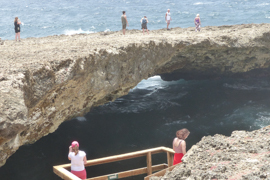 Christoffel Park – Blue Route
Christoffel Park is very different from Sheta Boka in one fact: if you are really lame and lazy (like me), you will still see quite a bunch if you more or less stay in your car. Thereby, the routes through the national park split into two parts: the blue route is starting right at the National Park Center (and Savonet Museum). You just pass the old plantation area for some two kilometres (you will come back the same route) before the road splits up and you do a circular one-way route, which is on the coastline side (but still very different from the Shete Boka experience). Starting ina  forest-alike way, the vegetation majorly stays quite dense and there are a lot of reptiles and birds around. A very special highlight of that route is a short detour, which leads you to a hike into a cave full of bats and to ancient Indian rock paintings. Unfortunately, we have not been equipped correctly for this (better shoes, headlights), so we just strolled around the area a bit. Passing by a wasp nest and spotting the remains of a snake around felt a bit spooky, though.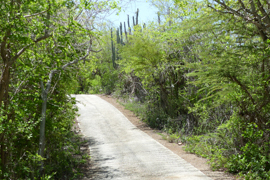 Christoffel Park – Green Route
From its profile, the green route more facing towards the interior of the island, is definitely more challenging: there are some very steep hills and descents on route. This also means that you are offered some amazing views over the national park. There are also a couple of nice stops, which sometimes offer a nice view or some other interesting view after a short hike. Of course, the highlight of that trip for many visitors is the climb up Christoffel mountain (see limitations above). If you take that hike, you might also spot the Caribbean Deer and a lot of iguanas. In general, we felt that there was more birdlife along the Blue Route. Overall, the Green Route is definitely the more amazing one, though.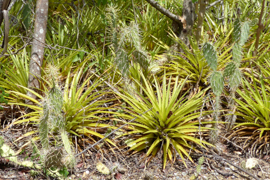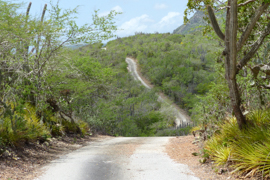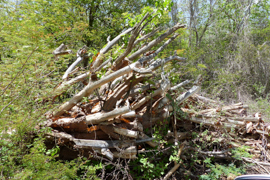 Christoffel Park – Savonet Museum
One nice feature of Christoffel Park is that the admission also covers free entrance to the Savonet Museum, which is quite well rated in other reviews. One key reason for that are audiovisual evidences on the history of the area including reports on the impact of slavery. Unfortunately, we could not make it into the museum, as the opening times are a bit tricky and they already closed the museum that day as they did not sell any individual admissions any more. Similar to the parks, the earlier you arrive there, the better it is.
Shete Boka / Christoffel Park – My View
Shete Boka and Christoffel Park both killed our beach days: for both national parks, we felt to invest some 90 minutes each and finally ended up in hours of fascinating nature, so that there was not sufficient time to relax in the sand and enjoy the ocean. I felt, in both cases, this was absolutely worth it. Both trips were highlights of our trip to Curacao, maybe even the most fascinating experiences to me.
Flyctory.com in Curacao
Here are all postings related to Curacao:
Everything about the Netherlands
Here are all postings related to the Netherlands: