My wife and I have stayed twice in the amazing Emirates Palace for vacation. To me, it is one of the of the most relaxing places I have ever been to. If we do not make it for a stay, though, we at least try to go for an Afternoon Tea at the magical hotel in Abu Dhabi. This is definitely one of the most traditional tourist attractions in the U.A.E. capital. In April 2019, when we stayed at a Crowne Plaza at Yas Island, we went for the Royal High Tea option at Easter Sunday. Here is a report of the visit.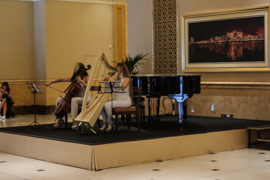 Emirates Palace – Palace Location & Le Cafe
The Emirates Palace Hotel is just an iconic landmark (and signposted throughout the city) – you just cannot miss it. The Presidential Palace, which recently opened for public, is just adjacent, so there are two posh attractions next door. To reach the grounds, you have to pass the security (no real problem). Self parking in the garage is for free.
Afternoon tea is served in Le Café , which is more or less straight through the main entrance centrally located in the main hall. There is one separate area which is reserved just for High Tea customers.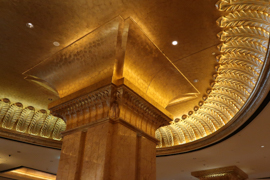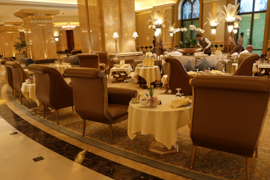 Emirates Palace – Different High Tea Sets
Despite there is a German website (and some other languages) as well, I recommend to use the English Emirates Palace High Tea website if you like to get an overview on the offers. The German website just features The Classic High Tea. Prices are always given for two persons and include service and tax. All sets include two hot drinks per person, which may either be a pot of tea each or hot chocolate or any coffee specialty, including the signature Emirates Palace Cappuccino with some leaf gold on top. The selection of teas is amazing. This time I tried the Emirates Spice and a chamomile one. Despite I hate chamomile typically, I fell in love to that one served at Le Café.
The Classic High Tea for two is 387 AED currently, which is roughly 90 Euro. if you add some sparkling wine, the set will be 549 AED or 626 AED with rose sparkling wine (two glasses per person).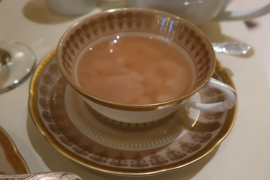 The Royal High Tea is more posh and offers a wider selection of sandwiches, pastries and scones. Depending on whether / which bubbly drinks you add to your experience, the April 2019 price is 478 / 626 / 669 AED. This means, the ultimate option is just about 80 Euro per person. The vegetarian option is called A Verdant Affair and ranges between 350 and 600 AED.
You need to reserve any set in advance. The best option to do so is by e-mail, which works very efficiently.
Emirates Palace – High Tea Dress Code
One thing which generally hurts me when in the Emirates is that the dress code rules become more and more important. I feel it is a matter of respect to dress up in a non-offensive way. For High Tea, smart casual wear is requested. Men are explicitly asked to wear shirts with collars. Shoulders and knees shall be covered anyway. For men, I would definitely suggest long trousers. Flip flops and similar open shoes are not allowed.
While most of the afternoon tea visitors seem to comply with this request, tourist groups and visitors do not always seem to be in line with them.
Emirates Palace – Royal High Tea Experience
Afternoon tea is a culinary triathlon: the first discipline are sandwiches, followed by sweet delights, before you indulge yourself with some amazing scones. In the sandwiches category, the Emirates Palace just offers you some of the culinary most finest items. Scottish salmon is available as well as Foie Gras, tuna or lobster. Some of the sandwiches are rather on the traditional side with toast-alike slided bread, some others are served in bread rolls.
The second (and major) level of calories are the sweet ones. There are sweet tarts, meringues, macaroons and cupcakes. The selection is partially seasonal. In addition, some of the items had Easter design. It needs a bit of overcoming before you bite Easter Bunny himself or look into the large eyes of the chocolate-fruit spectacle.
To me, scones and clotted cream are just the most amazing part of the afternoon tea culture. In the Royal High Tea, the Emirates Palace serves two plain scone, a raisin scone and a pistachio scone for two. In addition to the clotted cream, you are surprisingly served raspberry preserve instead of strawberry. While I typically do not like lemon curd or marmelade on scones, the ones served in Le Café where just that soft and sweet that I fell in love to them.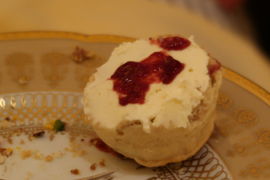 I promise you, you are already filled after you managed to beat all three levels of afternoon delight. However, this afternoon tea has a grand finale, an overtime: after you cleared the initial delivery, there is a warm chocolate fondant with popcorn ice cream. At least, the hotel lowered the challenge here: in previous afternoon teas we had at Abu Dhabi's premier accomodation, there was one fondant per person – now this final dish is to share.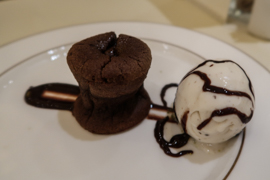 Emirates Palace – My View
The quality of food and drinks is amazing (you will even get a little bit of gold), the scenery is great and the service is lovely – though this time, the waiters asked a bit too much for positive reviews on tripadvisor and friends, my wife and I had another amazing afternoon at the Emirates Palace. I can absolutely recommend it. The value for money is absolutely fine in my point of view.
The only thing which may be very bothering are (other) tourists. Though the service is really keen that visitors keep a certain distance from the tables, sometimes people just get too close to you. Luckily, it did not happen too frequently to us. Having afternoon tea at the Palace is just one of the key attractions of the city, I feel you should just do it!
All Abu Dhabi Postings
Here are all postings about Abu Dhabi:
Flyctory.com on Eating & Drinking
Flyctory.com is not a culinary blog. Nevertheless, here are all posts dealing with Eating and Drinking: