Combining a cinema visit with Michelin star-chef created food? Nothing is impossible in the United Arab Emirates! At the last evening of our stay in Abu Dhabi in December 2019 and January 2020, we just had to try this (likely) unique combination and enjoy Star Wars IX – The Rise of Skywalker (the movie will finally play no role in the review) in one of the VOX cinemas, which is featuring this experience. A sad side note: Gary Rhodes, the British Michelin star cook, who is responsible for the food part of the combined entertainment event, died just a few weeks before our visit.
ThEATre by Rhodes – Locations & Prices
ThEATre by Rhodes is a collaboration of VOX Cinemas and Gary Rhodes, who was not only a well-reputed chef in his restaurant, but also in TV, in selected locations in the Emirates. At the time of writing the posting, you could enjoy the service in the following cinemas:
Al Ain:
Abu Dhabi:
Nation Towers
The Galleria Al Maryah Island
Yas Mall
City Centre Mirdif
Mall of the Emirates
Nation Towers – Abu Dhabi
The service is also available at The Avenues cinemas in Bahrain.
I tested the service at The Galleria Al Maryah Island, where a mall extension also added a Vox Cinema with that service in fall 2019. The service in other locations should be very comparable, even though there might be local adoptions.
As said above, we watched the ninth episode of the Star Wars saga as part of our visit. For two tickets including the full menu service, we paid a total of 555 AED, which is roughly 135 Euro. For this price, you have the movie, a hot drink, a cold drink and a three course menu of your choice. You may also enjoy the cinema service (just ticket and amenities) for some 180 AED. In addition to ThEATre by Rhodes, some cinemas, who do not have all the facilities available, offer a GOLD Ticket by Rhodes, which is however just very limited comapared to the service we had.
ThEATre by Rhodes – Before the Movie
The luxurious experience starts before the movie already: at least at The Galleria, the ThEATre by Rhodes cinemas have an own entrance with a concierge, who is welcoming you and guiding you upstairs, where you are welcomed by your host.
The lounge or restaurant area, win which you spend the time before the movie, is just amazing. A huge space, very nice design with cinematic references. We had a very nice table, there were just very few other customers around.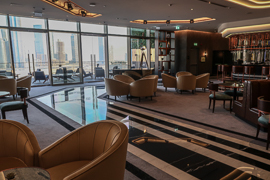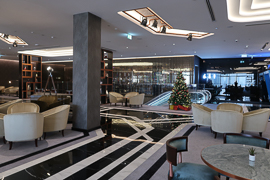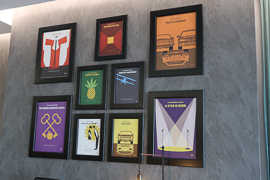 The lounge also had a nice outdoor terrace. There are some construction works around, but we still felt that the area is very cozy, also after the movie, when we had a brief look to the illuminated buildings.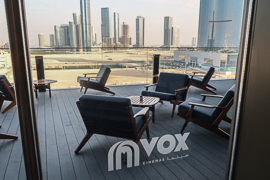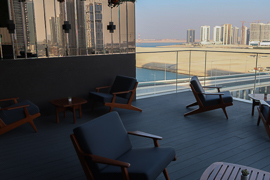 At our table, we were welcomed with a small fruit cocktail and some nuts. You can choose any combination of the menu. If you expect just a few dishes, ThEATre by Rhodes proofs you wrong – there are fourteen different starters, twelve main dishes and eight kinds of dessert (including a cheeseboard). We agreed to the suggestion to go for a hot drink before the movie. My peppermint tea and Sarah's cappuccino were served with a mince pie each. There is also a wide variety of cold drinks (non-alcoholic) to choose from.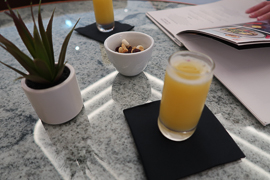 ThEATre by Rhodes – Cinema Experience
More or less in time for the movie, we were guided to the cinema. Vox Cinemas at The Galleria feature four rooms for the ThEATre by Rhodes service. Apart from us, there were just two other guests, who however arrived later.
The cinema we were in featured 32 seats, four rows with two seats at each wing, four in the middle, two adjacent paired together. In the middle of the four seats in center, there are some separators for more privacy. The seats are very wide and give a certain luxury flying feeling (I guess that even the Lufthansa First Class seat is not as wide as these ones…). The seats feature electrically movable leg rests and seat backs and even allow USB charging. In the middle of each pair of seats there is a wider rack, where the food is placed. You may also have some little light, if desired. At the end of the armrest, there is space for your drinks. in addition, you are provided with a small pillow and a large blanket, which is also very helpful in case of dripping food.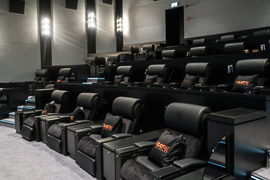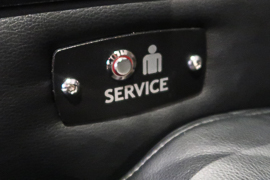 There is also a bathroom area right next to the four cinemas. They are even more beautiful than the ones in the restaurant area. The bathroom featured cloth towels and Rituals amenities as well.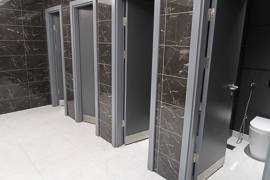 ThEATre by Rhodes – In-Cinema Food & Service
The marketing of the cinema concept promises to have a high class culinary experience in a way that you can still easily consume it during the movies. The three dishes were served in intervals of roughly thirty to forty minutes, the starts were already served during the advertisements, which took some 15 minutes. I started with a Mezze platter (you see it on the right side of picture below), while Sarah went for the Theatre Preview Plate, which you see on the left. Both were an absolute feast. The (cold) drinks provided, an Oreo milkshake and a Passion Fruit Basil Mule, which were served in parallel, were supreme as well.
I went on with a Homemade New York Deli Beefburger, which was served with fries and coleslaw, while Sarah had Kamikaze Prawns, which were served with Chili sauce. The difference in size is obvious – you could also say there is something for every taste and desired volume of food. Both dishes had very good quality again. Especially for the burger, being able to snuggle yourself into a blanket, which protects you from dripping sauce, together with the cloth napkins, was very fortunate. We completed our culinary journey into the land of Gary Rhodes with a Tiramisu, White Chocolate and Hazelnut Sundae and a hot Nutella crisp crepe rolls with white chocolate, which were again very good.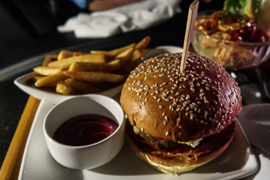 Even though food was served during the movie and though you consumed it in the darkness of the cinema, I could still very well concentrate on the movie.  All dishes also came with sealed moist towelettes, which were very helpful in case you created some mess in the unusual situation.
ThEATre by Rhodes – My View
What an amazing way to finish your holidays – I was super-curious about this cinema product, even though I really rarely go to the movies – but ThEATre by Rhodes really convinced me and gave me a great value for money. The food is really good, the service is outstanding. I love chilling in the lounge, enjoying some nice drinks and grabbing some bites. Forget about queuing for popcorn in a crowded cinema – this is the real Top Pick! way do it. If you like cinemas and are in the Emirates – have a look if you can squeeze it in your schedule!
United Arab Emirates – More Postings
Here are all posting of related to the United Arab Emirates:
Flyctory.com on Eating & Drinking
Flyctory.com is not a culinary blog. Nevertheless, here are all posts dealing with Eating and Drinking: