Casa Loma in Toronto is North America's only full sized castle. Though it might not be that well-known here in Europe, it is one of the best visted – and best rated – attractions in Ontario's metropole. The area of the castle is roughly 18,500 square metres and the cost – at that time – were 3.5m CAD already. Just some facts which might make you think to visit this place built by Sir Henry Pellatt in the early 20th century.
Casa Loma – Location and Admission
Casa Loma is in the North of Toronto's city. The closest subway station is Dupont. I took the car up to the castle – if you are early and lucky enough to catch one of the limited parking lots (some are even covered), you will have to pay 10 CAD parking fee.
The admission to the castle is 30 CAD for adults. As stated in other postings, Casa Loma is included in the Toronto CityPass, so if you spend 88 CAD plus tax, you can visit this place as well as the Royal Ontario Museum, CN Tower, Ripley's Aquarium of Canada and either the Ontario Science Center or Toronto Zoo.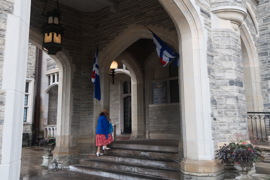 Casa Loma – Main Floor
Henry Pellatt did not pnly use the castle as residence but (obviously) also for representative reasons and to host guests. The main floor is thereby mainly covering the representative part. When you enter the mansion by the main entrance, you are just entering the Great Hall, where you can get maps and a complimentary audio guide (which is available in quite some languages, even German). The rooms on main floor all all quite impressive, the highlights to me were the massive restaurant-alike Oak Room, the large Library and the Conservatory, which is a bit like a winter garden and also had a fountain and some orchids. Apart from that, the terrace offers an incredible view of Toronto Downtown.
Casa Loma – Second Floor
While the ground / first floor is majorly having representative rooms, the second floor is housing the impressive host and guest suites. Lady Pellat's Suite is even larger than her husband one, both coming with ensuite facilities. But even the guest rooms are impressive.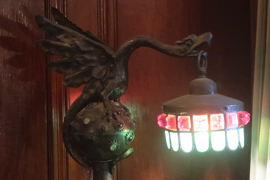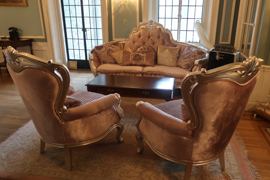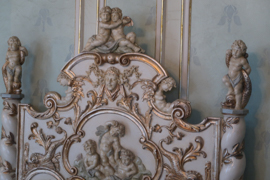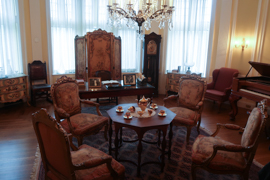 Casa Loma – Third Floor and Tower
Most of the area on third level is dedicated to Canadian military history. Not that much of my topic, so I just give some pictures with some limited comments – the pictures definitely seem to have covered quite an extensive time period in detail, though.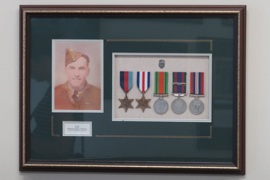 Apart from that, there are to key things you may explore on or from third floor: first of all, third floor used to be the servants's area and there is a Servant's Room you can have a look into (quite impressive and very likely comparably comfortable for these days). Secondly, you may take a climb up the tower from third level. It felt a bit too narrow to me – so excuse myself for being lazy and not taking that opportunity.
Casa Loma – Lower Level
There are two key sights on Lower Level: first of all, there is the Theatre, which has been planned as a swimming pool, but has never been completed. In addition to that, the lower level aisle is an gallery of movie posters, which features all movies which used Casa Loma as scenery. There is also a wine cellar allowing to have a quick look.
If you need a rest, this level also hosts a cafe and the gift shop. I could just stand to buy Casa Loma sox.
Casa Loma – Tunnel and Stables
The subway tunnel (easily some 500 metres long) is one of the most impressive parts of the building. In order to avoid to commute overground between the castle and the stables, Pellatt requested to built a tunnel between those buildings. The stables itself do not have too many exhibits – the most interesting ones may be the antique car exhibition – but the construction itself is very memorable. You should take a view to the potting shed and the small area around before you head back to the castle.
Casa Loma – My View
Casa Loma is a very interesting place and an absolutely not-that-hidden gem when you visit Toronto. One big factor is the really well-balanced audio guide, which is not loading you with too much information, but here and there offers some spin-off features. The small display is even showing some additional pictures which illustrate the life at the beginning of the 20th century. Even if there are not too many sights at the end of the tunnel, passing this long underground trail is very impressive as well. What a posh building!
Toronto 2018 – Gallery
A full gallery of pictures taken during my time in Toronto in July 2018 may be found here:
Flyctory.com in Toronto
Here are all postings related to Toronto:
Postings about Canada
Here are all Flyctory.com postings dealing with Canada: