I would say that at the time of writing (August 2021), Sky Lagoon is something like the hottest product in the Icelandic tourism sector. The spa and lagoon place has opened in late April 2021 and from that time fascinated locals and tourist. Many locals, who I talked to about it, either loved it already or just felt they have to try it out. During my trip to the volcanic island in summer 2021, I just had to give Sky Lagoon my very first try – here are my thoughts.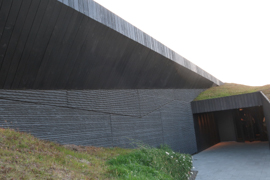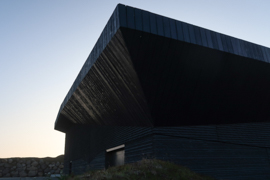 Sky Lagoon – Location & Admission
Sky Lagoon is located in Kopavogur, which is (by inhabitants) the second largest city in Iceland. It is right South of Reykjavic. The lagoon is located right at the Atlantic Coast. When you come from Iceland road 40, you first pass a residential area and then a commercial one. Just when you think that you must be wrong, you should more or less have made it. The very last meters are signposted. There seems to be a public bus connection (bus #35). Sky Lagoon also drives a shuttle bus from diverse Reykjavic locations, including the Bus Terminal. One-way price is about 1,000 ISK = 7 Euro, though.
At the time of visiting, the summer opening times (July and August), the Sky Lagoon was opening daily  from 11:00 to 23:00 hrs. You book a time slot, at which you are entering. Between September 2021 and May 2022, Sky Lagoon is planning to open between 13:00 and 20:00 hrs, Monday to Thursday, and closing one hour later Friday to Sunday.
There are three different packages. The basic entry is called Pure Lite Pass. It includes the entrance to the lagoon itself, but not The Ritual. The price is 6,990 ISK, roughly 47.50 EUR. You are using public changing facilities for that price. Towels are, however, included. The Pure Pass (9,990 ISK / 68 EUR) also includes The Ritual. I went for the posh option. For 13,900 ISK / 95 EUR, you get the Sky Pass, which includes private changing facilities and a separate entrance to the lagoon (which is pretty useless, likely). The private changing facilities feature the lagoon's signature body lotion. There is no time limit (apart from the opening times)
Sky Lagoon – Before The Visit
From the very first moment, you have the feeling that this place is quite luxurious – or expansive. You are welcomed at a reception desk, where the very friendly guest managers introduce you to the place and its features. You receive a wristband, on which they also code your credit card. This means that you pay anything in the Sky Lagoon by this wrist band and your card is automatically charged at exit. I did not receive any kind of receipt (they did have my e-mail address as I had an online booking), which I did not like. Another black wristband is given to you if your ticket includes The Ritual
Right behind the reception, the Sky Pass guests are separated from the two Pure Pass options, as the private changing rooms are on the right, while public changing is on the left. You are asked to take off your shoes before you enter the changing facilities. At least for the private changing rooms, which are cleaned and maintained (e.g. with new towels) after every guest, I would not recommend to bring bathing thongs with you – as you do not run around too much and enter the lagoon directly (see below). There was water in the Sky Pass area – which is free like at the whole lagoon.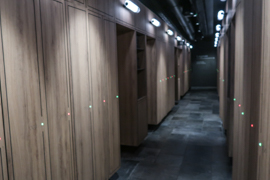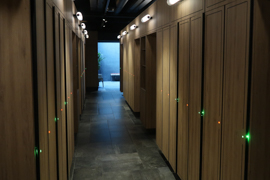 You also open and close the lockers with your wristband. You may also check, which locker you actually have on designated screens, which I did not feel too safe about (if you somehow drop your wristband, people can easily grab your stuff… But hey, we are in Iceland, there is hardly any crime!). The private changing room was really nice and well equipped. You also had another overview of The Ritual. There were always fresh towels in the cabins, but also in the aisles and at the stair down to / out of the lagoon (see below). What I did not like is that you could not adjust the temperature of the shower.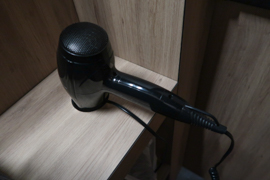 Sky Lagoon – The Lagoon
Entering the lagoon is very different to how you might know it from other pools like Myvatn – and this is also the rationale why you cannot rent a bathrobe: from the changing areas, regardless if private or public, you directly walk down into the water of the lagoon. There are no loungers or similar relax areas outside the water. You leave the water for changing clothes or The Ritual, that's more or less all. The water may be around 1.20 meter high. There no significantly higher or lower areas, so that you can walk along everywhere – but the water is at least also deep enough if you want to swim a bit.
Even though the lagoon is man-made, it feels impressive from the very first steps into the water. Of course, the water is nicely heated. There are quite high rocks so that there are also places to hide a bit from other guests – or just to sit somewhere (there are some bench-alike seats underwater. Just experiencing the lagoon or swimming towards its edge, where Sky Lagoon is featuring the style of an infinity pool, is just lovely. In one corner of the lagoon, there is a bar. Water is free, but all other drinks are charged, regardless of your package. Like in all of these places, they use plastic glasses and fill them before they hand them over to you.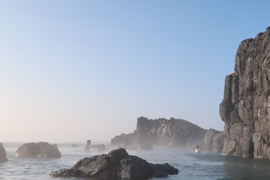 Sky Lagoon – The Seven Step Ritual
Once you feel you are ready, you are doing the seven step "traditional" ritual (please do not ask me to validate if that's really a traditional Icelandic one. Good news is that you already did the first step (the lagoon). The second is enjoying some time in an ice cold pool next to the lagoon (I did not make it that long). For the other stages you walk through a small door right outside the lagoon. For obvious reasons – too hot and humid and too many people, I could not take pictures in here. If your ticket includes The Ritual, you will receive another (black) wristband at check-in, which will be taken from you in the ritual building.
The third stage of The Ritual is outstanding: It is a sauna with a huge glass front facing the Atantic Ocean. Thus, while you sweat, you can enjoy amazing views. I had to take off my glases before these parts of the ritual. Bad luck – would have loved to enjoy it. The glass quality is amazing, you hardly see that there is a transparent wall in front of you. The next stage is cooling down at an open air cold water shower. The space is a bit limited, bu they arranged it in a beautiful way. In the final steps, you scrub your body, enjoy another sweat in the steam bath and then shower to be ready to head back to the lagoon. I really loved it – the sauna is, however, the undisputed best one.
Sky Lagoon – Exiting and Shopping
The lobby area (which is located within the lagoon area, i.e. you cannot visit it as a guest) gives you the chance to have a drink, grab a bite or buy some posh spa products as a souvenir. Hardly any guest made us of that opportunity. At the exit gates, you simply put back your wristband back to the turnstiles. Saying that I did not like the processing that much, I have to say that the pricing was really fair. A soda in the lagoon was about 2.50 EUR.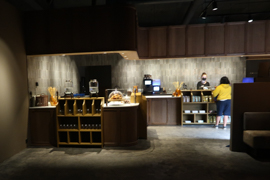 Sky Lagoon – My View
Sum up the pros and cons in one sentence: it is posh, it is cool, it is beautiful, it is damn expansive. I love Sky Lagoon and would definitely prefer it over Blue Lagoon, which has become too commercial to me. Like the most prominent lagoon in Iceland, it is a man-made place, but they did Sky Lagoon so beautifully. I absolutely loved it and would thus recommend to visit the place. It is just too good to complain too much about the admission.
Flyctory.com and Iceland
Here are all my postings related to Iceland:
Flyctory.com about Business Class & More
Here are all articles related to Business Class and First Class travel: