If you are following my website, you know that I love flying in proper flight simulators. While in Dubai, I had in the opportunity to check the Dream Aero simulator. Even though located in a major Dubai shopping mall, it is a full motion simulator. Here is my view of the experience.
Dream Aero Dubai – Location & Admission
The simulator is located at the Southern edge of Dubai Festival City Mall, on ground floor, close to the Centerpoint store. You typically approach the mall and the simulator by car, rental or taxi, as it is unfortunately not connected to the metro network. The mall is located next to the creek and also offers a nice promenade, so that it is definitely worth visiting.
There are different "experiences" you may book, depending on the duration of your flight(s) and the day. I had a one our flight on a Monday, which was 850 AED, about 205 Euro. The same experience during the Arabian weekend would be 950 AED. Experiences range from 15 minutes (only before 6pm, 375 AED weekdays) to the 1450 AED (weekdays) VIP Package, which is two hours. On top of that, you may also become a member and have the right to use the simulator for 30 minutes / one hour a day, which will then lead to a regular payment of 5000 / 8500 AED.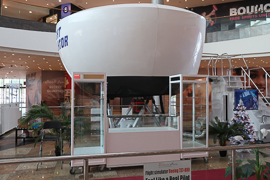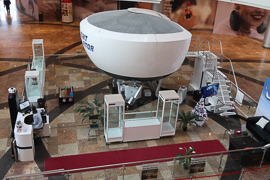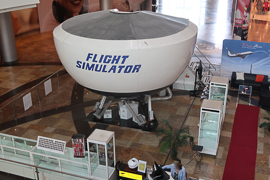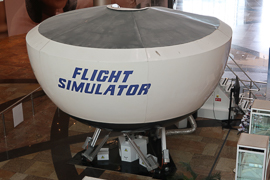 Dream Aero Dubai – The Simulator & Staff
The simulator is a full motion simulator. In general it would be fully nearly eligible for professional pilot training – however, due to its location, it cannot be licensed for that. It simulates a Boeing 737 NG plane.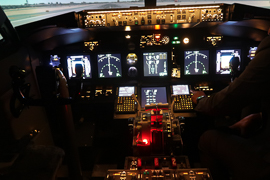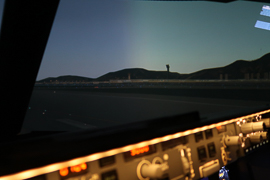 The instructor / coach / captain was a very nice and friendly person. After flying once around Dubai International Airport (which I feel is a nice choice to get used to the controls), we were discussing about some ideas which flight to do next. He was very helpful, but also increasing challenges like "I want you to land on the same airport, but with light turbulences", which was a lot of fun.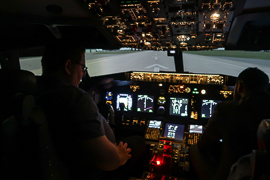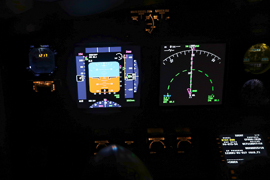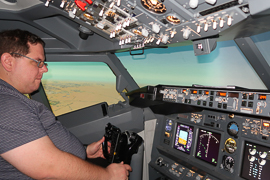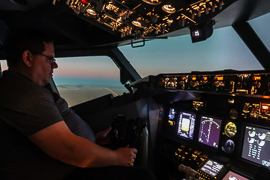 Dream Aero Dubai – The Experience
60 minutes of flying give you quite some time to try out some flight experience. As said, the first experience was a departure from Dubai in Northwesterly direction (which is also the typical route there) with flying a round over Dubai and landing at DXB again. It was a nice warmup, which is also a nice scenery (unfortunately not too well reflected on the pictures).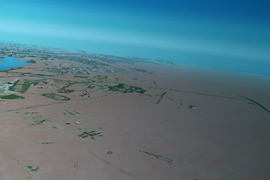 Second flight was a route I selected, from Dusseldorf Airport to Cologne/Bonn, my home airport – a classic when I am having simulator time. Honestly I was that much into enjoying the views over my home area, spotting the area where we live and taking a picture of Cologne airport that I failed the first approach on runway 14L. At least that gave some view of Cologne Cathedral, before I quite smoothly made it in the second attempt. Then the instructor gave me an approach on the same runway, but opposite direction (32R) with "light" turbulences. I somehow made it, but it takes an awful lot of concentration, so that I was quite exhausted.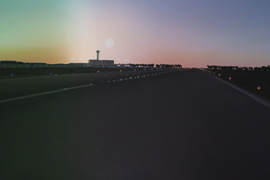 Finally, the last flight we took was a flight once around new Hong Kong (new airport). Quite a nice and relaxing flight, lovely views. Nice one.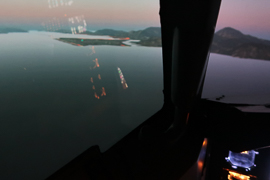 Dream Aero Dubai – My View
Flying a motion flight simulator was just amazing. The coach was really cool and contributed a lot of cool ideas. The price for the experience is of course posh – but it really adds a lot to your experience. Landing at by home airport Cologne / Bonn under "light" turbulences was definitely impressive. Bad luck that it has been "just" an hour – definitely recommend the experience and would do it again next time. No doubt that this one is a Top Pick! experience.
Flight Simulators on Flyctory.com
Here are all other Flyctory.com postings dealing with flight simulators:
United Arab Emirates – More Postings
Here are all posting of related to the United Arab Emirates: