Having a swim in a (somehow) natural geothermal pool in Iceland feels to be the equivalent to the Blue Lagoon. The place on Reykjanes, not too far away from Keflavik Airport (KEF) is just the most iconic and likely most well-known tourist attraction on the island. However, there are alternatives. I introduced you to the Sky Lagoon in Kopavagur near Reykjavik already. This posting, however, takes you up to the very North of Iceland, to the Myvatn Geothermal Pool. Can it compete with the Blue Lagoon? Here are my thoughts.
Myvatn Natural Pool – Location & Admission
Myvatn Natural Bath is located in the North of Iceland, named after the adjacent lake. The closest cities are Akureyri and Husavik, which are each located some one hour drive to the West from the natural bath. I you head the Ring Road #1 Eastbound, the next major city is Egilsstadir after some two hours drive. Reykjahlid, which is quite close to Myvatn baths offers all touristic necessities like hotels, a petrol station, supermarkets and restaurants.
The Myvatn Baths are open daily from 12:00 to 22:00 hrs. There are shorter opening times between Christmas and New Year. There is no VIP access or similar packages like at Blue Lagoon or Sky Lagoon. The universal adult admission is 5700 ISK, less than 40 Euro. You may rent a towel, a swimsuit (850 ISK each) or a bathrobe (1800 ISK). On a sunny day, a bathrobe is not necessary in my point of view. The ticket is having a time slot for the time of entry, but there is no fixed duration of your visit. Please note that the water may attack the coating of glasses and optical devices.
Myvatn Natural Pool – Before the Visit
Like at all Iceland geothermal baths, you should be aware of (or read about – there are signs everywhere) of the Icelandic bathing rules. The key one is that, before you enter the bath, you should have a shower using shampoo and shower gel, but without any bathrobe. Especially North American tourists seem to struggle with this request, which is a bit of a shame in my point of view. Amenities are provided in the bathrooms as well as racks for your street shoes. During my visit, the dressing rooms were fine, not overwhelmingly crowded. There was regular cleaning.
Myvatn Natural Pool – The Bath
When the water is coming from the geothermal spring, it has a temperature of about 130°C. The pools, which hold an overall of some 3.5 million liters, then come with a temperature of 36 to 40°C. Even in summer 2021, there was no issue to socially distance, the area is really huge. You will comfortably able to stand in the water – alternatively, there are a lot of sun loungers around if you want to relax on a sunny day (or in a warm blanket on a colder day). The scenery with the lake and the mountains in the background is breathtaking. By the way, the bath operated already in the 1950's and thereafter – but has been re-opened in 2004 similar to its current shape.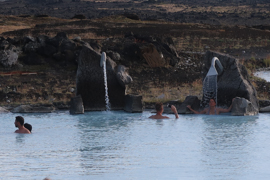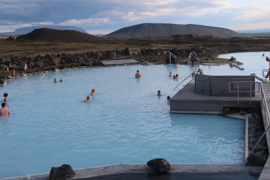 Needless to mention that the place became a must-visit one for Instagram addicts. There are also some additional pools and amenities. The hot pot basin was rather popular, but you will find a spot in there if you wait a bit. There are also two steam bath rooms, if you want to have a sweaty time.
Myvatn – Food & Services
There are two ways to refresh yourself. You just cannot visit Myvatn without visiting the pool bar and sip on a cold one. You may purchase the drinks in the pool, but you can also pre-pay at the entrance. In that case you receive a wristband on which the drinks you purchased are stated. It is just lovely and a must-do. Water is provided for free throughout the place.
Alternatively, you may visit the Kvika snack bar / restaurant, which you typically do after your visit. I had a soup and a sandwich in there and absolutely loved their food and enjoyed to watch people having a bath.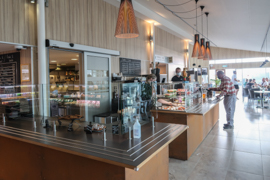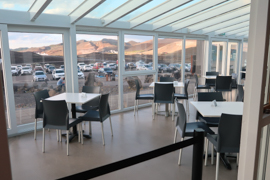 At the entrance to the bath, there is also a small souvenir shop – which majorly sells swimwear and outdoor wear.
Myvatn Geothermal Pool – My View
I really like the Myatn Geothermal Baths. The place might be not as fancy as the Blue Lagoon, but it comes with a very relaxed atmosphere and a lovely scenery. The key disadvantage of Myvatn compared to the famous peer is the location – you just very likely enter Iceland through Keflavik Airport and more or less pass the peer – while it is a several hours drive from the international travel hub to Myvatn. Thus, if you are around, the Myvatn Geothermal Pool is a lovely visit and a great place to relax – for a rather reasonable price.
Flyctory.com and Iceland
Here are all my postings related to Iceland:
Flyctory.com Pictured Stories
The key contents of Flyctory.com Pictured Stories are the picture, not the text: