Puffins are one of my favorite animals. Thus, being able to say hello to them in wildlife conditions is always an amazing experience to me. While I did that in Iceland at Latrabjard in the Westfjords a bunch of years ago, my wife and I went to the very Northeast of Iceland on our Ring Road trip in May 2023. On the fourth day of our trip, we visited the small cape / peninsula of Hafnarholmi (which translates to "Harbor Hill", if my Icelandic is right). It is a neat, serviced spot in a beautiful scenery. Enjoy meeting the cute birds with me in this posting.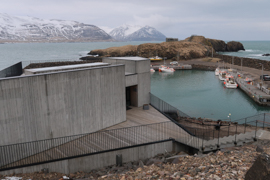 This posting comes with a section of 163 major size pictures in the travel galleries.
Hafnarholmi – Location & Traffic
Hafnarholmi is located close to the village of Bakkargerdi, which offers some services to travelers. There are rare bus connections and even an airfield around, but finally, you need to get there by car. The drive along route 94 from Egilstadir took us about an hour. However, you need to cross a mountain pass – we had snow even in May on that drive.
The facilities are available all the time. If you want to enjoy a drin at the Hafnarhus Cafe, you can do so from noon to 16:00 in summer. There is a free parking lot next to the cape. Between the parking lot and the bird-watching hill, there is an operating harbor, so you should not interfere with the operations there (also not by parking there) when visiting the puffins. Typical puffin times are beginning of May to end of August. We were there at the beginning of May so that there were just a few puffins around.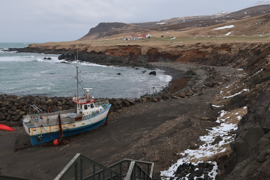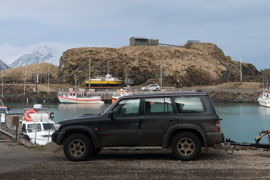 Hafnarholmi – The Hill
The area around is already worth the trip. Hafnarholmi is not overwhelmingly large, but it comes with the characteristic steep cliffs which puffins need to breed. Only a small part of the two capes of Hafnarholmi is accessible for visitors. There are fixed wooden walkways which you have to use. One part is leading to a platform to the top of the hill, while another one is leading to a closed bird watching hut, which has all kinds of facilities necessary for nature photographers. There was even a small heating in the building – what an amazing service.
Of course, you are finally there to watch birds. During our visit, there were some puffins and also seagulls. I did not have my professional gear with me, but still was able to do some really nice snaps. We stayed at Hafnarholmi maybe some 20 minutes – and that was already quite a nice time to watch the puffins and seagulls.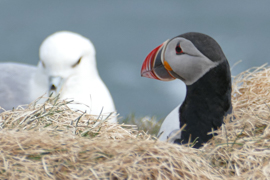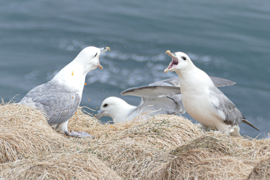 Hafnarholmi – Services
In a nearby building, there is a cafe and public toilet. You can access the toilet regardless whether the cafe is open or not. There are a few restaurants and accommodation options in the nearby village.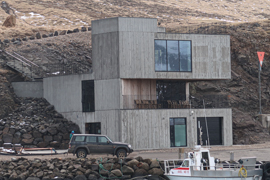 Hafnarholmi – Birdwatching Gallery
In the travel  gallery, there is a designated major size picture gallery with 163 pictures of my visit at
Hafnarholmi – My View
Hafnarholmi is quite a remote place in Iceland – but the trip is a nice drive and watching the puffins is worth it. It is one of these wonderful hidden gems in the country. The area also features quite a nice range of touristic services. If you can afford investing the driving time on your Iceland trip, I definitely recommend to think about adding this lovely spot on your itinerary.
Travel Postings about Iceland
Here are all my travel-related postings about Iceland:
Free Entry Places – 2023
Here are all places with free admission I reviewed in 2023: