The only UNESCO World Heritage in the whole city state of Singapore is not one of the historic buildings, but the lovely SIngapore Botanic Gardens. Due to the weather conditions, I could not go for a full walk through this amazing piece of nature, but explored one of its most iconic parts: the National Orchid Garden is located in the heart of the world heritage and is a specially-themed botanical garden in its own. In this posting, I share my lovely experience with you.
National Orchid Garden – Location & Admission
Singapore National Orchid Garden is located close to the Tyersall Gate entry and parking lot of the Singapore Botanic Gardens. Unfortunately, this entry does not feature a link to local transport, so that you can only reach it by car or taxi. The next bus stop is Tanglin Gate. I would rather recommend the taxi option though. Walking through the Botanic Gardens can be very challenging as it naturally has an even more humid climate.
Admission is 5 SGD (3 Euro) for adults, the reduced entrance is 1 SGD.
National Orchid Garden – The Garden
The National Orchid Garden is like a park, you can walk freely around the trails and explore the flowers and some nice sights around. There are, of course, selected routes, which also feature the key attractions, themed orchid patches as well as fountains and other interesting installations. The park is beautifully arranged and has a lot of atmosphere. There are also a lot of signs which give you detailed information and help you to orientate.
The "stars" of the park are the flowers, of course. The selection of orchids is amazing, even if you are not too much into flowers or gardening.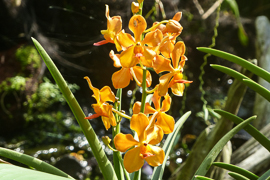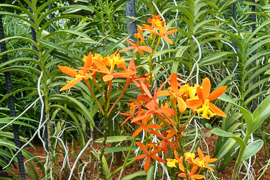 National Orchid Garden – Services
Tickets are sold at the souvenir store and entrance facility. You may also buy some snacks there. The most important service is likely that there are numerous shady areas in the garden, so that you have time to relax. Depending on the daily climate, the comparably short visit (I stayed in the Orchid Garden about one hour) can  be physically quite challenging.
National Orchid Garden – My View
Visitng the National Orchid Garden is definitely one of the highlights when visiting the Asian city state. It is a bit of odd to get there, but the park (including the Botanic Gardens themselves) is lovely. A lovely natural reserve you just have to see. Top Pick!
Singapore – More Postings
Here are all postings which deal with Singapore:
Flyctory.com's Botanical Gardens
These are all Flyctory.com postings on Botanical Gardens: