Just having started as an "ordinary" farm at the edge of Willemstad, the Curacao Ostrich Farm is now one of the best rated attractions in the capital area. Being one of the biggest ostrich farms out of Africa, it felt it could definitely be worth a visit on our Curacao trip.
Curacao Ostrich Farm – Location / Admission
The Curacao Ostrich farm is located on the very Northeast of Willemstad. The area used is really huge, but the tours are just covering a very limited area (still impressive) of the whole grounds – the majority of the 400 ostriches they are currently having is not visible to the public so that the animals are living in a more relaxed atmosphere. On the road to the Ostrich Farm you are also passing by other popular tourist destinations like the Aloe Vera Farm and Serena's Art Factory, where the famouse chichi figures are created.
Tour admission is 17 USD for adults. You may also combine your experience with a lunch in the restaurant (see below) for a total of 37.50 USD. There is also a combination with a dinner experience for 65 USD, which is available on prior reservation only.
Curacao Ostrich Farm – The Tour
The tour is taken in a safari-alike jeep, five rows with some two to three seats on each side. The driver is the guide as well, so that the jeep is stopping at a couple of location and the guide is turning around to you to give you some information. Our tour has been in English and Dutch, but I guess other languages might be available by request or luck. The first stop, for example, gives some general information on ostriches as well as a few on one of the few emus on the farm. You also learn something about mating, how they breed the birds (and how they take away the eggs) and other information on the animal's development.  The highlight of the tour, of course, is the ostrich feeding, which is done from a bowl in your hand. It is a lot of fun – you can also interact with the birds a bit and for example learn that they cannot bite you (they may however kick you, which can be very dangerous). After you unboarded the jeep, you can even stand on an ostrich egg, illustrating how solid these are.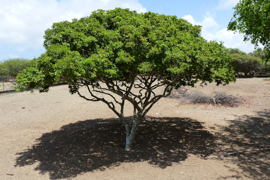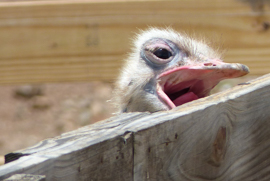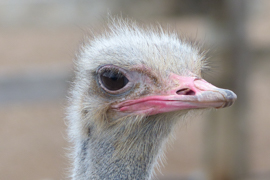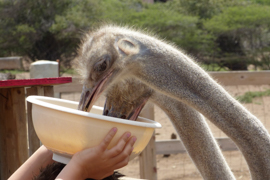 Curacao Ostrich Farm – Other Animals
One of the key reasons is the whole visit has been a really great time is the whole environment around the tour. At the end of the tour, you visit some nile crododiles, while in the farm center, there is an amazing variety of animals. My favorites have definitely been small apes in a cage, but there were a lot of ducks and a turkey, different kinds of parrots, peacocks, pot-bellied bigs, goats and many more. Many of these animals are tame so that you can pet them or play with them. Really a lot of fun!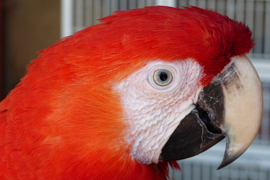 Curacao Ostrich Farm – More Entertainment
The Zambesi restaurant, which is also offering ostrich dishes is definitely a place where many visitor spend some guilders or US Dollars. But there are some more ways to extent your time at this place: The farm is very close to SInt Joris Baai and a wooden outlook tower gives you a great view over the area. If you are really a brave guy, you may try to ride an ostrich – unfortunately, I have no clue how much this experience will be. Honestly, I would not dare to do so.
Curacao Ostrich Farm – My View
The Curacao Ostrich Farm is definitely a top pick when you are in Curacao. Of course, there are a lot of interesting museums, national parks and the Willemstad World Heritage around – but if you feel like hanging out and having fun, this might be the place to go to for you. We had a lovely time out there in Northeastern Willemstad an dwould definitely recommend it!
Other Curacao Trip Postings
As part of my July travel to Curacao, I so far have additionally posted the following reviews:
In addition, as part of this travel I have done a daytrip:
I flew Air Canada Rouge on this trip:
The following galleries have been published on this trip: