While the German version of a Warner Bros. Amusement Park in Bottrop lead to a loss of licences of that company and the park is now operating as Movie Park Germany, there is still a Warner Bros. licence South of Madrid combining roller coasters and Roadrunner, shows and Superman. I visited the park in June 2018 and give you some impressions about that place.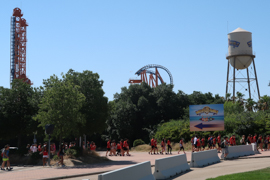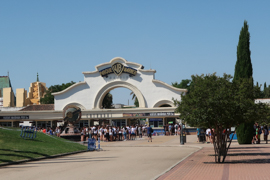 Parque Warner Madrid – Location and Admission
In fact, Parque Warner Madrid is located in San Martin de la Vega, which is some 25kms South of Madrid city centre. Thus, a drive from Madrid Barajas airport, Terminal 4, (which is located Northeast of the city) is some 50 kilometres to this attraction, which I did after my favourite LATAM 705 service from Frankfurt to the Spanish capital:
The park opening times are comparably complex: the park is closed in winter and opens from March to September. There are some scattered opening days thereafter. Peak season is July and August, in which the park is open 11:30am to midnight all days. I have been in the park on Friday, 22nd June, where the gates opened at 11:30am as well, but closed at 8p.m. already. The ordinary adult adminssion is 40.90 EUR. However, if you limit yourself to a less crowded day (like I did), you may just pay roughly 25 EUR if you book through their website, www.parquewarner.com. You may also add some pre-payed food (up to All you can eat and drink) to your expenses already. You may also save some money if you pre-book your parking spot – as you have to give your registration plate, it gets difficult if you go for a rental car. Uncovered parking is ten Euro a day – if you want to have a covered place, add two Euros. There is limited "covered" parking in the uncovered area under a street bridge.
Even on a day like the 22nd June when I visited the park, you might consider to go for a fast pass option. There are three levels of Fast Pass – but the two major packages I would recommend are some 30 Euro both. I did not go for one as I was limited in riding roller coasters due to the bruised rib injury from the Azores Scooter Trip.
There are shuttle buses from Madrid city centre or the closeby regional train station, which connect the park. All this information is available in English on the park's website – the online ticket booking process does however either need knowledge of Spanish or an intensive usage of Google Translate.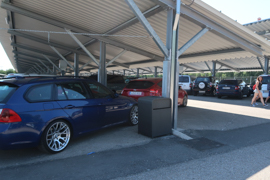 Parque Warner Madrid – Areas
The park splits into five areas, which I review in here spearately. I listed them in clockwise order, in which you may also visit the park, if you like.
Hollywood Boulevard
Like in many amusement parks, Parque Warner starts after passing the gates with a city-alike area with shops and a nice welcome. Apart from those, the area just hosts two attractions: it is used for the parade (which I skipped as it is done right before park closing on the low-season days) and a 3D show in the Chinese Theatre, which I did not like too much – the 3D effects were really lame compared to similar shows in other amusement parks.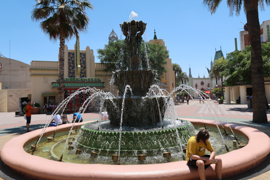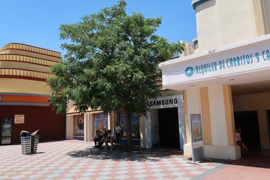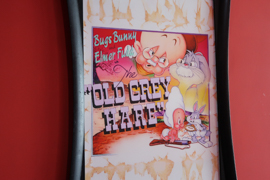 Movie World Studios
Leaving the Hollywood Boulevard to the left, you first visit the Movie World Studios. There is unfortunately not too much film studio-alike attraction in this area apart from the Policy Academy stunt show. You may start with the Cine Tour, in which you are just driven through a landscape with a car. Nothing interactive and the scenes are rather boring, so that I would give it a low rating. The other attractions in this area are quite cool, though: Stunt Fall is a rollercoaster, in which the car is partially also pulled up backwards. In Hotel Embrujado, you sit next to each other in a room, which feels to turn forwards and backwards and upside down. It is a rather simple ride, but I love the illusion of thinking that you must be heads down knowing in parallel that you aren't. Parque Warner has a lot of "wet" attraction – not too surprising when you look at the Spanish climate. I never got as soaking wet as in Oso Yogui, which is a simple slow boat ride, but all seats are equipped with water shooting. You may shoot at other boats and also on the people walking around the attraction, but even these can also shoot you from outside. Apart from that, there are some fountains on the course of the track. I loved it 🙂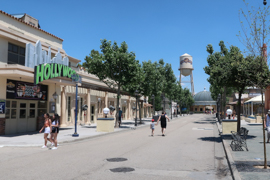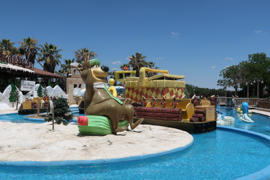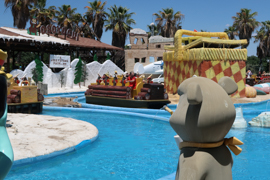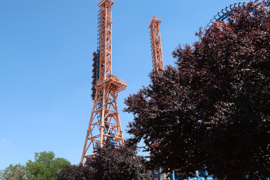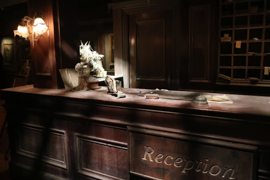 Super Heroes World
Super Heroes is majorly home of Superman and Batman. The Superman area hosts a rollercoaster and a classic ride, where people are turned around again and again on a two-armed cabin. At the entrance to the Gotham City area, there are a lot of amusements, where you can win giant plush toys. Batman is also naming one of the park's signature rollercoaster rides. In addition, there is Mr Freeze's chairoplane and bumper cars themed on the Joker. This area also hosts the freefall tower La Venganza del Enigma, which you obviously can see from all areas of the park.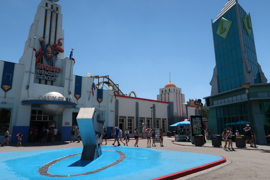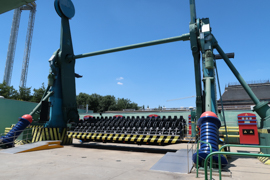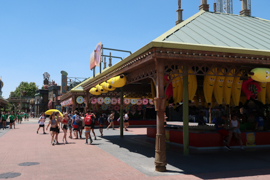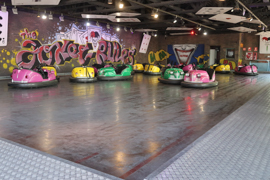 Old West Territory
In Old West Territory, Parque Warner brings you back to the Wild West ages. This area has a lot of interesting rides. The most visible might be the wooden rollercoaster Coaster Express, which was unfortunately closed on the day I visted. Would have loved to ride it. Want to get wet? Old West Territory gives you two excellent opportunities: right behind the Super Heroes area, you approach Cataratas Salvajes, which is maybe the most boring white-water ride ever, as the boats are just pulled up, do a 180 degrees curve, splash down and then go back to the start – but people loved it and you are definitely wet thereafter. If you stand on the bridge over the track and watch the boats going down, you might even get more wet than in the ride itself. Rio Bravo, the water alternative, is more classic, but a very fun ride, as parts of the trip (including the first drop), you do backwards. The only thing I did not like is that the boat is quickly running full of water. Los Carros de la Mina is a classic fairground attraction ride, which was also quite a lot of fun. Finally, this area hosts Expedientes Warren, which is a ghosthouse driven by real human actors. This is the only ride in the park you have to pay in addition tho the admission. You walk through the house in small groups – be aware that you are in the front of the group. I have been rather in the back and have definitely not been scared as hard as the front people. Five Euro felt comparably massive for it.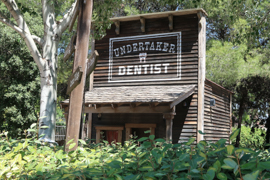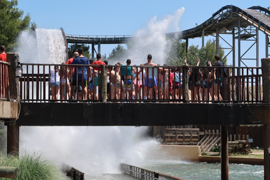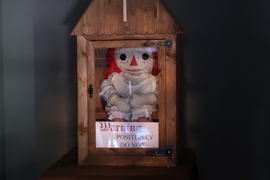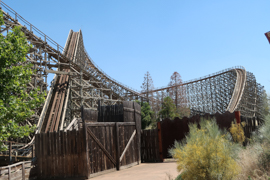 Cartoon Village
Yeah, there is a big little kid deep inside me – the Cartoon Village was definitely the area I wanted to see most when being in Parque Warner! Meeting the Looney Tunes or saying "Hello" to Scooby Doo is likely the highlight for many visitors of this place. To do so, you may also visit the homes of Duffy Duck, Bugs Bunny and Tweety – however, taking pictures with you is charged (in contrast to other characters, which you may meet on the streets). I have to admit that I got a bit lost in that area, sto that I amongst other ones missed another water ride, Rapidos ACME. Unfortunately, the Coyote-themed family roller coaster Correcaminos BIP BIP was down due to maintenance. The area hosts a lot of attractions, including numerous ones for the younger, especially in the Looney Tunes Park area. There is also an area, ACME: Juegos de Agua, which you can walk through and is full of fountains (getting wet… again…). In general, this is the family attraction area. Tom & Jerry is another easy family coaster and in La Aventura de SCOOBY DOO, you are driven around in waggons and have to shoot on targets (which did not feel that precise when I tried it). Another ride I absolutely enjoyed was a tea cup ride also themed by Scooby Doo. The ride reminded me of the awesome Mr Ping's Noodle Fling  in Motiongate Dubai.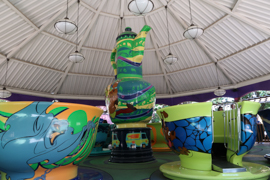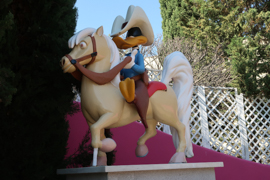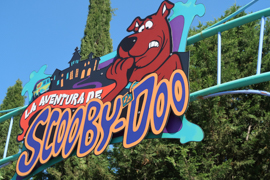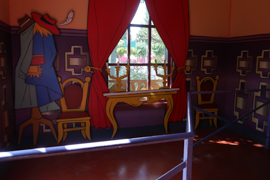 Parque Warner Madrid – Shows
Parque Warner tries to offer a huge variety of shows in their grounds. Unfortunately, it is very hard to find out the show times without walking through the park and keeping them in mind. This is why I finally just ended up seeing the very car action-driven, but in general very well done Police Academy stunt show, which was quite crowded even on a low season day. It was quite strenous that they still had to seat people the first five to ten minutes of the 30 minute show, though. I would have loved to see the 30 minute spin-off of my favourite musical, Rock of Ages, but they do not perform it on all low-season days. There is also a Batman-themed stunt show and a Can Can show in the Old West Territory.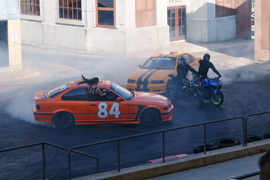 Parque Warner Madrid – Drinks Food Souvenirs
The park offers quite a variety of food options. There are quick bites as well as All-you-can-eat options ("Buffet libre") for 20 Euro. I had two snacks, one typical "bocadillo" (sandwich) with ham, fries and a 40cl fountain soda was roughly ten Euro. I had a large drink with Onion rings later, where the large drink was reasonably priced (four Euro, some 80cl).
The park also tries to offer sufficient drinking options by bottled soda machines. Unfortunately, the machines felt to be very picky to me in regards of accepting coins. Facilities to pay by credit card at these machines, e.g. by Paywave, were just very rare. A bottled water was 1.90 Euro, Coke or similar roughly 3 Euro. I did not see any fountains in the waiting queues, which I felt to be critical in summer when the queues are longer.
As expected, there is a huge variety of souvenirs you may take home to remember the time in Southern Madrid. I felt that the prices are in reasonable range (e.g. an adult t-shirt for 20 Euro). Sometimes, the shopping space even feels too limited: I for example would have loved to buy a Roadrunner shirt. It is maybe not a big seller, so that you finally may choose of two or three designs – like it buy it anyways… (or leave it). Nevertheless, add some expenses for plush and more to your financial planning especially when you travel with kids.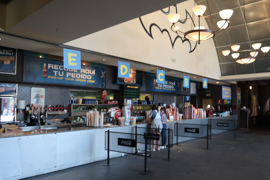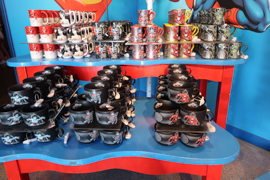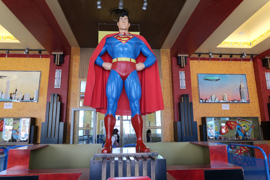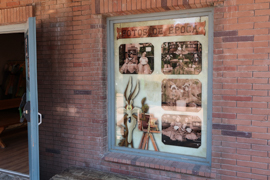 Parque Warner Madrid – Other Services
I would say that the park was reasonably clean when I visited it on 22nd June 2018. However, coming closer to the end of the day, the cleaning performance seemed to slightly decrease. My most negative experience was when some idiots threw wet toilet paper on the walls of one of the toilets. As it looked quite dry already, the service should have removed it already.
There were luggage lockers close to the entrance of the park. I feel they had a fair price with five Euro per day (as much access to the locker as you want). To open and close it, you received an RFID bracelet for additonal five Euro deposit. In contrast to Motiongate and other Dubai Parks, for example, I did not spot any lockers close to the attractions. This is especially worth mentioning due to all the "wet" attractions in the park. If you do not want to lock your stuff, you should really be aware to protect it against water. There are people dryers all around the place – when I have been there, though, most people preferred just getting dried by the sun.
One thing you have to mention that I felt that due to the low season some rides took a stop for a "siesta" (afternoon break) – more likely due to the lunch break of the operators. Furthermore, I deeply missed the waiting time monitors you nowadays feel to have in any (other) amusement park out there. The information is available and there are screen here and there scattered over the park, which tell you the waiting times for multiple rides – but they are not given at the entrance, which is a big miss in my point of view.
Most of the signs and nearly all announcements are in Spanish language only. For most of the attractions, only info boards at the entrance of the ride tell you about safety in English. Some of the staff was very limited in English as well. This shows how much the park is concentrating on local customers.
Parque Warner Madrid – Water Park
Right next to Parque Warner, there is a water park, Parque Warner Beach. There is even a direct passage from the Super Heroes area of the original Parque Warner. I haven't visited the water park, so that I just had a short look to the website, which states quite a number of slides and other water attractions and several opportunities to relax in the sun or shadow. If you book in advance, the admissions seems to always be 15 Euro per adult, which feels to be a very fair price for the offered attractions.
Parque Warner Madrid – My Review
I definitely had an enjoyable day in Parque Warner / Warner Bros. Park Madrid. It is a nice, a bit laid off location. One thing I did struggle with was the Spanish mentality, which is much more tolerant about breaking the queues. While the Dubai Parks, for example, are extremely compact, this park is rather wide-spread. It does have flar and well-set up attractions. I loved the Cartoon Village most, though I absolutely hated to have to pay for pictures with the key characters. I would absolutely recommend to do it as many of the school kids I have been with in the park that day did and wear easily dryable clothing or just a bikini underneath your shirt so that you can dry down easily. I have definitely been surprised by the fact that the park is not trying to attract foreign visitors. Madrid is a tourist magnet – and this place is definitely not too bad spending a day. The website is English (apart from ticket booking) as well – but there is not even an English park map.
I combined by visit with a stay in the Getafe shopping area, which also covers a quite decent Outlet Shopping Mall and thus might be interesting for some of you.
Amusement Parks – More Postings
Here are all postings about Amusement Parks:
Flyctory.com in Madrid
Here are all Flyctory.com postings related to the Spanish capital: