The 15km long Tenerife tram track system between the harbour area of Santa Cruz and the old capital, San Cristobal de La Laguna, are the only rail tracks in all Canary Islands. I took the full ride during my visit in November 2018. It is not just a convenient and cheap way to make the altitude difference of some 600 meters, but also a very interesting ride. Please note that I took quite some pictures through the rear window of the tram, so that the view may sometimes be a bit odd.
Tenerife Tram – System and Pricing
There are two tram lines on Tenerife: Line 1 is the main line and connects La Laguna with Santa Cruz. It is covering a total distance of 12.5 kilometers between La Trinidad in the old capital and Intercambior at Santa Cruz harbor. Line 2 connects to Line 1 at about the middle of the trip and adds four stations to the system. It ranges from La Cuesta to Tincer. It is expected that Line 1 will one day connect to Tenerife North Airport, which serves most of the connections to Mainland Spain. However, there are currently no fixed plans for that.
Pricing on the system is very easy: you pay one fare, regardless how much you travel or whether you transfer or not. A single trip is 1.35 EUR. If you have a prepaid Virtual Wallet ticket, the price per trip is reduced to 1.05 EUR. This ticket does not lead to an extra charge apart from the credit itself. Students pay 0.80 EUR. There is no day or weekly ticket. If you stay in Tenerife for a very long time, you may opt a monthly ticket, though. The ticketing system is very modern – you may even pay the fare by scanning a QR code, which is located at multiple locations throughout the tram. There are service kiosk at each terminal stations – these seem to be closed on Saturdays and Sundays, though.
Tenerife Tram – Hardware and Tracks
The tram system is operated by 20 Alstom Citadis 302 trams, manifactured in Barcelona. Nearly the whole route has one track per direction. Near Hospital Universitario and El Cardonal, where Line 1 and 2 merge / divert, the turnouts are located in small tunnels. There is also a minor tunnel in La Laguna. All of them are crossed by major roads. There are USB chargers available inside the tram. The stations are built in a way that only single wagons may operate – joint wagons or longer configurations would be too long.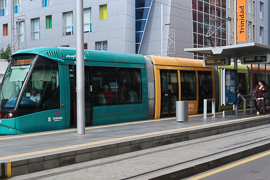 Riding the Tenerife Tram
I took most of the pictures on the downhill ride from La Trinidad to Intercambior. Here are some impressions of the starting station and the lovely surroundings (though the direct neighborhood of La Trinidad is quite modern). It was just a short walk from the hotel I stayed in, Gran Hotel La Laguna.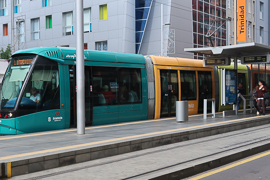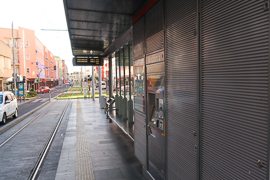 The tramline crosses a street through one of the tunnels. After that, most of the track area is located within a grass border, which really looks nice. This area is also having the steepest hills. Around the University Hospital (as mentioned above), Line 1 merges with Line 2.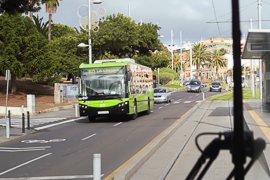 After Line 1 and 2 diverge again, the area becomes significantly more urban. Om the other hand, there are some nice spots to have a look at the Atlantic coast. Between La Paz and Fundacion, you reach the heart of Santa Cruz (and even ride through park-alike areas), before you head towards the harbor area. The train terminates at Intercambior.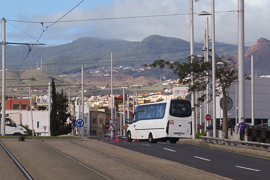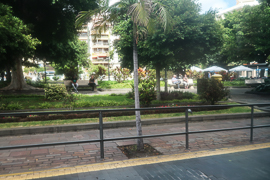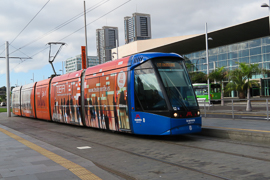 Though it might not look that nice at first sight, there are some beautiful spots around, like the Tenerife Opera House, a botanic park concentrating on palms or a lovely public swimming pool. The most characteristic sight, though, is definitely the fort Castillo de San Juan Bautista.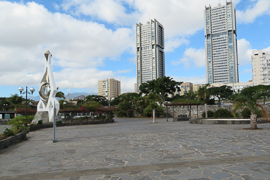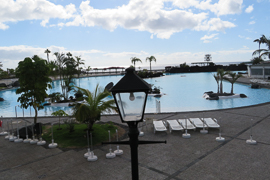 Tenerife Tram – My View
Riding the Tenerife Tram was definitely a pleasureful experience to me. You see quite much on route the tram. There are also some nice Ocean views. Furthermore, it gives you the opportunity to explore Santa Cruz and La Laguna from one hotel without using a car. I felt the Gran Hotel La Laguna I chose for that was quite ideal. The tram definitely adds significant value to Northern Tenerife and I hope that they will expand it to the airport soon. Finally, the pricing is very reasonable. However, the tram system already seems to reach its limits. The cars were very full on my trip. The potential to significantly increase the capacity seem to be limited.
Other Tenerife Postings
Note: there are thoughs to establish a rail system in Gran Canaria as well. As far as I know, the construction has not been started yet.
Rail system map by Maximilian Dörrbecker (Chumwa) [CC BY-SA 2.5 (https://creativecommons.org/licenses/by-sa/2.5)], from Wikimedia Commons