Legoland Dubai has been the third outlet of the Danish toy superpower I visited so far in my life: after a trip to their homebase in Billund more than ten years ago, I was at Günzburg, near Ulm, when I had a Merlin annual pass. Thus, I have been quite interested to see how the concept will work out in in the Emirates. To give some short message beforehand: I feel it is worth visiting!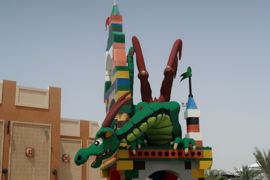 Are you a LEGO lover? You might be interesting my posting about the German LEGO market monopoly.
Legoland Concept
Legoland's mission can be easily summed up in two key phrases: first one, of course, "It is all about thr bricks", which is not that surprising. Secondly, also the Dubai outlet is aiming towards family with children roughly under the age of twelve – which has not been changed compared to the sister parks around the world, even if Lego just released an 7,500 piece Millenium Falcon box, which is definitely not being expected to be consumed by that age group (not just because you will need quite a lot of pocket money…). Thus, the rides will not really scare you if you a die-hard looping and corkscrew fanatic. Unlike other parks, Legoland Parks try to have a certain educational aspect as well.
Like the other Dubai Parks, Legoland is not that massive in size. You can easily visit in one day. Nevertheless, I felt that this park is larger in size compared to Bollywood Parks and Motiongate, but this may be wrong. Unique to the Dubai version of Legoland is the Legoland Waterpark, which is right next to Legoland and has its own entry and facilities.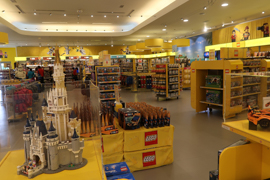 Legoland Dubai – Entrance and Miniland
The entrance area to the park is a covered Lego street with a couple of stores. The only attaction in the entrance area is Lego Factory, which shows how Lego stones are produced – including the pressing and printing of the stores. The fun fact of that attraction is that you get a free gift in the factory: an exclusively printed Lego Brick (which you may of course personalise in the gift shop for a nominal fee, if you like…). As this attraction is the only one in the entrance area, the whole area is called Lego Factory in the map of the park.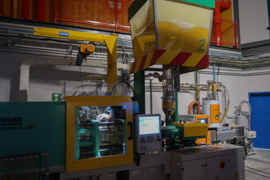 To me, the key attraction of each Legoland I visited so far has definitely been Miniland – and so does the Dubai version. They show a huge variety of sights in the region. Of course, there are Dubai sights in Lego bricks like the Dubai Airport, the Burj Khalifa (with the Water Fountain in front), Burj al Arab or Dubai Old Town, but I especially loved the exhibits of Taj Mahal or the World Heritage Site of Petra, Jordan. It took me quite a long time to see all the exhibits, which felt all quite amazing to me and just brings you back to your childhood dreams. Good thing about it: Miniland Dubai is indoors and air-conditioned – so you have plenty of time to explore all the story told in the Lego way (they even had Taipei 101, which I recently saw in Taiwan's capital)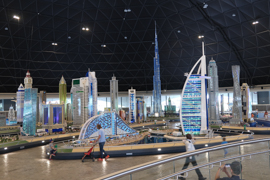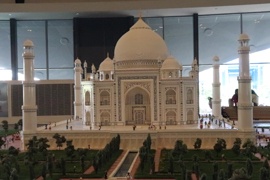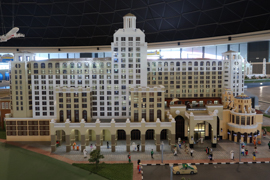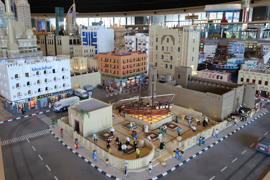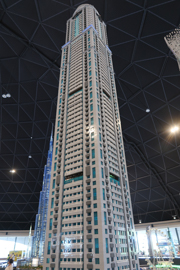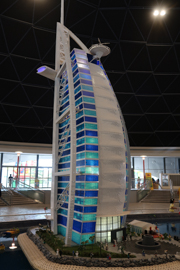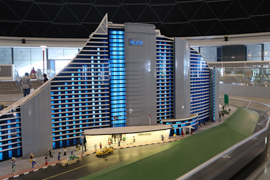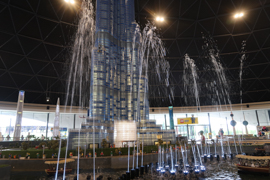 You can access all other areas from Miniland which are arranged like a circle. I opted for the clockwise tour and started in the Adventure area.
Legoland Dubai – Adventure area
Each of the Legoland areas just typically has about half a dozen of attractions (I do not count the games areas for that). The Adventure area thereby feels like two zones, as you first come to some rides which deal with water, followed by the Lost Kingdom Adventure area, which feels like Ancient Egypt.
I strted by visit with the Wave Racers, which is just spinning you circular in boats, which you can control sliding inside and outside. It has been much more fun than it originally looked like. A very impressive attraction, though, is Submarine Adventure. It feels strange first when you are boarded to the yellow submarine boats, but they really drive you through an aquarium there. The story is that you are somehow looking for Atlantis – but in fact you are learning quite a lot about submarine life with all the fish being displayed in screens in the boat. After unboarding, there is even a tiny aquarium and an encounter with sealife – I was able to have some cute shrimp running on my hand. Loved it – a very nice attraction.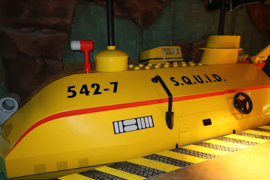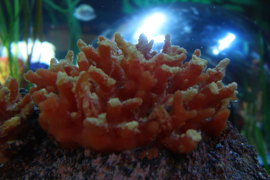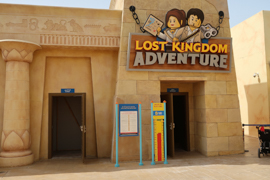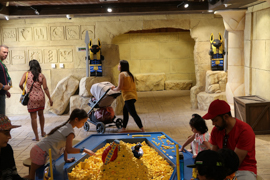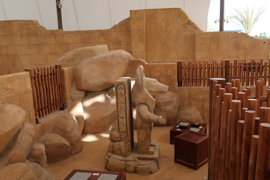 The Egyptian area is dominated by the Lost Kingdom Adventure ride, which is one of these rides where you are driven through an area and have to shoot on targets to compete with the people from your party. I liked that one, also because it worked quite well compared to other similar attractions. Pharao's Revenge is a foam ball attraction for kids, while the Beetle Bounce is a very easy "Freefall Tower" alike attraction. Overall, this part of Adventure was much more beautiful than the water part – however, Submarine Adventure has simple been one of the best rides of that kind I ever had.
Legoland Dubai – Imagination
Next to Adventure, the Imagination area felt quite large. The key attraction is likely the Lego Studio 4D, which offers timed 4D shows (which did not fit into my schedule). The first attraction that I visited has been Kid Power Towers, which is also working like a tower attraction, but you pull yourself up by a rope. Very cool stuff – unfortunately, I have been too big, while a lot of kids around too small… Build and Test can be found in several Legoland outlets: you can create your own Lego car and then compete with your friends on a downhill track, whose construction is the quickest. Educational, but sometimes even a bit of frustrating. The Duplo Valley area with the Duplo Express train ride is covered under a tent and aiming to make the youngest Legoland Dubai visitors really happy.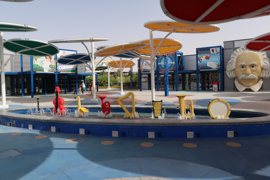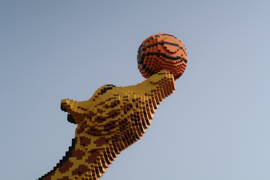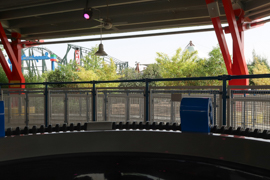 Legoland Dubai – Kingdoms
If you are a fan of knights and wizards, the Kingdoms area is all yours. The key attraction is likely the castle itself, the signature ride is The Dragon, which is a bit more speedy and thrilling than other Legoland rides, but still comparably easy. However, if this one is already too much for you, Dragon's Apprentice will give you a significantly easier Legoland coaster experience. To move Merlin's Flying Machines up and down, you have to kick the pedals of the ride – if you are too lazy for that in the middle of the Arabian dessert, Merlin's Challenge will give you a quick bumpy circular spin in Lego brick carriages.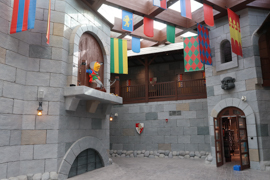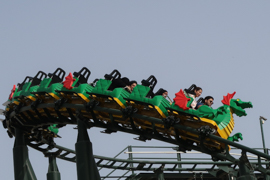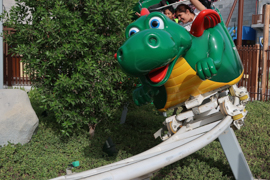 Legoland Dubai – Lego City
If you approach Lego City from the Kingdom area, you first see the covered court of the Driving School, which has unfortunately not been active when I came there. For smaller kids, there are no complex crossings and traffic lights in the Junior Driving School (maybe more local adults should visit these ones, terrible driving in Dubai nowadays…). The Sea Port and Splash Pad is one of may playground sites – this one may soak you a bit. I waited some 20 minutes in line to have a ride on the Boating School, which has been quite a lot of fun though you just take a couple of minutes to circle the playground. Rescue Academy looked like a team game, in which you take the role of a firefighter (looked really funny to me). The (really!) final attraction I took has been the City Airport. It is just a typical plane carousel, but of course, it just touched my heart best as a farewell (I did not take it).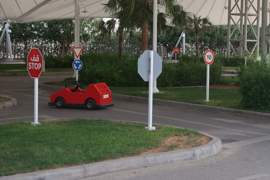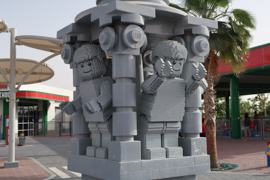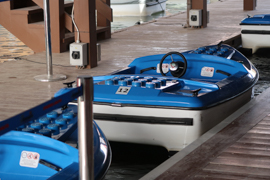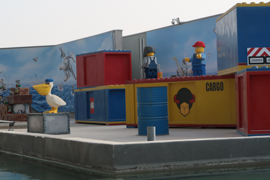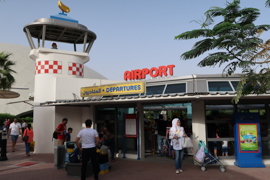 Legoland Dubai – Overall Rating
In general, Legoland is something special – either you are addicted to the bricks and love it or you cannot understand the fascination of the park and spending so many Dirhams for this kind of rides (I heard one father saying "It is so boring here"). The park is aiming towards smaller kids – but it absolutely touched my soul and I had an enjoyable (and much longer than expected) day in the park. The fact that quite a lot of areas of the park are at least partially covered are definitely a plus as well. I loved the flair and spirit of the park a lot and will definitely go back to see it again. It's a Top Pick!
General information like location, pricing, food etc. will be summed up in an overview article.
Amusement Parks – More Postings
Here are all postings about Amusement Parks:
United Arab Emirates – More Postings
Here are all posting of related to the United Arab Emirates: