Right next to Petronas Towers and the lovely KLCC park, the Kuala Lumpur Convention City also hosts an aquarium in its basement: the Aquariua KLCC may be rather hidden to most tourists. I happen to come along and decided for a visit. Here is my review.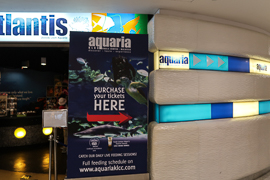 Aquaria KLCC – Location & Admission
As stated above, the aquarium is located in the Convention City estates. There is also a connection tunnel from that place to the Petronas Towers and its facilities.
Aquaria KLCC is open every day from 10:00 to 20:00hrs. Tourist adult admission is 69 MYR (roughly 15 EUR). The price for locals is reduced (Adult 49 MYR).
Aquaria KLCC – The Visit
Your journey starts in the basement of the conference center. The first aquarium is inhabited by piranha. The displays are very nice here – if there were less people, they would give a lot of potential to explore the animals. For the reason of being that packed, I could for example not take any picture of the otters during their feeding.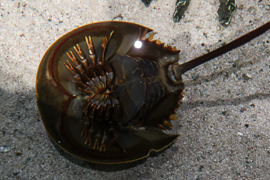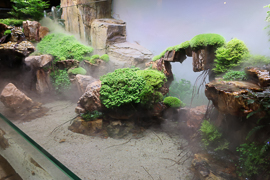 The last displays on that level rather feature tropical fish, but also shrimp and corals.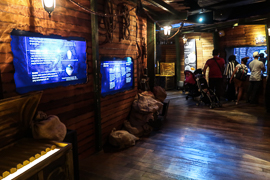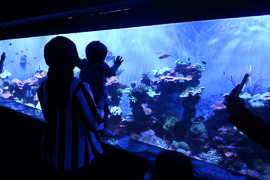 Just when you go down to level 2, you can explore a lovely round display at the beginning of the Deep Forest area. The highlight of your visit is definitely the Living OCean, which reflects a classic transparent tunnel through a huge basin of stingrays, sharks and other major species. The tunnel is named to be some 90 meters long. It was definitely great fun.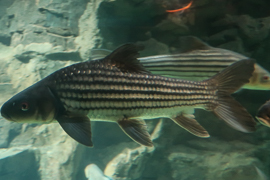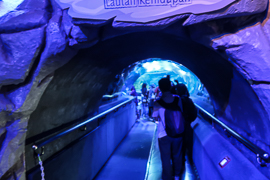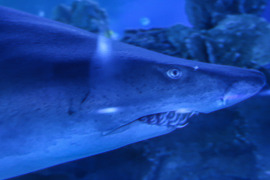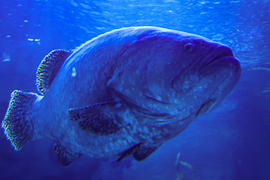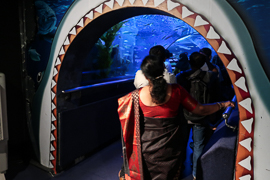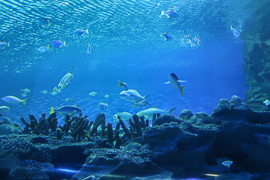 There is not too much more you will visit after you exit the tunnel. There are few major and minor aquariums and windows before the escalator tell you that your visit will come to an end soon.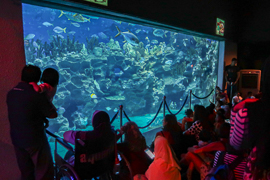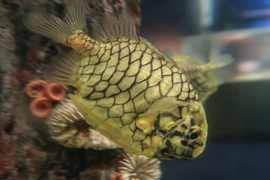 Aquaria KLCC – Services
If you feel like having a bite, there are some options available in the conference center and of course also in the mall in Petronas Towers. The aquarium does not offer a cafe or similar. Of course, you may spend some Ringgit in a souvenir store, though.
Aquaria KLCC – My View
Aquaria KLCC is neither S.E.A. Aquarium nor Georgia Aquarium – these places you visit and never forget, having that "Have to come back" feeling. But I felt it is a charming place. At the time of my visit it was quite crowded. I had an enjoyable time there. If you take more of the feeding times than I did, you might even have a better one. If you like water life, this is a nice place to go in Kuala Lumpur!
"Travel with Kids" Postings
Here are all postings about locations I recommend to visit with kids:
Flyctory.com about Animal Parks & Zoos
Here are all postings of the Zoos and More category: