There are numerous light shows in Singapore. I already wrote a posting about the lovely Garden Rhapsody and Spectra in the Marina Bay area. The lately-opened Jewel at Singapore Changi Airport features a light show, which I haven't attended yet. During my business trip to the city state in July 2019, I made it to Sentosa Island to see "Wings of TIme", which is very popular as well.
Wings of Time – Location and Admission
The Wings of Time Theatre is located on the Southern shore of Sentosa Island. LIkely, the easiest way to reach the place is the Sentosa Express monorail, whose terminal Beach Station is very close to the entrance of the theater. The Sentosa iFly and the Sentosa Luge are very close as well.
There are premium seats, which are proper seats (instead of sitting on benches) in the upper central area. The nominal ticket prices for these seats are 23 SGD (some 15 EUR) for non-resident adults. Standard seating is 18 SGD. Singapore residents pay 19.50 / 15 SGD. However, as for all Sentosa attractions, you will find a lot of discounts and bundles in the web. I booked a premium ticket for some 18 SGD – I am sure you can reduce that price significantly with more searching.
Wings of Time – The Story
Two kids, Rachel and Felix, play at Sentosa beach. By climbing on rocks, they free a fabulous bird, Shahbaz, who is able to travel through time. They finally explore different areas like Africa, an Underwater World or Pyramids. Of course, there is a happy ending and the kids are brought back safely with a new friend and a lot of new experience.
Wings of Time – The Show
Wings of Time uses a lot of techniques to project the some 15 to 20 minute show over the water. First of all, there are fixed displays, which are mounted over the water. To create pictures above them, Wings of Time projects them onto walls of water, similar as this is done in the Spectra show at Marina Bay. Water is also used for water fountains. There are also light and laser effects. At the end of the show, there is even a short firework. At the beginning and the end of the show, the kids are played by actors.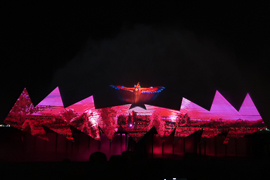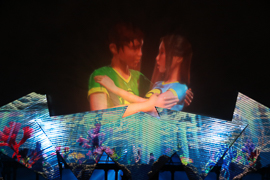 Wings of Time – My View
Wings of Time gives a lot of nice impressions and pictures in a very short time period. It is definitely a nice way to finish your day in Sentosa. It may not be a must-visit, though, in case you plan to visit Sentosa just for the Wings of TIme. The show is rather on the pricey side and I also felt it lacked some organisation. For example, people were allowed to hold cameras on selfie sticks above their head – which just means that the rows behind are looking into the display of these mobiles or cameras. During my visit, this significantly influenced my enjoyment of the show. Especially if you are with your children, you will have a good time in the theater. Be early as the good seats are taken very quickly!
"Travel with Kids" Postings
Here are all postings about locations I recommend to visit with kids:
Singapore – More Postings
Here are all postings which deal with Singapore: