The Ripley's Believe it or not Museums are quite well known. As I never visited one so far, I was even more curious that the same franchise is also driving aquariums. The Ripley's Aquarium of Canada is situated in the heart of Toronto and thus was a key visit during my stay in July 2018.
Ripley's Aquarium / CN Tower – Location & Admission
The two attractions are centrally located and right next to each other. Other attractions like the Toronto Railway Museum or the Rogers Centre (home of the Toronto Blue Jays, baseball) are also in neighboring distance. The adult admission for CN Tower is 38 CAD – you need to add 15 CAD if you want to see the higher so-called SkyPod platform. If you feel brave enough to do the EdgeWalk, which is exploring the city secured by a rope on the outside of the tower, the additional fee is 225 CAD. Ripley's standard tickets have a fixed time slot and cost 31CAD. You may also buy Anytime tickets or animal encounters for additional fees.
There is also a Sea the Sky combo for both attractions (without SkyPod), 58 CAD. If you really want to explore the city, the most sensible option might be the 88 CAD CityPass, which adds to CN Tower and the aquarium Casa Loma, the Royal Ontario Museum and either Toronto Zoo or the Ontario Science Center to you experiences.
CN Tower – Review
It is hard to really give some very special facts about a tower attraction like the CN Tower: with a height of some 553 metres, it has been the tallest free standing building in the world for 22 years, before it was beaten by Burj Khalifa. The lookout level which is open to public is however "just" roughly 346 metres high and includes the "ordinary" amenities like a glass floor, a closed and an open area, a gift shop and a place for a high-above-the-ground dining experience. The SkyPod lifts you to 446 metres. As we liked the view from the "ordinary" lookout level already, we did not go for the upgrade.
The view over the city is really nice. On a clean day, you even see the US coast of Lake Ontario – but even just overlooking the city centre, watching Toronto Islands and enjoying the traffic at Billy Bishop Airport is really nice. I do like observation towers – and CN Tower is definitely a nice deal, as there is something nice to spot almost in any direction.
By the way, a place we absolutely loved is the gift shop, which on the one hand had a vast variety, but also a very good quality – not just the "ordinary" tourist staff you typically bring home to your beloved ones. There is also a cafe and some dining at ground level in case you do not prefer the higher levels for nutrition.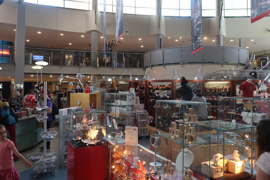 Ripley's Aquarium of Canada – Aquariums
You start visitng the Aquarium on Upper Level and go down to the lower level of exhibitions after some habitats. The very final exhibitions are upstairs again, were you may also go for some goodies at the gift shop.
Ripley's Aquarium of Canada is thereby very similar to other most aquarium attractions nowadays, e.g. Sea Life centers: a one-way walkway either through smaller displays or majestic aquariums. The first themed sections are Canadian Waters and Kelp Forest, before you go down. There were some very interesting exhibits and quite a nice variety.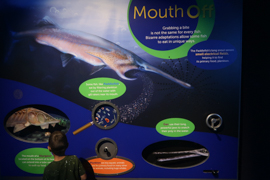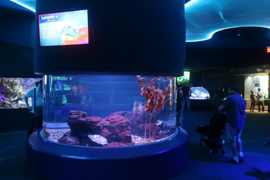 After a short Rainbow Reef section, you enter the the huge main aquarium. Nowadays, standing on a conveyor belt being driven through a pipe right within the aquarium might not be that special anymore – but this tour was absolutely stunning and massive. However, some areas lacked a certain varierty of species. Nevertheless, I absolutely loved this area.
After that, there was the short Discovery Center, where you could also pet Horseshoe Crab. The following topics were quite nice, there was also a section, which sowed some strange creatures, really a bit what you would expect from a Ripley's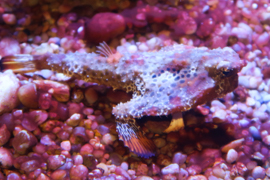 Finally, you go upstairs again. After you passed the cleaning systems of the Aquarium, you were able to pet some ray before you finally visit the gift shop and did your visit – I would recommend to assume some 90 to 120 minutes for the whole tour.
CN Tower – My View
If you have a clear view day, I feel that the CN Tower is a must-visit. You might not spent that massive time up there, but the view over the city and over the area is just too impressive to skip. I cannot judge on whether it is sensible to top up your visit with another 15 CAD going to the highest platform – we felt very fine with what we saw already, though.
Ripley's Aquarium of Canada – My View
Ripley's felt like a copy of many Sea Life ideas we saw worldwide before. The most characteristic exhibition is likely the Ripley-kind gallery of "strange" sealife animals and the life of Robert Ripley. It is definitely not a bad aquarium – especially the long conveyor belt are really impressive. You will have a good time at this place if you feel like going to an aquarium. On the other hand, it is definitely not a top pick like the Georgia Aquarium in Atlanta.
Toronto 2018 – Gallery
A full gallery of pictures taken during my time in Toronto in July 2018 may be found here:
Flyctory.com in Toronto
Here are all postings related to Toronto:
Flyctory.com Views from Above
Here are all postings tagged as Views from Above, dealing with any kind up-in-the-air viewpoints: