Madame Tussauds Amsterdam
19.50 Euro (online)
During a summer visit to Amsterdam, Covid-19 reduced the number of tourists that significantly that practically all attractions I visited felt so empty. To be precise: all but one. The very last location on my list on that weekend, the Dutch outlet of the legendary wax museum brand Madame Tussauds had quite some queues in front of their entrance. Was it worth it? Here is my review.
Madame Tussauds – Location & Admission
Madame Tussauds is located right at the Dam, one of the most central locations of Amsterdam. The National Museum, the Nieuwe Kerk (New Church) or Ripley's Believe it or not are located right at this central square, which is just a short walk from the main train station. A lot of other sights light the Amsterdam Museum are in short walking distance.
At the time a well as the time of visit, online adult tickets were 19.50 Euro. You may buy a couple of combo tickets including a channel tour (see my review of Lovers Channel Cruises) or the Amsterdam Dungeon. Door price for the wax museum only is 24.50. At the time of writing, opening times are 10:00 to 17:00, but they are longer duing non-pandemic conditions. The Museumkaart is not valid.
Madame Tussauds – The Visit
Once in the elevator, the atmosphere at Madame Tussauds Amsterdam was comparably relaxed. The first section of figures was about Hollywood – there were a lot of stars which are also represented in other locations (like E.T.). Being able to have a photo of you projected on Zayn Malik's chest as a "tattoo" is a really cool feature, I feel. Overall, this section was rather short, but I still quite enjoyed it.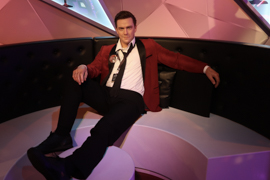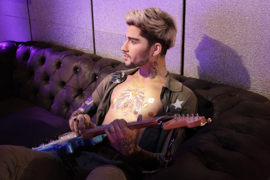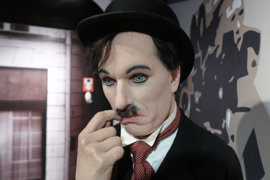 The next section was about sports, including Sebastian Vettel, Messi or Rafa Nadal. There is also a local touch with 2012 High Bar Olympic Gold Medaillist Epke Zonderland. Thereafter you walk up the stairs to a fashion section, which is very short and then leads to a general entertainment one.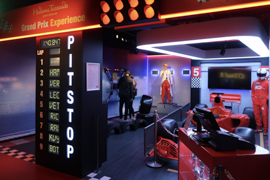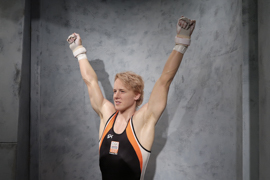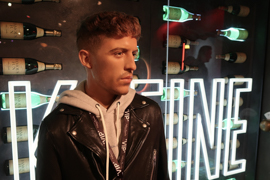 The last two sections are political idols and leaders, including Lady Di, Anne Frank or Angela Merkel, which is then leading to some Marvel stars. That's all? That's all! Madame Tussauds Amsterdam is really, really short.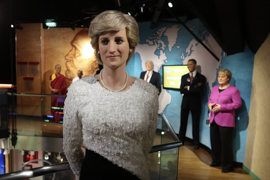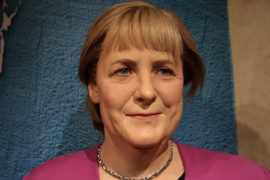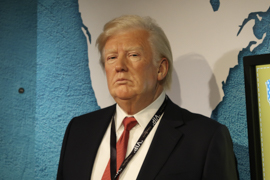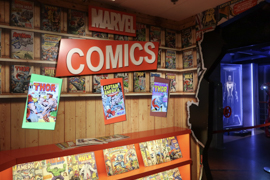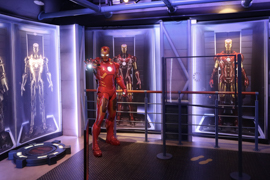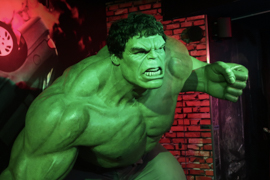 Madame Tussauds – Shop
Of course, at the end of your tour, you will also visit the souvenir store. Don't dare to think of surprises in there – if you visited one M.T. store, you finally got them all. Grab your "professional" pictures, if you feel like it or buy the stuff you missed to buy in other locations.
Madame Tussauds – My View
First of all, I do like Madame Tussauds. Finally, they simply do the best wax figures out there, no doubt. This surely applies for their Amsterdam outlet as well. The presentation is good, light is better than in most other non-Merlin wax museums I ever visited. That's a general thing about Madame Tussauds. On top of that, the location in Amsterdam in awesome, the view from one of the windows over the Dam to the train station is amazing.
That's the positive side of Madame Tussauds Amsterdam. If you ever visited another of their locations and you do not have a heavy crush for one of the people who are in exclusive display in the Dutch capital, there is no need to visit the Amsterdam one. The place is too short, the space feels comparably narrow. I was amazed by the number of staff they had – but most of them were told to care about you spending extra money rather than organizing the visit or having an eye on social distancing rules. Amsterdam has a lot of other interesting museums and places – and Madame Tussauds has much better locations – so it is not too worrying.
Wax Museums
Here are all other postings about wax museums:
Flyctory.com in Amsterdam
Here are all Flyctory.com postings related to Amsterdam: