A museum about the history and importance of sea trade in Singapore and Southeast Asia? Sounds much more boring than it actually is. I visited the place during my stays in the Asian city state and at least had an enjoyable and educative time for a limited budget. Here is my review.
Maritime Experiential Museum – Location & Admission
The Maritime Experiential Museum is located on Sentosa Island. It shares the same building with the famous SEA Aquarium. You can typically reach the museum best by monorail – many tourists also prefer to reach the island by cable car.
At the time of writing, the online admission for one adult is 12 SGD, which is about 8 Euro. You typically purchase tickets, which combine the exhibition with other (Sentosa) attractions. The most characteristic bundle is having a combined visit of the Maritime Experiential Museum and the SEA Aquarium, which is 41 SGD. In that case you visit the Maritime Experiential Museum first and then use a designated path to the aquarium.
Maritime Experiential Museum – The Visit
The museum begins with a general history of naval trade and the key characters in the South East Asian maritime trade history like Marco Polo. Thereby, the Maritime Experiential Museum tries to be very transparent and has a lot of very good displays, even though most of them are replicas.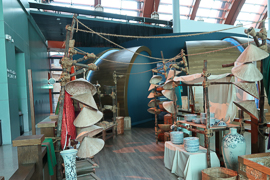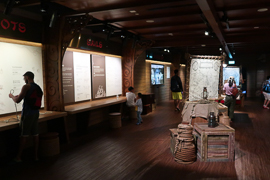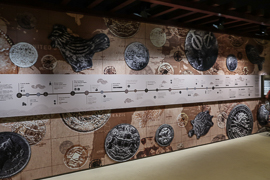 Further parts of the exhibition give you insights about typical trade goods of Singapore.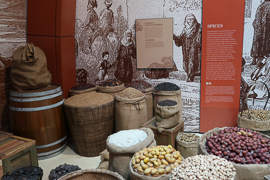 You also get to learn Singapore's historic key trade partners and which goods have typically eben imported from these places like Oman or Malacca.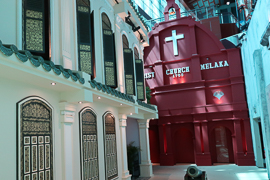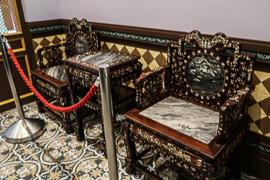 The key exhibit of the place is definitely the Jewel of Muscat, though. It is a replica of an Arabian Dhow which has been found in 1998 on the Indonesian coast. The ship displayed on Sentosa Island has been built using the same techniques than the ones used for the wreck. It was built in the Oman and took the 5000 kilometer journey using historic navigation techniques.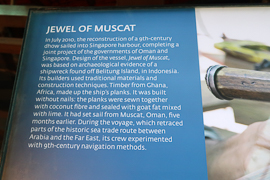 Maritime Experiential Museum – Services
Of course, there is a souvenir shop, which allows you to bring some memories with you.
If you need to have a bit of adventure, you may invest 3 SGD into Typhoon Theatre, a typical multi-dimensional show which shall illustrate you the challenges of navigation during the Jewel of Muscat days. It is quite some fun, but not worth more than one ride.
Maritime Experiential Museum – My View
Just visiting the Maritime Experiential Museum might not be worth the trip to Sentosa – but if you are around, you will definitely have a good and interesting time in this nicely designed place. The museum gives a very evocative view of the importance of historic naval trade in and around Singapore – thereby, it uses a lot of quite modern techniques. I definitely enjoyed being there and would recommend the place.
Singapore – More Postings
Here are all postings which deal with Singapore:
Historic Museums
Here are all other postings on Historic Museums: