The Stadtgarten in Cologne is both, a recreational park in the heart of the city, whose facilities are protected, and a bar / restaurant, which is located inside the park and very popular, also as a location for minor concerts. In this lovely scenery, the Stadtgarten Christmas Market became more and more popular the last years. Here is a view into its 2019 season.
Stadtgarten Christmas Market – Location
The Stadtgarten is right adjacent to the Köln West (Cologne West) train station. The traffic connection is very good, as apart from regional trains, there are also three underground lines, 3, 4 and 5, which are stopping right around the corner. The Friesenplatz with additional public transit connections is closeby. Trying to find a parking slot in short walking distance may be more challenging, though.
The Stadtgarten Christmas Market opened its gates in 2019 on 21st November and will close on 23rd December. Monday to Friday, the Christmas market open at 16:00 hrs. On Saturdays and Sundays, you may enjoy the atmosphere from noon onwards.
One special thing about the Stadtgarten Christmas Market is that some of the exhibitors are rotating. The pictures and the review reflect the situation as at 26th November 2019. It may alter slightly on other dates.
Stadtgarten Christmas Market – Atmosphere
The atmosphere of the Stadtgarten Christmas Market is very iconic. The key reason is that it is in fact a park and that you got a lot of trees around. Sanitary facilities are provided by the Stadtgarten bar/restaurant. The booths are wooden and very classic, which gives a very nice atmosphere as well. Apart from a children's theater, there are not too many special stalls or services.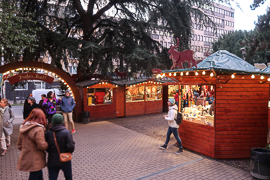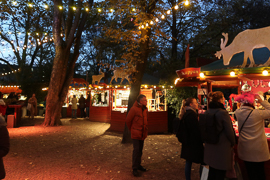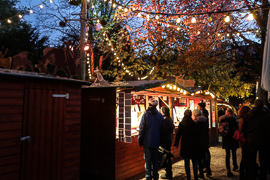 Stadtgarten Christmas Market – Food & Drink
On the food and drink side, I did not spot too many signature or unique items at the Stadtgarten. You will find anything you expect at a German Christmas market, like mulled wine, waffles, sausage and other grilled things, though.
Stadtgarten Christmas Market – Products
The Stadtgarten Christmas Market is a nice place for a mulled wine and a snack, but it is definitely an even better place for shopping. The organizers seem to take very intense care that the products sold at the market are unique. For example, I did not find a Cologne produced salad dressing anywhere else on the market. The vendor of flavored licorice was very popular among locals and tourists as well. One stall featured carnival products like costumes. Of course, there are also classics like spices, honey and festive decorations.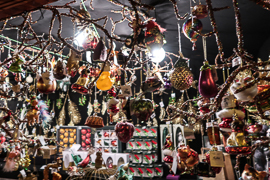 Stadtgarten Christmas Market – My View
Stadtgarten is comparably small, but it is also cozy and gives a nice atmosphere. I also loved the selection of stores and vendors. These are the key reasons, why it is quite popular at the locals, who have a drink after work or on the weekend here. There are unfortunately not too many sights in close distance, which make you opt for the area – but therefore it is definitely less crowded than in Old Town or at Roncalli Square.
Flyctory.com about Christmas
Here are all Flyctory.com postings which deal with Christmas in any way:
Postings about Cologne
Here are all postings about my home town Cologne: