While the Ibn Battuta Mall is my definite shopping favorite in Dubai, my love about spending some money in Abu Dhabi is shared between two places. The posh and central option is The Galleria Al Maryah Island. Many tourists, however, will likely just head to the largest option in the United Arab Emirates capital, the Yas Mall. Here is a Pictured Story about the super-mall.
Yas Mall – Location & Transport
Yas Mall is located on Yas Island, which most of you might know for amusement parks and the Formula One race track. Yas Island is located quite far away from central Abu Dhabi. For example, a drive from Emirates Palace Hotel (with their famous high tea services) to Yas Mall is about forty minutes, 40kms, congestion and route-depending. This is in general a possible taxi ride due to the low prices in the Emirate – but I would generally go for a rental car. Some sightseeing tours also connect to Yas Island with their Hop On-Hop Off services.
Unless you do not go for valet, parking is free. The parking system might be a bit confusing at first sight. Make sure that you know beforehand which area you want to go (if you have special preferences). Mall hours are 10:00 to 22:00 hrs, Sunday to Thursday, and 10:00 til midnight on the Arabian weekend.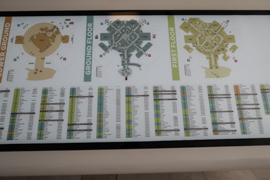 Yas Mall – Some Information
Yas Mall is the largest Mall in Abu Dhabi. It has some 235,000 square meters retail spaces and roughly 400 shops. The most well-known attraction around Yas Mall is likely Ferrari World, which is directly connected to the mall. the other Yas Island theme parks, i.e. Yas Waterworld and Warner Bros. World Abu Dhabi, are in close proximity, but have no connection to the mall. There are about sixty food outlets. The mall is majorly circular with two levels of shopping. There is a large plaza in the center of the mall. The basement features a few stores, including a hypermarket. The whole mall is covered and air conditioning is operating.
Impressions from Yas Mall
I feel that most people (including myself, the first visits) do the huge mistake to drive into one of the mall's parking garages, enter the mall for shopping and leave again. Especially the lovely main entrance is absolutely worth to leave the comfort of air conditioning for some minutes. The architecture of the building is lovely.
I would not rate the interior of Yas Mall as too impressive. It just got a good style, which is however not pushy, you have a good view of both levels and the aisles are wide, so that you have a really relaxed shopping atmosphere, even on buzy days. The atrium called Town Square is liekly the most impressive part.
There is also quite some entertainment. I already mentioned Ferrari World. One area I absolutely love is an outdoor part with restaurants next to it. There is also a major cinema and an arcade-alike (indoor) fun park.
United Arab Emirates – More Postings
Here are all posting of related to the United Arab Emirates:
Postings about Shopping
Here are all postings related to Shopping: