Two months of Islamic culture in a free open air festival – this is the Sheikh Zayed Heritage Festival close to Abu Dhabi. I was very interested in the place when I ran into it several times on website, but could not really find proper information about it. Here is my review of my visit in late December 2019.
Sheikh Zayed Festival – Location & Admission
The Sheikh Zayed Heritage Festival grounds are located in a rebuilt fort-alike area near Al Watbah. The are located Southeast of Abu Dhabi. From the center of the U.A.E. capital, it is slightly less than a one-hour drive. Even from the Abu Dhabi International Airport, it is about 40 km / half an hour drive, so that you will like go there by rental car. It is signposted on the motorways very early, so that you will not miss it. The site offers a lot of free parking.
Sheikh Zayed Festival has a very limited opening time. In the 2019/20 season, it was between 29th November 2019 and 1st February 2020. Apart from special days like New Year's Eve, where the Festival hosts a massive firework, the gates open at 16:00 hrs. Weekend evenings (Thursday / Friday) closing is midnight, all other days is 23:00 hrs. The admission is free. Some shows and of course food, shopping and entertainment are additional charge. There are also special celebrations like New Year's Eve.
Sheikh Zayed Festival – Concept
The concept – and even the layout of the grounds of Sheikh Zayed Heritage Festival reminded me a lot of the Global Village in Dubai: I a (majorly) circular square, several countries represent their culture and you can dip into some of their characteristic products, but also arts and other cultural things. Some countries (like Uzbekistan during my visit) also have some representation of their touristic offices to inform about travelling opportunities. The contrast to Global Village is, however, that the Sheikh Zayed Heritage Festival is concentrating on Islamic countries. Apart from that World Heritage area, the UAE Heritage Area shows very specific Emirati traditions.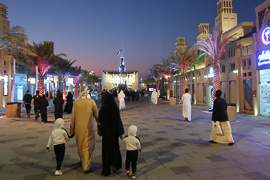 Thereby, the range of exhibitors (most of them located in booths within the building) is quite wide and range from typical products of that region to textiles (unfortunately also some doubtful stuff, which feels to touch copyrights). There are also some minor exhibitions and museum-alike areas.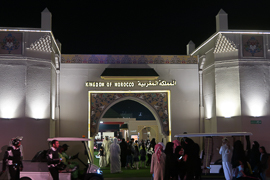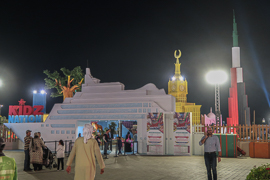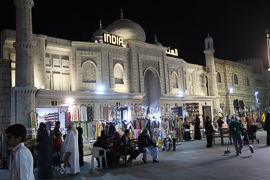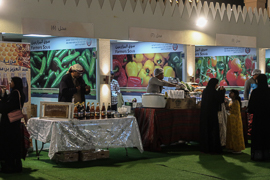 Sheikh Zayed Festival – Shows
The festival offers horse racing and camel shows – unfortunately we were too late for them (there were also some limitations as we visited the ground one day before New Year's Eve). The most eye-catching show, which is located right in the center of the grounds, is the Emirates Fountain, which combines water and light shows as well as uses the screens on the central pillar of the fountain. Shows are quite frequent and there are different variations of it, they are really fascinating to watch.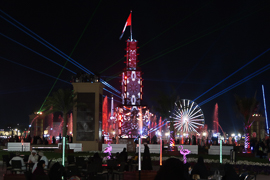 Between the buildings of the local areas, there are minor stages which show specific ethnic cultural presentations. A lot of them were really interesting to watch and represented a wide variety of dance and music.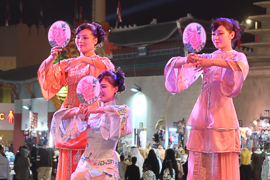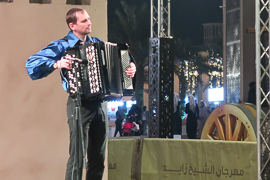 Sheikh Zayed Festival – Entertainment
We were just going to the festival without having too much information about it. Thus, we also missed the Extreme Sports Festival, which is the signature attraction of the 2019/20 season and features monster trucks, motorbike artists and similar elements. For kids and those young at heart, there is the Funfair City, which offers some carousels and rides. In the same area, you may also play laser tag.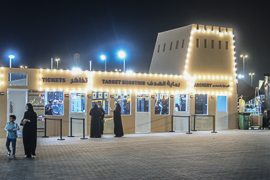 Sheikh Zayed Festival – Food
Food a also some sort of culture – and Sheikh Zayed Heritage festival has a lot of opportunities to dip into it. However, the options for typical Uzbek or Syrian food might be rather limited at the grounds, but there is still a nice selection and some food court alike areas.
Sheikh Zayed Festival – My View
We had a fascinating time at Sheikh Zayed Heritage Festival. Unfortunately, this is one of these U.A.E. attractions, which is very popular among the locals, but not that touristic – I definitely did not see a reason why you should not visit it (especially if you have a rental car). You just have a lovely evening / night at a lovely venue and get in touch with so many cultures. However, on the negative side (and this is maybe also why it is not too touristic), there is also a concentration on the Arabic language, which may be bothering here and then. Amazing that a place like this is for free (parking and admission).
All Abu Dhabi Postings
Here are all postings about Abu Dhabi:
No Admission Places
Great sightseeing and experiences do not necessarily have to cost a fortune – here are all my Free Entry postings: