As I said in other posting, I really enjoy being in Sharjah and feel the vibe of the city and the emirate, which is so different to Dubai. The more, I have been glad to visit some more of the Sharjah museums during a stay in mid-2021. This review is about the Sharjah Maritime Museum – a small place which is featuring the importance, but also the techniques of navigation in the Gulf region.
Sharjah Maritime Museum – Location & Admission
Sharjah Maritime Museum is located quite close to the waterfront. The best way to navigate through Sharjah is either by taxi or by rental car – there is no metro or similar. There is a parking lot at the museum. A very nice way is to take the Dubai Ferry from Dubai Old Town to Sharjah Aquarium Marine Transport Station. The excellent Sharjah Aquarium is right next door to the Maritime Museum and the ferry port is just some steps away from both attractions. However, during my visits to the U.A.E. at Covid-19 times, this ferry connection FR5 did not operate.
The museum comes with very convenient opening times, from 8:00 to 20:00 hrs daily. Please note that Sharjah has stricer religious rules so that on Fridays, Sharjah Maritime Museum opens at 14:00 hrs. In Ramadan, there are very limited opening times (Monday to Thursday and Saturday 9:00 to 14:00 hrs, Friday and Sunday closed. The adult admission is 25 AED, some 5.50 Euro. It includes the admission to the adjacent Sharjah Aquarium. ,
Sharjah Maritime Museum – The Visit
The whole museum is documented in Arabic and English, so that you will find around easy, Like in all Sharjah cultural places, staff is extremely friendly and helpful. There is a small section of prehistoric maritime life, but the key focus on major parts of the exhibition is about the ships over time. The museum does really well to introduce you into traditional Gulf Region boats. There quite a number of ship models, but there are also life size illustrations about the different technqiues how to built these boats, including the necessary tools.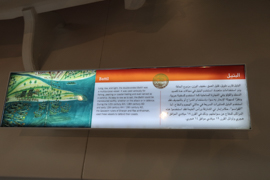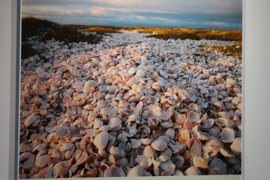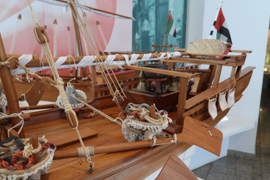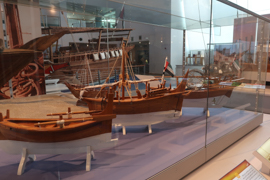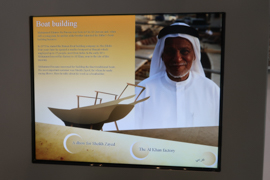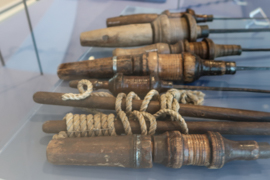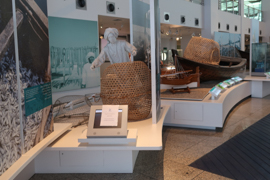 The key exhibit of the museum however, is a traditional original boat in life size – really interesting to explore the boat and its structure. One corner of the exhibition also features pearling and how the social life between the boat's captain and his crew has been working in historic Sharjah times.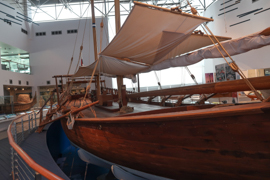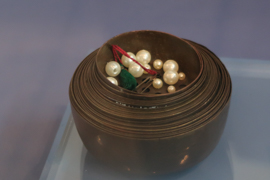 Sharjah Maritime Museum – Services
The museum features a small souvenir and literature store as well as free WiFi.
Sharjah Maritime Museum – My View
The Sharjah Maritime Museum is a really nice visit. The price is really good – especially as you can also visit the really cool Sharjah Aquarium. If you are around or if you are in Dubai and are curious about the ferry ride, this place should be on your bucket list, indeed.
Flyctory.com about Sharjah
Here are all postings from or about Sharjah:
Ships & Water Travel
Here are more Flyctory.com postings about Ships & Water Travel: