Hangar 7 at Salzburg Airport, driven by (likely) the world leader of energy drinks, is a quite popular and well known place. Lovers of cars and planes know the exhibits in there, foodies enjoy the quality of food, while even couch potatoes know the posh place, as it is hosting TV shows regularly. During my visit in the Salzburg / Berchtesgaden region, I had a visit at Hangar 7 and felt that a Pictured Story (i.e. larger pictures, less text, no rating) is the best way to share this place with you.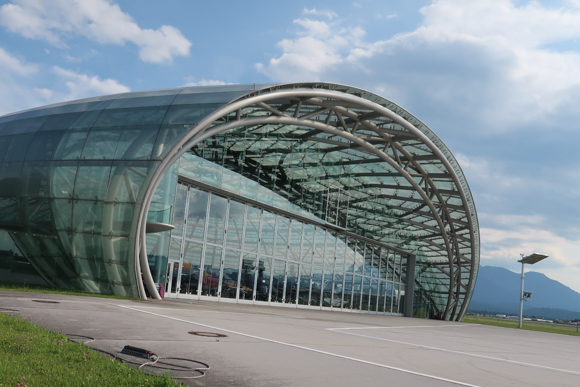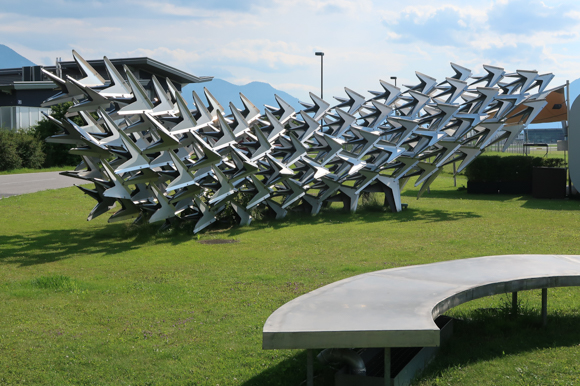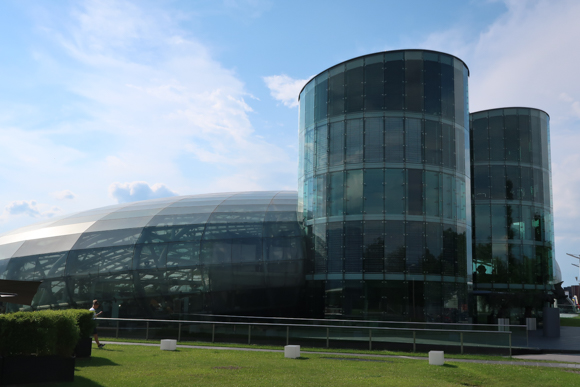 Hangar 7 – Location
Hangar 7 is located east of Salzburg Airport, which means on the opposite side of the runway from the terminal. This part of Salzburg is rather a commercial area, it for example features the Stiegl-Brauwelt brewery tour, but also the soccer stadium of Austria Salzburg. I would recommend to go to Hangar 7 by car. There are free parking lots in front of Hangar 7. If you cross the German – Austrian border for Hangar 7, inform yourself about the road toll conditions in Austria.
The general opening times are 9:00 to 22:00 hrs daily. This applies for the exhibition only. Restaurants or the souvenir shops have different opening times. For example, the most posh dining option, the Ikarus, is available for food 19:00 to 22:00 hrs daily, plus 12:00 to 15:00 hrs Friday to Sunday.
Hangar 7 – Concept
Hangar 7 is an exhibition hall for historic planes and cars. Most of them have somehow be used for Red Bull-presented sports and activities like The Flying Bulls. There are also some more lounge-alike seatings at the edge of the huge glass construction. Hangar 7 is used for display. The maintenance facility for the vehicles is Hangar 8, next to it. Unfortunately, Hangar 8 is not open to public. Due to timing reasons, I was unfortunately not able to at least have a bit at one of the (less posh) restaurants.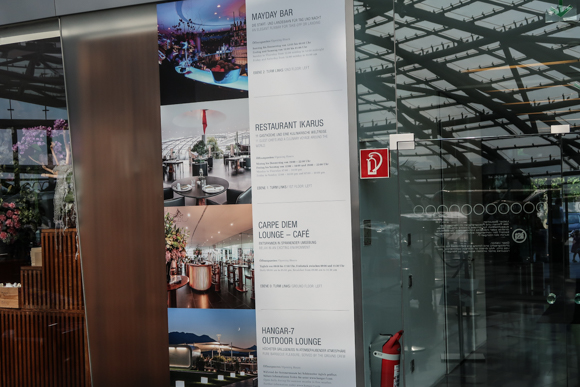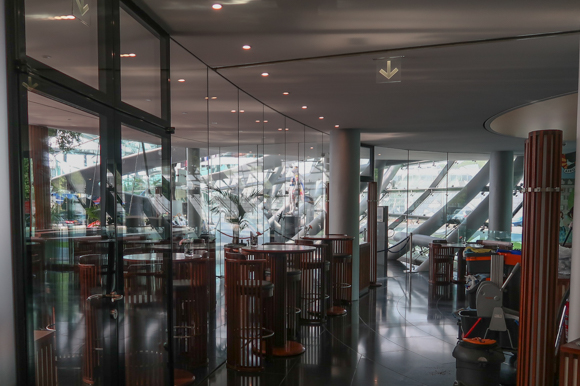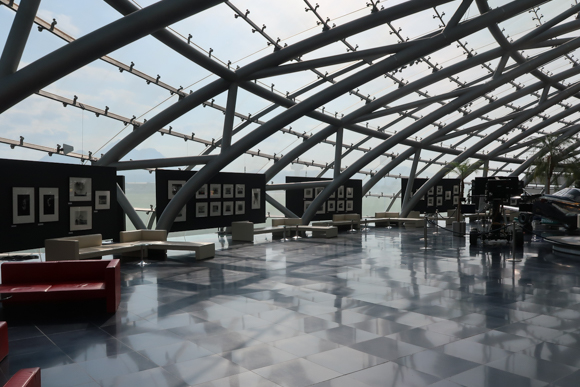 Views of Hangar 7
Hangar 7 is a beautiful display of cars, helicopters and planes. There are some areas where you rather have cars (mainly Formula One cars from the Red Bull Racing Team) and some which are more plane-driven. The exhibits are really wide-spread, so that likely everyone will find a favorite exhibit. To me, as an aviation buff, I especially loved the all-silver Lockheed P-38L "Lightning" (1944) and golden T-28B "Trojan" as of 1954.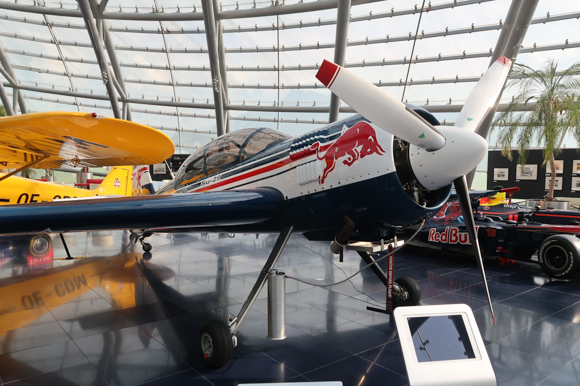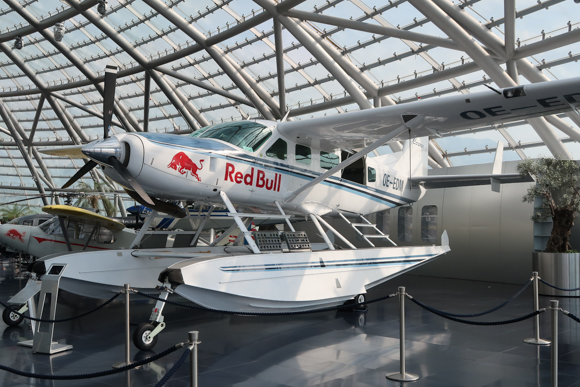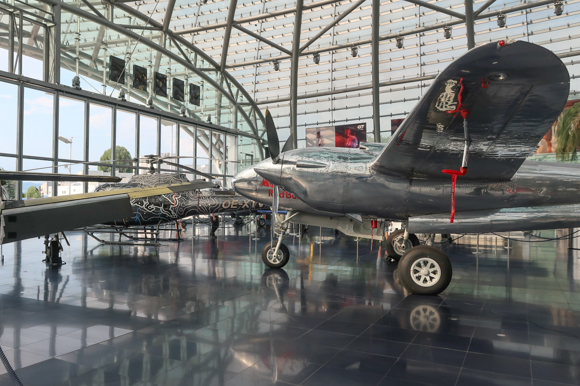 Very impressive other exhibits to me were the Wings For Life Formula One car covered with pictures of donators or the Felix Baumgartner suit. All exhibits at Hangar 7 have in common that they are in excellent condition, which I felt was absolutely impressing.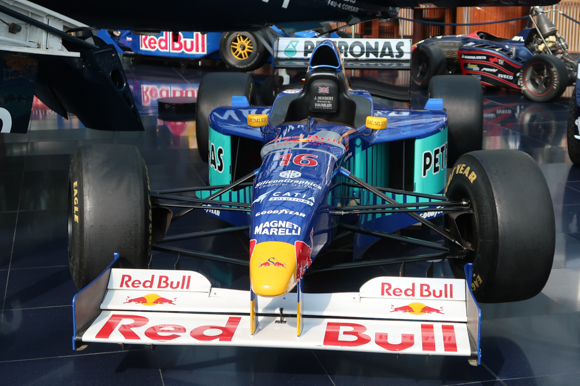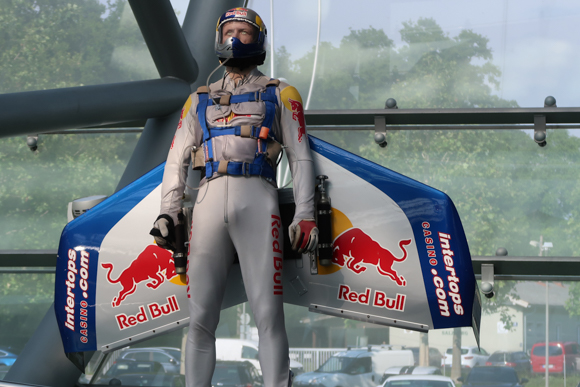 Hangar 8
From roadside (and from Hangar 7 as well), you could at least have a nice view to the terminal and Hangar 8 as well. I would have especially loved to have a closer look to the Douglas DC-6B in red bull colors.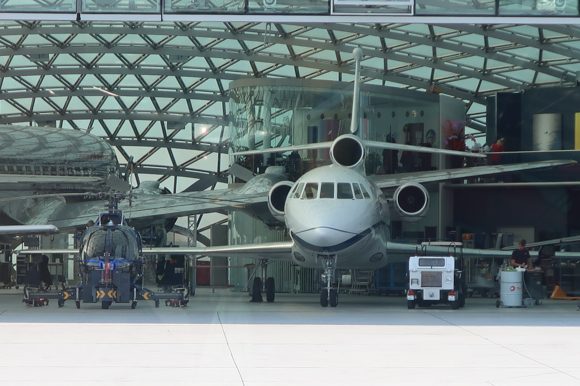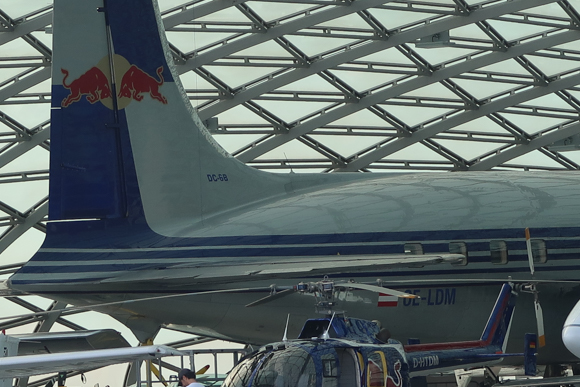 Flyctory.com and Austria
Here are all Flyctory.com postings related to Austria:
Flyctory.com Pictured Stories
The key contents of Flyctory.com Pictured Stories are the picture, not the text: