The historic Cental Fire Station is one of the most iconic landmarks in Singapore. While you likely pass by this beautiful building, you may miss to have a look inside – it hosts the Civil Defense Heritage Gallery, a museum about police, firemen, medical services and more in the small city state. Strolling through the city in May 2019, I had a spontaneous visit – here are my thoughts.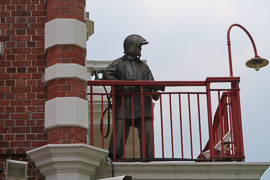 Civil Defense Heritage Gallery – Location & Admission
The Central Fire Station is located in the historic district of Singapore, close to other museums like the National Philatelic Museum or the National Museum. City Hall and Clarke Quay are the closest stations around.
Entrance to the Civil Defense Heritage Gallery is free. Opening times are Tuesday to Sunday, 10:00 to 17:00.
Civil Defense Heritage Gallery – Lower Floor
The first exhibits you see in the reception area is a vast collection of memorabilia of international emergency services. There are badges, helmets and caps from police stations and fire fighters worldwide. A showcase also displays model cars of emergency services.
The lower floor of the main exhibition, however, is dedicated to the history of Singapore civil defense. There are a couple of historic fire engines, for example. The floor contains a lot of information, also about the role of the services during war times. There are also some very nice interactive displays.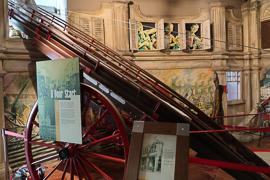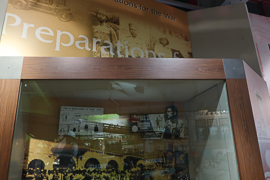 One part of the lower floor exhibitions also deals with the history of fire extinguishing strategies – the "defensive" and the "offensive" way to treat fire. This is done by an animated showcase.
Civil Defense Heritage Gallery – Upper Floor
The upper floor shows the current (and recent past) organisation of Singapore civil defense. The different units and their distribution over the country are very nicely presented. There are a lot of interactive displays. A very nice one is the ambulance, which becomes transparent on interaction.
There are also some displays on industrial services. Overall, it took me some 45 minutes to visit the museum.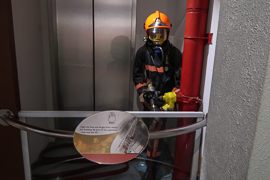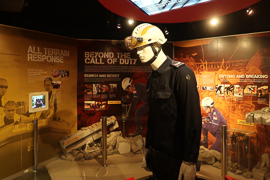 Civil Defense Heritage Gallery – My View
Of course, the Singapore Civil Defense Heritage Gallery is a small place compared to similar museums like the National Emergency Services Museum in Sheffield, United Kingdom. But I feel it is very charming, presented with lots of love and pride for the topic and the organization. Finally, it is very informative, but still free. If you are around, I recommend to dare a visit.
Technical Museums – Other Postings
Here are all other Flyctory.com postings dealing with technical museums and exhibitions:
Singapore – More Postings
Here are all postings which deal with Singapore: