If you nowadays look at the map of Cyprus, you won't find any rail-driven vehicles. However, the country did have quite an interesting rail transport and travel history. A small museum is still reminding of this era. Here is the review of my visit of the Cyprus Railways Museum.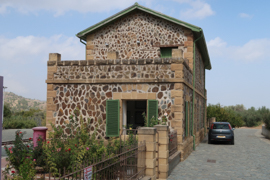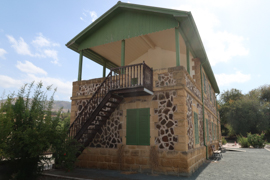 Cyprus Railways Museum – Location & Admission
The museum is located in the small village of Evrychou. When you cross the interior of the country on the B-9 road, there are signs to the museum. However, despite these directions and a GPS, we had some trouble to find it and had to ask some locals. The Train Cafe n the village is still reminding of the Cyprus rail times. We combined the visit with a trip to the amazing Panagia tis Asinou.
The museum is driven by the Department of Antiquities, which also operates major Cypriot attractions like the Cyprus Museum in Larnaca. It is open every day. In winter times (mid-September to mid-April), times are from 8:30 to 16:00, in the summer months from 9:30 to 17:00. Admission to the museum is free.
Cyprus Railways Museum – The Visit
The Cyprus Government Railway has been a 122km long narrow gauge system which operated in Cyprus between 1905 and 1951. It connected Famagusta (which is nowadays in the occupied Northern part of Cyprus) with Evrychou. The key aim was to serve Famagusta Harbor and transport mining goods and wood. However, there was also a mail service and passenger cars. The railway operated twelve locomotives, most of them have been brought back to the United Kingdom. There seems to be one original locomotive at Famagusta.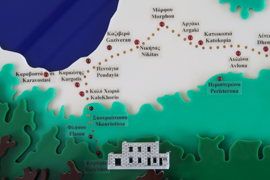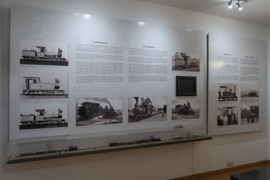 As you see in the pictures above, the museum offers a nice overview of the former rail services. It shows a lot of models and pictures as well as some original items. Outside the museum, an original car is still in display (even though the tracks themselves are not the original ones any more. The building in which the museum is located is the original train station building, though.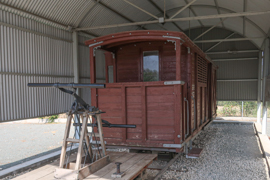 Cyprus Railways Museum – Services
You can buy a few souvenirs at the museum. The guide / museum employee was very helpful and showed us some of the key exhibits.
Cyprus Railways Museum – My View
The Cyprus Railways is indeed a small museum. Even if you are into transportation, the visiting time will not be much more than 30 minutes. Nonetheless, I loved it. I feel it is n interesting piece of history and also reflects quite some Cypriot history, like its status as a British protectorate. If you are around, this is definitely a nice place to have a very different focus into Cypriot history.
Rail-Related Museums
Here are all my museum reviews, which are related to my Rides on Rail category:
Cyprus on Flyctory.com
Here are all my postings related to Cyprus: