After flying with Porter Airlines from Toronto Billy Bishop Airport (YTZ) to Ottawa, my return trip was on rails. For the first time, I checked out the Canadian rail provider, VIA Rail on their services between the Canadian capital and the Ontario metropolis. Here are my thoughts, based on a September 2021 trip in VIA Rail Business Class.
VIA Rail Business Class – At Ottawa Station
Yes, there was quite some influence and reduced travel activity due to Covid-19 – but I guess that just leads to a slight change of my thoughts about my time at Ottawa Station. I went there some 90 minutes before the departure of my train in order to explore the station and its facilities – far too early. The station is huge, but overall, there is not to much to see: a ticket center, a service booth, a snack point and some vending machines are located in the huge building.
The reason: at the time I arrived there, about 16:15 local time, there were only two outstanding trains for the day – my service to Toronto as well as one connection to Montreal. That's it. On top of that, there were five arriving services. It may be unfair to compare Ottawa station with my home town Cologne – but if you for example take the former German capital Bonn and their train station (which is not even on a main route): they have more trains within half an hour – right after midnight.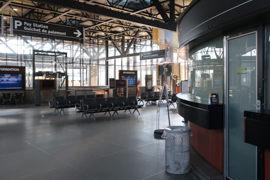 VIA Rail Business Lounge Ottawa
My Business Class ticket qualified me for the VIA Rail Business Lounge in Ottawa, which was actually quite nice. It took a while until some other passengers arrived in the lounge, which was really a nice place to relax and work. There feels to be catering service during non-pandemic times – while my stay in September 2021, there wasn't even something like bottled water or similar. I am not sure about the Ottawa laws exactly (which were definitely relatively strict) – but the KLM/Air France Lounge at Toronto-Pearson Airport was able to serve drinks and food, located in the same Canadian province.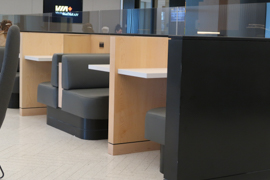 Boarding Process
At least if you travel from a major station like Ottawa, the train boarding process feels a bit more like a plane boarding process to Europeans: there is no luggage screening, but they call your train and there is even priority boarding for business class customers. People on the platform guide you to the train and your car, which was very convenient.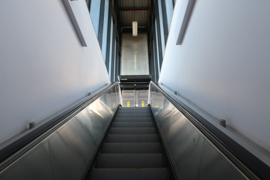 VIA Rail Business Class – The Train
The trains in Canada are not much wider, but significantly higher than you would be used from Europe. This is especially illustrated by the brawny train engine. For my trip, VIA Rail used an EMD F40PH, which is in fact a rather old model – the lasts ones have been built in 1998. The engine is diesel-electric and can produce some 2,200 kW. The maximum speed is around 170km/h. This also implies that the travel time is rather lame – while the distance between the two cities on that route via Kingston is just about 450 km, the travel time is almost five hours. I would guess that on that route, modern tracks and trains would at least burn down the travel time to two hours – which would then, of course, also put VIA Rail in a really competitive position against airlines.
The interior of the business class wagon (there was just one on the train) was actually really nice. The height of the train leads to a nice, spacious feeling. One contrast to German and most European trains are that VIA Rail has closed overhead bins. The seats made me feel like home – they are actually the same ones the German Deutsche Bahn uses for their ICE high speed trains. Just the space between and next to the seat is a bit differently designed. There are power plugs on board.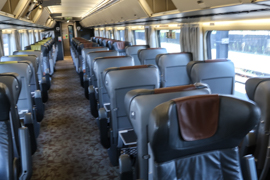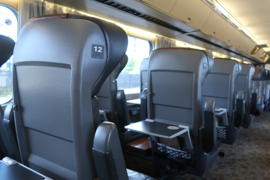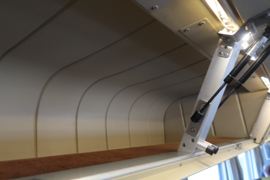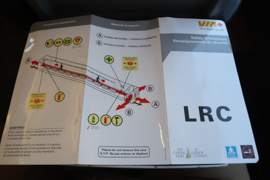 VIA Rail Business Class – The Trip & Services
I went with VIA Rail service #59, which is a connection starting in Ottawa and terminating at Toronto. The scheduled travel time was from 17:49 hrs to 22:33 hrs – but there was a some twenty minute delay. The ticket bought in advance was 136 CAD. En route, there are several stops. The key one is Kingston, but I was especially happy to be back at Belleville, home of the 2016 Under 19 Girls Floorball World Championships, for two minutes. The service was already delayed quite early in the trip. At the first stops, the trains felt to be for a very long time at the stations. As said above, the traveling speed of the service is too slow – in addition to that, the train has to blow their horn at every crossing, which also becomes a bit of bothering if you are not used to it.
WiFi is available. They block YouTube for capacity reasons – which is fine to me. However, half of the business class passengers felt to be in video conferences, which was partially bothering due to the noise, but majorly due to the significant reduction of bandwidth. On top of that, you can choose between a selection of meals (I felt that you may also pre-order somehow). The food was reasonable, a bit of too soft, and reminded me of at-most average airplane economy food. The service was very attentive and friendly, though – I absolutely appreciated that there were a couple of drink services during the trip.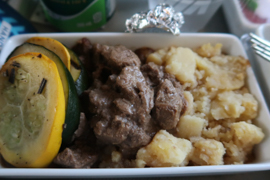 VIA Rail Business Class – My View
I feel that traveling with VIA Rail is somehow sad. You talk about climate change, banning domestic flights and similar topics in Europe, while on the other side of the Atlantic, the public transport is that outdated (and, of course, Canada is much better developed than major parts of the USA). The train is comfortable, the service in Business Class is nice and having a rail lounge at the station is of course a very nice feature. This makes the long travel times more bearable.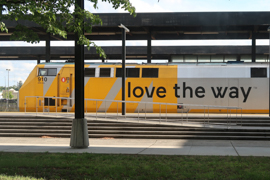 "Rides on Rail" Postings
Here is everything about trains, trams and other rail vehicles:
Canada Travel Postings
Here are all my travel postings related to Canada: