After visiting so many German Rail lounges in my life, I was really looking forward how the more exclusive waiting areas will be like in Italy. Just before boarding the Frecciarossa 1000 Executive Class ride from Milan to Rome, I had the opportunity to have a look into the FRECCIALounge at Milan Centrale station. Even though this stay, which was part of my Four Countries, Four Trains trip, was impacted by Covid-19 measures, I felt to definitely share my experience with you.
FRECCIALounge Milan – Location
The FRECCIALounge is located on entrance level, right next to the entrance gates for "ordinary" passengers. The lounges open daily, the opening times vary massively currently due to the pandemic situation.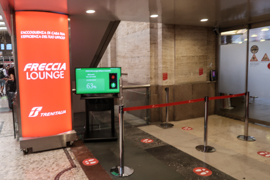 There are also less comfortable FRECCIA Clubs and SalaFRECCIA lounges with slightly altered ruled in other locations.
FRECCIALounge Milan – Admission
There are multiple ways to access the FRECCIA Lounges:
An Executive Class ticket
A Business Salottino ticket or a carnet of ten 1st Class / Business Class Tickets with corresponding reservation.
There are entry passes, semiannual, annual and carnets of ten
Single entry tickets for 20 Euro on top of a valid train ticket)
CardFRECCIA Platinum status customers, traveling in any class
CardFRECCIA Silver and Gold status customers, traveling in any class higher than standard class.
(all rail tickets for Trenitalia rail, not for any private or international peer carrier).
FRECCIALounge Milan – Atmosphere
The FRECCIALounge in Milan has a really nice, open space atmosphere. There were more than sufficient seating opportunities. Due to Covid-19, the lounge was not too crowded, so that that there was no social distancing issue. One thing I struggled with, however, was the availability of power plugs. Luckily, Trenitalia is not short of those in their trains. The lounge featured some TV screens for distraction, sufficient train status monitors and also very well-maintained sanitary facilities. On top of that, I did see the Trenitalia WiFi access point, but could not connect to it. Might be an issue on my side, though. Maybe also due to the pandemic situation, the lounge staff did not interact with the customers more than needed.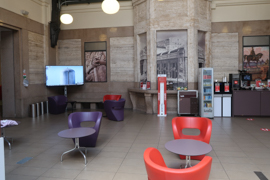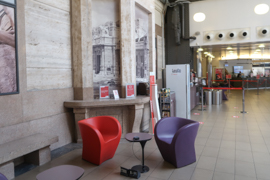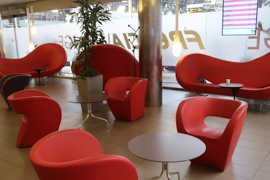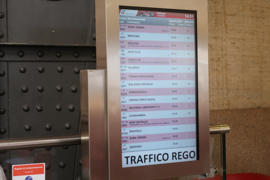 FRECCIALounge Milan – Eat and Drink
Compared to the ordinary catering you can see on the Trenitalia website, food and drinks were of course quite limited during my visit. Nonetheless, I was quite happy with the selection. There was a nice selection of sweet and savory snacks, hot drinks as well as drinks from the cooler. Much better than the offerings in the German lounges, for example.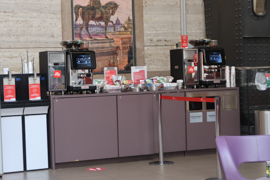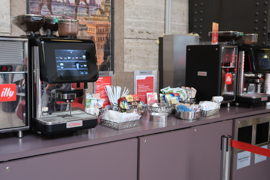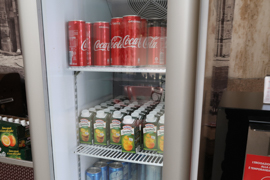 FRECCIALounge Milan – My View
Staying in the FRECCIALounge in Milan before the my rail trip to Rome was really a nice amenity. The lounge is an architectural beauty, the food and snack service really nice in regards of pandemic times. I would rate the overall stay better than in German rail lounges – however, it was of course not competitive to posher airport lounges.
Lounge Reviews on Flyctory.com
Here are all Lounge Reviews on Flyctory.com:
Rail Station Hotel Reviews
Here are hotel reviews of places which are close to a main long-distance rail station: