A new attraction for the mega-city Dubai: in October 2021, the new Ain Dubai Ferris wheel finally started operations. Delayed by some two years compared to the original planning, it by that became the world largest observation wheel on 20th October 2021. There are no plans in other cities or regions to challenge that status. Being in Dubai to watch the Expo 2021, my wife and I just had to have a look into this new tourist magnet. Here are our thoughts.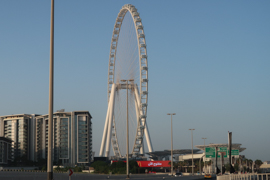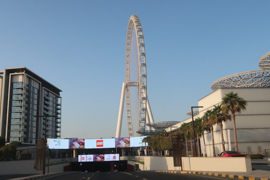 Ain Dubai – Location & Admission
Ain Dubai is located on the Bluewaters Island close to the Dubai Marina. The best way to get there is by car (or Uber/Taxi). There is a large parking lot under the large new residence and entertainment district, which features a lot of cafes and restaurants as well as Madame Tussauds Dubai. If you use local transport, Dubai Ferry's line BM3 connects to the island or you take Dubai Tram (closest station: Jumeirah Beach Residence 2) and walk over to the island – there is a pedestrian bridge from the West of Marina Beach.
At the time of writing, Ain Dubai typically opens at 14:00 hrs. The first few hours start at 130 AED, some 30 Euro, at the time of writing. The key time are sunset and night trips (typically between 17:00 and 20:00 hrs), which start at 180 AED. You buy tickets in hourly time slots, the night rides are 130 AED again. There are of course posher options like private cabins with bar services (from 1900 AED for the cabin, incl. five persons) or food experiences in the observation wheel. We had an Ain Dubai Sunset Plus Ticket, which was 450 AED for two people, including lounge access (see below) and a house drink. Just some two weeks after opening, this package does not feel to exist any more.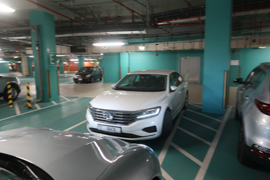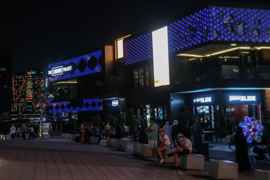 Ain Dubai – Some Facts
Ain Dubai (which, by the way, translates to Dubai Eye, which has also been the original project name) has been announced in 2013 already. It is built by Hyundai and Starneth, construction begin was in May 2015. With its 250 meters (820 feet) of height, it beats the the previously highest Ferris wheel, the High Roller in Las Vegas, by 82.4 meters. The wheel contains 48 cabins, all with air conditioning, screens and other features, which leads to a capacity of 1,750 passengers.
The standard cabins have a capacity of 40 persons. At the time of booking, Ain Dubai stated that they reduce it to seven guests per cabin or ten of the same party due to Covid-19 – at our ride, there were 15(!) people in one capsule. One trip / full rotation takes you 38 minutes. Similar to the London Eye, the capsules make one full turn during one ride as well so that they are always kept horizontal (and are not exposed to wind).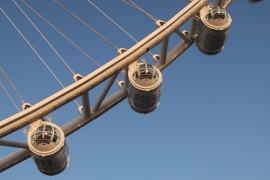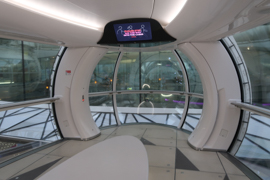 Ain Dubai – Seaview Lounge and Boarding
Already when arriving at the sit, you see that Ain Dubai is running for significantly higher capacities. I have to call the check-in process chaotic – which was majorly caused by the fact that the staff did not really know whether our ticket is a Premium one or not. Finally, we ended up in the right lane. We don't know about the process about ordinary ticket holders – there were significant lines though. Ain Dubai features airport-alike security. Food and drinks, including water, are not permitted onboard. The lounge guests have a separate lane in which the security felt significantly more loose. I am not sure if the metal detectors ran in any lane at all.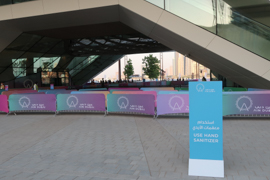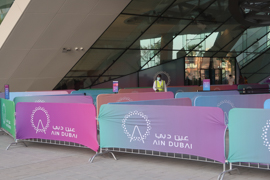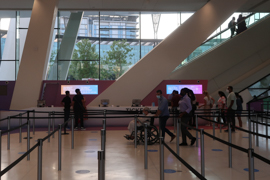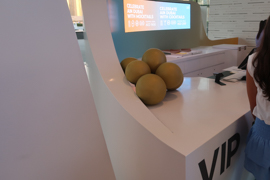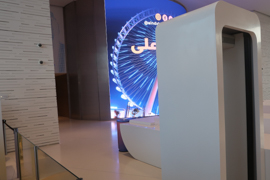 No Lines With Lounge Ticket
The Seaview Lounge was actually a quite nice place to hang out before your ride. The house drink also includes wine and beer, but due to driving, I just went for a pop. The staff was very attentive. Whenever you felt to be ready, you bypass the queues of the ordinary visitors and are quite quickly at the boarding area. I feel that this can be really advantageous once the Ferris wheel runs at higher capacity. The lounge area also featured own sanitary facilities (maybe a bit too limited in size, one loo per gender). Interestingly, "bypassing" the queue also meant bypassing the souvenir photo shoot.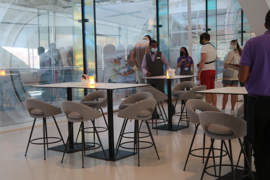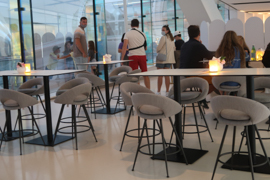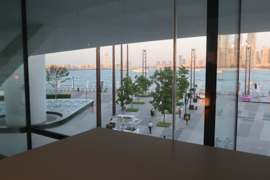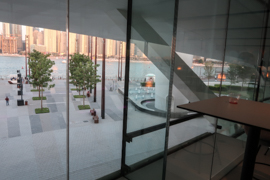 The boarding process felt to be very effective. There was no health check. A passenger behind us was coughing multiple times – I wonder why they did not take her out and at least wait a few minutes to observe her. We were Aiming to visit the Expo 2020 World Exhibition on the same trip, where they have quite some open spaces – but require a PCR test or vaccination to enter. I feel if you put 15 people in one capsule for over 30 minutes, you have to at least do the same (the announcement to wear a mask at all time and to socially distance – is that possible in that capsule with that many people at all? – is of course ridiculous).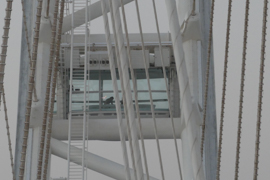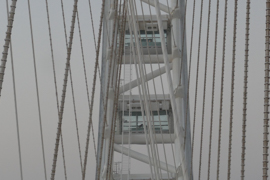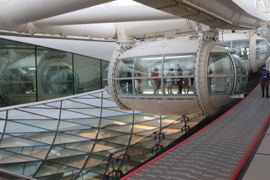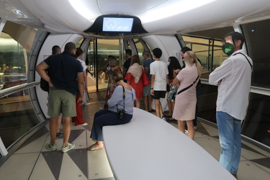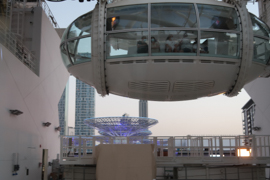 Ain Dubai – The Ride
We roughly boarded the capsule at 17:50 hrs, which was about ten minutes later than the official time of sunset in Dubai – just to give you an idea about the light conditions. There was a sunset with quite good light at the beginning of the ride and it was practically completely dark when we were back on the ground. Sunsets are extremely quick in the United Arab Emirates – I would say the ideal time might be five to ten minutes before, i.e. boarding around official sunset. There are some announcements to the screen. The light inside the cabin is switched off during the ride. However, the light from the screen reflect on the rather good glass. Later, when it becomes dark, they have revolving lights at the wheel and blinking lights at the capsules. This may be nice to watch from outside, but is of course challenging photography during sunset and night hours.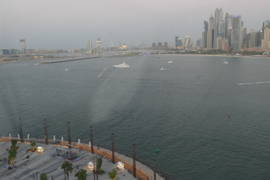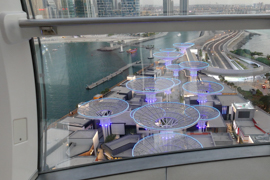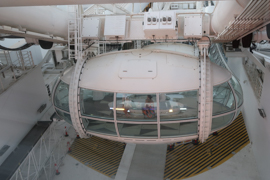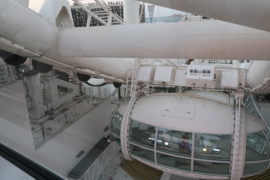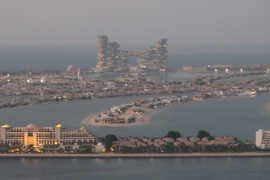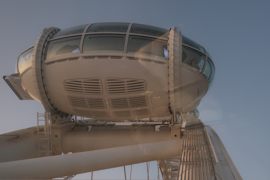 From the capsule, you have a great view of Dubai Marina and Marina Beach and the Bluewater Area. I was quite amazed how good the evening view to more distanced places was. The view of The Palm was very good as well, Burj al Arab could be seen very well. You could also have a very good look to the Ibn Battuta Mall and Expo site direction. The information on the screen was basic, there was also quite some advertisement. It is amazing how quickly the scenery and light changed during the trip.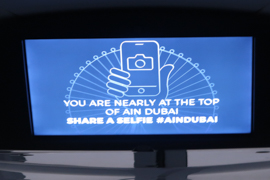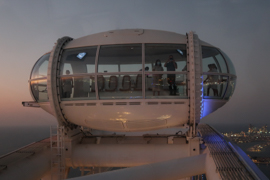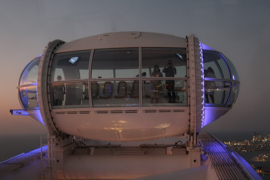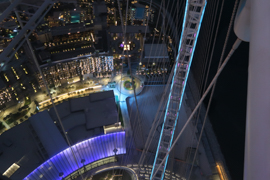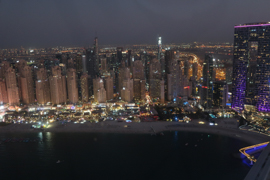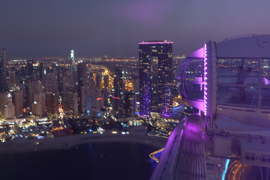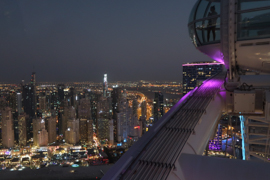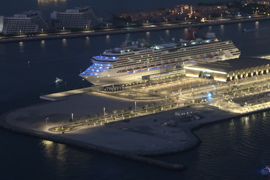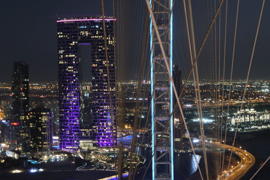 When you see the illuminated Dubai Holding logo on the rooftop of a building, you are almost ready for unboarding already.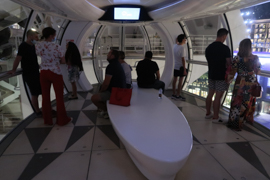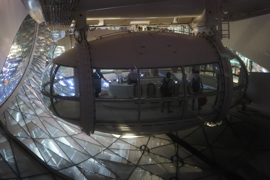 Ain Dubai – Services
As said, the check-in process has been chaotic, but apart from that, services were fine. The souvenir store was not as posh and did not have an as wide range of items as I expected it to me. There was a cafe after exiting the wheel, but it has been closed during our visit. There are toilets before and after the ride – of course, you need to wait some 38 minutes in between.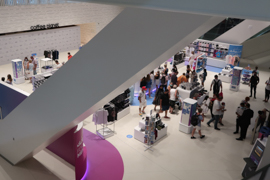 Ain Dubai – My View
Ain Dubai is an impressive construction. Finally, it also offers much better views than I expected due to the local conditions (haze, sand, wind etc.). The place looks very posh, but – even one week after opening – not really fully working well-organized and operational. The idea of putting fifteen people in a capsule for 38 minute is ridiculous during pandemic days though. Of course, people take off their masks for pictures and some for longer. You cannot stop the wheel and unboard them from the trip. So Ain Dubai is in charge to care for it differently. Vaccination proof or test is a must in my point of view. if the wheel is running under full capacity, I am not sure if a trip with 40 people will be enjoyable as well.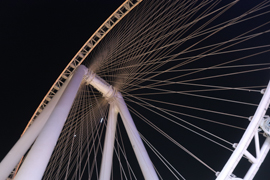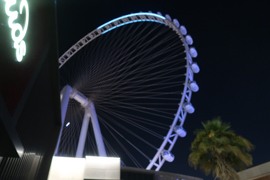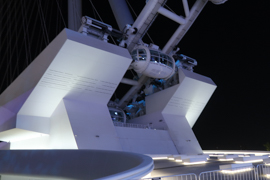 Flyctory.com Views from Above
Here are all postings tagged as Views from Above, dealing with any kind up-in-the-air viewpoints:
Hotels in the United Arab Emirates
Here are all my hotel reviews related to the United Arab Emirates: