My trip to the United Arab Emirates in February 2022 majorly lead me to the Northern part of the country. One of the first places I visited was the Dhajay Fort, an 18th century fortification in Ras Al Khaimah. Here is a review of my visit, which I had in the afternoon, right before sunset.
Dhayah Fort – Location & Access
Dhajay Fort is located Northeast of Ras Al Khaimah. I would recommend to have a rental car to visit the place. Unfortunately, the place is lot signed from route 18. You have to cross a residential area, which very likely hosts some rather influential inhabitants – there are as many speed bumps as impressive villas, before you in fact head a bit uphill to a parking lot.
Admission to the fort is free. Regarding my information, the historic attraction is opening between 8:00 and 19:00 hrs, daily.
Dhayah Fort – The Visit
The visit at Dhayah Fort is very nicely done. A couple of signs (in Arabian and English) are situated along the path you take to uphill to the fort. Even though the signs only state a height difference of 63 metres (it felt a bit more than that to me), you have to pass some 240 steps on the 225 meter trail uphill. Thus, you are not able to visit the place in case you have limited mobility. I would also recommend to reflect about your physical status before you climb up the stairs in summer months.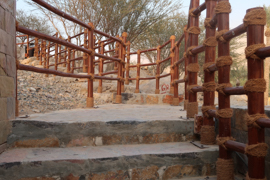 Taking the short, but demanding walk up the hill was an absolute treat. I would definitely recommend sunset hours, the view was just beautiful. The fort itself is not really large, but gives a nice overview about the architecture at the time of construction. Furthermore, the very educating signs give you an idea about life in that area before the fort has been constructed.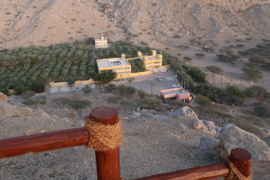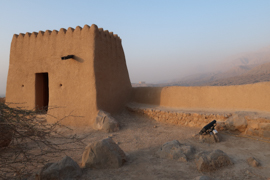 Dhayah Fort – Service
There is a guesthouse across the parking lot. The fort area itself does not offer touristic services like a shop or cafe, but at least toilets for the visitor.
Dhayah Fort – The View
Even though I am not in the most athletic condition, I really enjoyed my visit after I made it uphill to Dhayah Fort. The view is breathtaking and the authorities have transformed the place into a very educative please. Unfortunately, there is the poor traffic situation – you likely will not find the place without Google Maps or a good GPS.
United Arab Emirates – More Postings
Here are all posting of related to the United Arab Emirates:
Flyctory.com Views from Above
Here are all postings tagged as Views from Above, dealing with any kind up-in-the-air viewpoints: