Observation decks are always a great way to – literally – get an overview of a city or an area. Especially in Nicosia with its difficult political situation, there are not too many opportunities to have that look. However, Shacolas Tower in the heart of old town is giving you the opportunity. The observatory is based on the 11th floor of the building. Sometimes, the 1959 opened highrise building is also referred to as Ledras Tower, or Manglis Tower.
Shacolas Tower – Location & Admission
Shacolas Tower is just a few steps away from the famous Ledra Street, which is the most vibrant shopping street in Nicosia. The street also leads to the Ledra Street Checkpoint, which is used by numerous locals and tourists to cross border to the Turkish occupied Northern Cyprus. I will introduce you to the area in a separate posting. Some of the key Nicosia (or, in Greek, Lefkosia) sights like the Cyprus Museum or the Leventis Municipal Museum of Nicosia are in short walking distance.
The museum and observation tower is opening daily from 10:00 to 18:00 hrs. Adult admission is 2.50 EUR.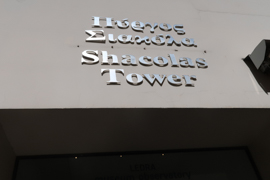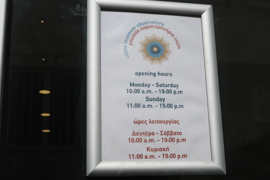 Shacolas Tower – The Visit
It might be a bit of confusing at first sight that there is no reception desk or similar, when you enter the building. You buy your ticket after you took the elevator to the eleventh floor. The observation is not a full 360 degrees one, but you can practically look all the way around. Unfortunately, there are quite strong reflections on the glass. There are screens and displays below the window, which help you too identify what you are seeing and also give you some additional information about the building. The museum part is a bit of limited, but the video they show is actually not too bad and you at least get a brief overview of the history of the city.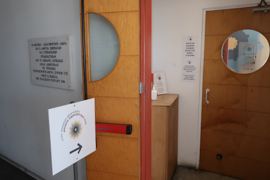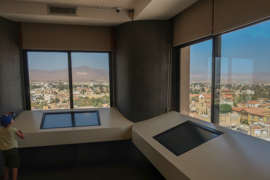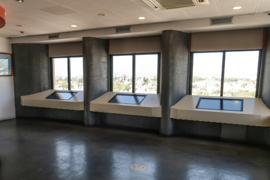 Having said that you have a good view in any direction, this especially applies to the North. Thus, Shacolas Tower is also a great place to have a view over Northern Cyprus, which is occupied by Turkey since 1974. The huge Northern Cypriot flag, which has been painted on one of the hills, feels a bit too much like poltiical propaganda. However, you cannot change that for the time being – and on a clear day, the views are enjoyable apart from the signs of a split country and the partially large neutralized areas.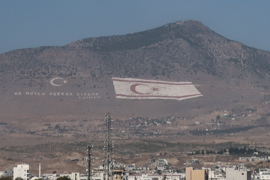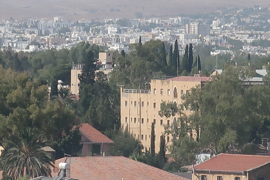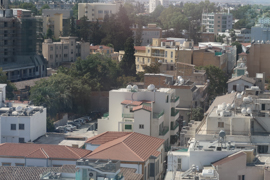 Shacolas Tower – Services
The observation deck also features a small souvenir shop and a bathroom.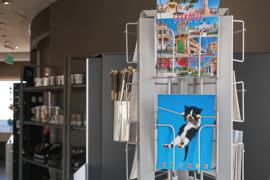 Shacolas Tower – My View
Shacolas Tower is a great way to have a view of Nicosia. I definitely recommend you to visit this place. It is not overwhelmingly posh, but it gets its job done. Some sad feelings due to the visibility of the Northern Cyprus conflict are more or less unavoidable, though.
Flyctory.com Views from Above
Here are all postings tagged as Views from Above, dealing with any kind up-in-the-air viewpoints:
Religion
Religious sites, religious music – posts tagged with Religion are closely related to believing: