Watching Helsinki from a high point – apart from the Olympic Tower, the Helsinki SkyWheel is offering this opportunities to visitors and locals from 2014. The Ferris Wheel is located right at the heart of the Finnish capital. During our trip in May 2022, my wife and I had a ride with this attraction. Here are our impressions.
Helsinki SkyWheel – Location & Admission
Helsinki SkyWheel is just a few steps East of famous Helsinki Market Square. It is thus close to the famous Uspenski Orthodox Cathedral or the pier where Royal Line is departing for city cruises. The closest tram stop is Tove Jassonin puisto (tram lines 4 and 5), but you have also connections to tram lines 2 and 7/7H in nearby distance.
The ordinary SkyWheel ticket for adults is 13 Euro. The ride takes several rotations and is named to be 12 minutes – our trip was even slightly longer. A four person 30 minute ride in a glass bottom cabin with free champagne is 195 EUR – and the SkyWheel would not be a complete Finnish attraction if they wouldn't have a sauna cabin. The prices start at 240 EUR per hour for the whole cabin, including the use of a hot tub which is close to the gondolas. There are also combined tickets with other attractions, mainly the Flying Cinema Tour of Helsinki, which is just a few steps away.
Helsinki SkyWheel – The Wheel
The Helsinki SkyWheel has been built by Dutch Wheels in the Netherlands. The wheel has a height of 40 meters and operates 30 gondolas with a capacity of six people each. The only exceptions are the VIP gondola (four people) and the SkySauna, which has a maximum capacity. It is the world's first saune in a Ferris Wheel.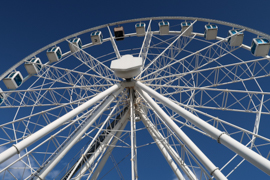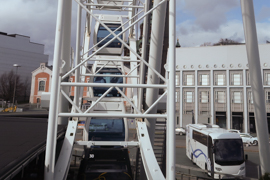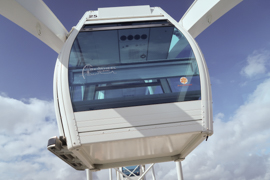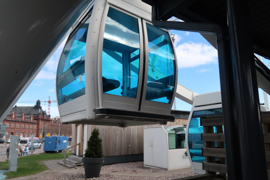 The gondolas are fully climate controlled, so that they can operate all year long. This unfortunately also leads to the blue-ish thermic glass, which leads to higher energy efficiency, but also to issues while taking pictures. I tried to remove to he blue color from the pictures taken inside the gondola as good as quickly possible.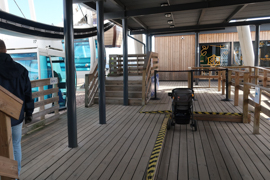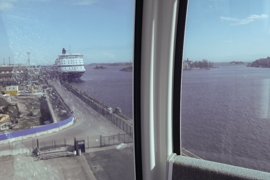 Helsinki SkyWheel – The Ride
As said above, our ride was roughly 15 minutes. You especially have nice views of the harbor area and nearby sights like the Helsinki Cathedral. It is of course also just cool to watch the eople from above (which has been especially powerful due to the 2022 Ice Hockey World Championships taking place in Helsinki at that time). Fifteen minutes, though, are more than enough. As typical in these rides, there is not that much more to explore after two or three rotations.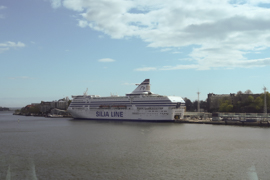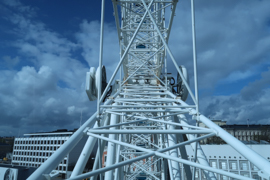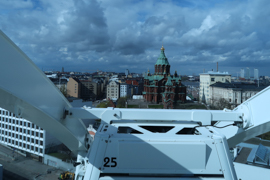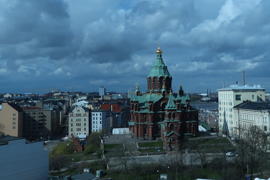 Helsinki SkyWheel – Service
The ticket store also works as a souvenir shop. There is also a bar, which gives you the opportunity to have some drinks onboard (incl. champagne, if you don't want to opt for the fancy gondola).
Helsinki SkyWheel – My View
The Helsinki SkyWheel offers nice views from a good and easy to reach location. Especially on a sunny day, regardless whether it is summer or winter, it is a nice opportunity to watch the Finnish capital from a different angle. The price is within expected range. We absolutely liked the experience.