The ABC islands (Aruba, Bonaire, Curacao) are more and more becoming of the Carribean's top destinations. Staying a full week in Curacao only just felt too boring to me – and there is always the opportunity to do some plane hopping. Thus, I gave my wife a day of quiet relaxing at the Curacao beaches, while I headed to neighbor island Bonaire. The key reason to travel to Bonaire is diving and snorkeling – which I could not do due to my short time-span on the island, which roughly hosts 19,000 inhabitants.
One Day in Bonaire – Some Politics
Travelling within the Dutch Carribean can be a bit confusing. Curacao belongs to the Kingdom of the Netherlands, but not to the Netherlands itself. Due to that fact, Curacao people may for example not vote for the European Parliament. The official currency is the Antillean Gulder (though the US Dollar is very widely accepted). Bonaire is part of the Netherlands (as a special municipality). Thus, Bonaire people vote for the European Parliament. The official currency is however not the Euro, but the US Dollar. By the way, if you make it to Aruba as well, you will even deal with a third currency, the Aruban Florin. Understood? 🙂
One Day in Bonaire – an Airline called Divi-Divi
Divi Divi Air is a Wilemstad-based local carrier, which is only operating between their home island and the other two ABC places, Aruba and Bonaire. Named after the Divi Divi tree (use the link to learn more on wikipedia), they operate two Britten-Norman Islander BN-2 aircrafts and a Twin Otter.
The flight has been scheduled to start at 8:00hrs from Curacao airport, scheduled flight time 25 minutes. It is just a short, less than 80kms hopper. I started the day taking some views from a nice platform above the airport, overlooking the Insel Air wreckages at their maintenance facilities and the whole site. Originally, I wanted to use these pictures for a Curacao airport review – but I felt it is unfair to do one currently, as the whole building is under reconstruction. Check-in for Divi Divi air was very efficient, emigration was extremely lame (yeah, this trip gave me four additional stamps to the passport, one emigration and one immigration on each island), so that overall, I felt a bit frightened how they will be able to serve my Air Canada service to Toronto two days thereafter. The airside area has some shops and bars, nothing special. The duty free shop did not have prices for the goods, very strange.
The flight to Bonaire was slightly delayed, also due to the fact that three gates share one alley and one transport bus – you even meet people arriving from other flights after having boarded. I loved the BN-2 flight, though I did not go for the best seat – should have asked to sit next to the captain. You could even spot dolphins from above! Bonaire airport is a covered open airport, as you might know them from Hawaii islands. Just grabbed some brochures and took a taxi to the scooter rental.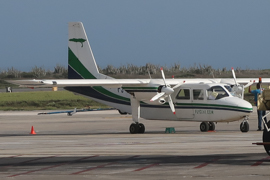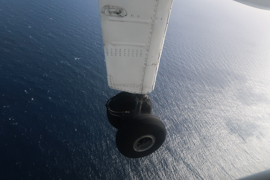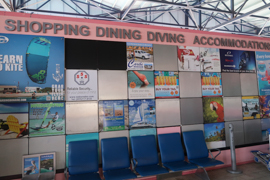 One Day in Bonaire – Two Wheels and 50 ccm
For this trip, I chose Macho Scooters, due to their good reviews and their location closeby the airport. They are located in the lobby of Plaza Beach Resort Hotel, which feels to be a very nice place, not too close to Kralendijk centre, though. The rental of the scooter was very efficient and despite the flight delay, I chose to go Southbound at about 9:30 hrs.
One Day in Bonaire – Flamingos & Donkeys in the South
There was a medium cruise ship in port that day (the Macho guys told me it is the only one during this season – in winter, there are about two major ones per day). This lead to quite crowded streets on my way towards the South and a lot of other tourists. However, I much more fought against strong side winds, which made it quite hard to control the scooter. The scenery is lovely, though. You majorly pass by the salines, which have been originally driven by slaves, broke down after the end of slavery, but are now used again, as they can be operated by machines. You can also see the old slave homes on route. On the right side of the street, there is the Caribbean Sea. What a lovely color of the sea. There were also many people for scuba diving and I passed by some kite surfers. After that, I could spot some of the famous flamingos on their site in the saline area.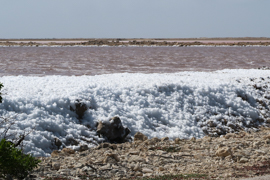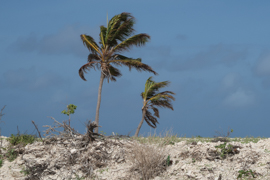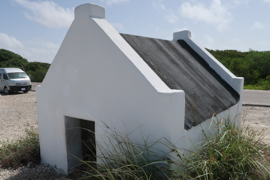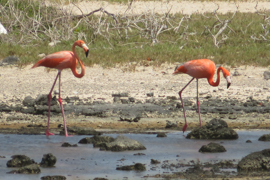 After that, I completed my Southern loop by a left turn coming to the Donkey Sanctuary, which is closely linked to the history of the salinas: the donkeys have been brought to the island to support the saline work. However, with the breakdown of them, the donkeys have been released, so that there are masses of somehow wild donkeys all around the island. Those who need assistance for any reason are brought to the huge sanctuary, which is just massive and currently hosts some 700 donkeys. There are also some other animals like turtles who live there. The visit is 8 USD and done like a safari park – you simply drive through the area and explore its sheer immensity. It was a lot of fun driving through the area with a scooter, as the curious animals approached me all the time. Loved it!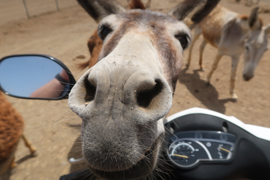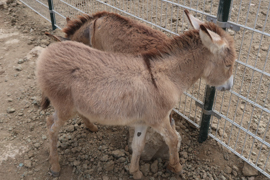 One Day in Bonaire – Kralendijk
After that visit, I parked the scooter in Kralendijk, the capital of Bonaire. The city is colorful and cozy, but I definitely prefer Willemstad more. There were a lot of people around due to the cruise ship. Impressive to see how the locals try to sell their tours and local goods. Nevertheless, it was fun to see the city and stroll through the streets. Definitely nice to visit – there would also be some interesting tours and museums you could do if you had more time.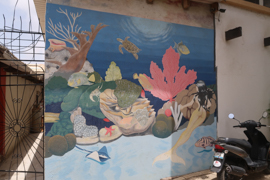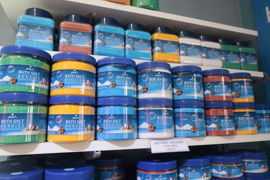 One Day in Bonaire – Going North
There was not too much time left before I had to return the scooter. I decided to nevertheless go for the Western coast road North, which was a bit difficult at the beginning with oncoming traffic on a narrow road, but then even turned to a one-way drive Northbound – a lovely track along the coast with a lot of nature and numerous diving sites. If time had permitted, I would have opted to follow the route until the BOPEC oil tank sites, but turning right for the direct route to Rincon was also quite nice. I had a great time and felt it is just a great way to explore the island, as I felt on Sao Miguel in May as well. Had some nice views of the village of Rincon before I took the Eastern route back to Kralendijk – a fully developed street, but with not that much traffic (and not that much tourist buses as well), but some very interesting views – nice one! I more or less took the direct way back to the airport area / to the hotel to return the scooter.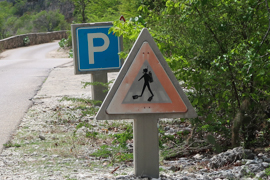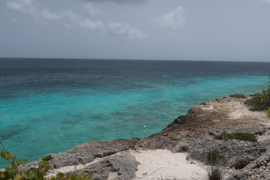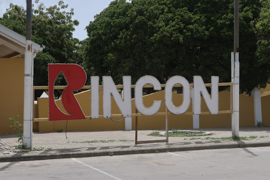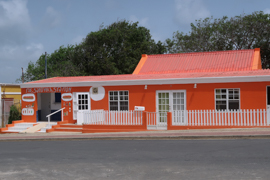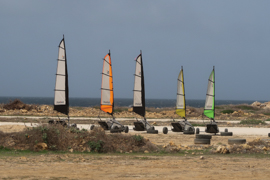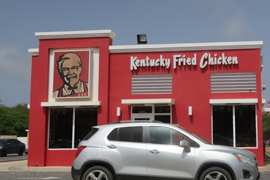 One Day in Bonaire – Insel Air 🙁
As an aviation nerd, you just need to go for another airline on the way back – thus I chose Insel Air (nice German name – Insel means island) for the way back. The airline is definitely more known than Divi Divi Air, also due to their economic problems and their relaxed interpretation of plane maintenance, which lead them to significant trouble. They operate the trip from Bonaire to Curacao with a Fokker 50 plane, which is quite major compared to the BN-2 on the outbound trip. I arrived at some 15:30 hrs, 90 minutes before the flight. When I asked the Insel Air sales lady where the check-in would take place, she first told me that my flight will be delayed until 20:40 – which finally turned out to be a cancellation and rebooking to another flight. Unfortunately, all Divi Divi flights for that day have been sold out, so I had to wait at the airport, which gave me some time to look around the airport. Not much to see, but the landside airport bar is really nice and offers a nice view to the arriving and departing (reliable) Divi DIvi options. There are no flight information screens in the airport (some are out of order, some are taken down), so the check-in to Curacao started at about 18:00hrs without notification (and initially with a Santo Domingo flight on screen). I watched the handling of two Amsterdam flights, one KLM and one TuiFly one, which looked very odd, but were extremely efficient with short turn-around times.
At least, I made some friends with businessmen who wanted to travel on to Aruba and felt even more cheated than me. At about 21:00 we found out that there will be an Aruba Airlines plane doing this service. Finally, the Canadair CRJ-200 arrived at about 21:20. Some people boarded first being brought by a civil bus right to the plane – I highly doubt they were processed correctly. The service was very unmotivated as well – the safety instructions were interrupted by having to do other stuff in parallel and the cabin check was more like a rush without looking. At least the flight was comparably okay. I hoped to be able to do some pictures from above, but it was not possible. Finally, I arrived in Curacao at about 22:10, having to do the immigration process before being back in the hotel some five hours later than expected.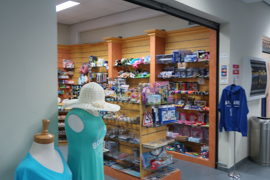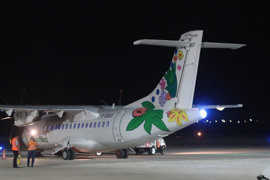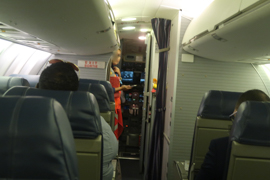 One Day in Bonaire – Full Gallery
You will find a full 235 picture gallery on my day in Bonaire under the link below:
Other Curacao Trip Postings

As part of my July travel to Curacao, I so far have additionally posted the following reviews:

In addition, as part of this travel I have done a daytrip:

I flew Air Canada Rouge on this trip:

The following galleries have been published on this trip: