After having arrived in Gibraltar and Algeciras the day before, the remaining trip would not stay in the European Union, despite there have been four flights between Europe and Africa missing. Day 3 lead me to Ceuta, not that far away from Tangier, followed by a flight to Malaga. The special fact about this leg of my trip: Apart from ferry boat and going by car through Morocco, Ceuta can only be accessed by helicopter, so that I had my debut on the rotor-driven flying.
Airborne to Africa
My first helicopter flight ever! Compared to the world shortest intercontinental flight (by plane) I did the day before, this one was a real short hop, with some 30kms air line and a scheduled flight time of ten minutes (the net flight time has finally been about nine minutes) of that Helity Copter Airlines experience. As I felt that this topic might be very interesting for you, there will be a detailed review with information in separate posting soon – but I can say that I absolitely enjoyed the flight! Crossing the Strait of Gibraltar in that low height with a (comparable) low speed was just intense. There were also some really nice views during the flight.
The colouring of the pictures from inside the helcopter is very poor as the windows of the Agusta-Westerland Helicopter are tinted in dark blue and have to correct that somehow with Photoshop.
Ceuta – A Swimming Pool with a "Wow"
The first steps in the Spanish exclave were already quite promising: in Parque Juan Carlos I, there was a training show of the Spanish military for kids – and when I came by the the Parque Maritimo, a public swimming pool, which was just about to open, I was absolutely overwhelmed: this place, which is surrounding Ceuta Casino is just a beauty – I feel this place is absolutely worth visiting if you have more time. The admission priceses are ridiculously low and start at one Euro for a late evening swim (and do not exceed 4.50 Euro). There are a lot of plants around that place, so that Ceuta welcomes the Helity passengers with a lot of colour and sights which make you like to want more!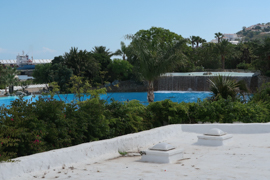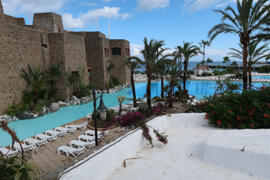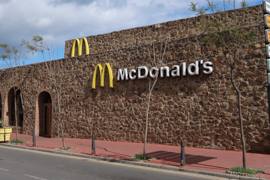 More Sightseeing and Shopping in Ceuta
After that close-to-coast experience, I went into Ceuta city centre. It is really a beauty with a nice pedestrian zone. As Ceuta is duty-free, there are of couse tobacco and liquer stores, but also a lot of fashion. For those and electronics, I could not see a significant price difference to Spanish Mainland prices. There are also some really interesting sights around city centre. One very remarkable place is the House of Dragons, which is "protected" by these beings on its roof. There are a lot of interesting squares, but Plaza de Africa is maybe the most beautiful ones. There are also remains of the old fortress walls of this former Roman place and I enjoyed visiting the Grand Market Hall. Unfortunately, in a one-day trip, I could not visit the border (which might be quite impressing) and especially the Eastern part of the penninsula. Before going back to the heliport, I had some nice Chinese meal – just when some of the stores started to do their siesta break.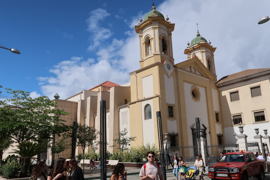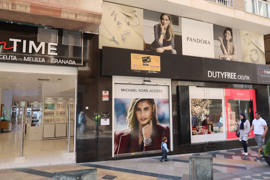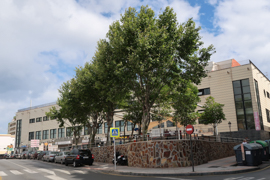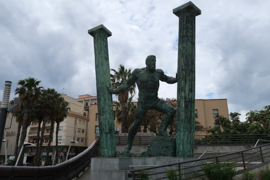 From Ceuta to Malaga
Though I sat next to the windows in the same Helity Agusta-Westland again, I could not take too many pictures (also because it has been fully booked). Quite interesting experience to land at Malaga Airport. Nevertheless, it has been an awesome experience, especially due to some nice views before reaching Malaga after some 25 minutes of the Costa del Sol.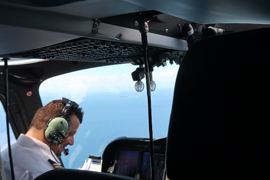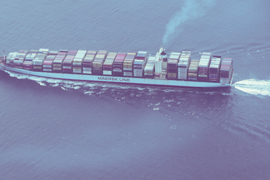 Airport Hotels without Airport Connection
For my next two nights overnight, I decided to take the Sercotel right next to Malaga Main Train Station. I originally opted for the Holiday Inn Express Airport Hotel – but unfortunately, all Malaga airport hotel have two things in common: first of all, they do not offer an airport shuttle – and secondly, walking from the airport to the hotel is close to impossible. For the HI Express, you need to cross two expressways, so that google gives you a 3kms distance from the terminal (you need to clearly state that the HI Express is the closest one). As Malaga airport is nicely connected by bus and regional train, I preferred to look out for deals in the surrounding cities. I finally ended up at the Sercotel Malaga, close to the Malaga main station. As all the walking the previous days tired me quite a bunch, I just had some time around the station and the nextby shopping opportunities.
Six Intercontinental Flight Weekend Gallery
Six Intercontinental Flights in 72 Hours
Here are the other postings of this Trip Report
Day 3, 25th May 2018: The Helity adventure: Algeciras and Ceuta