Being in Milan until the early afternoon, checking out an Italian rail lounge for the first time – and then going to the magical city of Rome – feels like a good plan for Day 2 of my train trip through four countries.
The non-touch Breakfast Buffet
Okay, I really have to admit: there was no smiling cheese at Hilton Milan buffet like the one I had the day before. I did not even order cheese. But apart from this, breakfast was lovely. The had a buffet, but you told the waiters what you want and they brought it to the table. Great concept, great staff – so it worked out. Sometimes I feel, you just need to be a bit more creative during these times.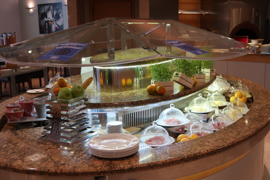 Do I feel safe in Milan?
This is a question I originally wanted to answer in my Day 1 entry already – but it already got quite lengthy, so I postponed it by one day.
The answer is quite simple (and honestly, as I expected): absolutely, yes! The city is full of distancing concepts and hygienic measures, it feels perfectly organized and – of course – the capacities run are very low. Nevertheless, even the trams, any museum etc. has a great Covid-19 concept. If you want to do many things on few days, this may be bothering as some museums, for example, just open on a few days…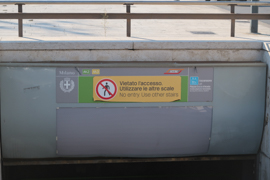 But overall, it is a great time to travel to Milan to me. I would even say that I feel safer than in Germany as the people follow the rules. You hardly see anyone without a mask in public transport… Even the nose-free mask style is extremely uncommon in Italy (especially compared to Germany). People take care – and that makes it very convenient. Of course, there is still the travel and transport risk, especially the way I got to / leave Italy.
In and On The Milan Cathedral
Only a short metro ride from the hotel I went to Duomo (Cathedral) and went out to Cathedral Square. Almost all things I wanted to do on this day in Milan was around the Cathedral, so I guessed it would be a cozy day. Ain't that a lovely view around?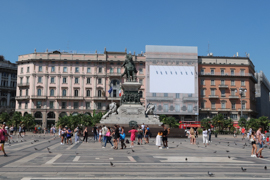 But of course, there is the Cathedral itself. So, let's have a look inside. There is a detailed Pictured Story of Milan Cathedral available.
I am not too much into religion. The more, it is surprising that I spent more than three hour with Cathedral attractions only. All the attractions around the Cathedral can in principal be bought autonomously, but the packages they offer are of course much more attractive. Thus, I took the rooftop lift option", which also includes a lift ride up the roof of Milan Cathedral. I thought it is like a platform up there – but in fact you more or less walk around three quarters of the roof edge – including a detour to the very top. Amazing – but as I am afraid of height, also quite demanding. The view and the experience is of course absolutely memorable!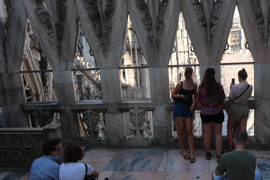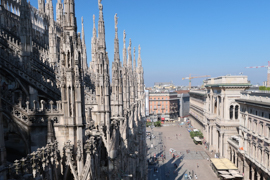 About Milan Cathedral
After being happy (and close to praying… Yeah, it works 😉 ) to be back in safe grounds, the next stop was the Cathedral Museum, which was also part of my package. As said, it is not my core competency, not my core emotional-mental thing – but I really was enchanted by all the lovely artifacts they got there.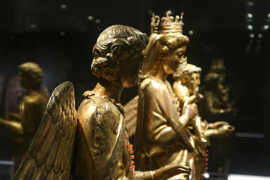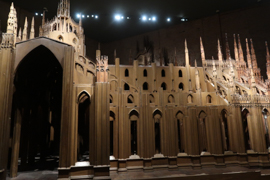 Famous Shopping
Some more time to look around Cathedral Square. I also had a quick bite at the Burger King (hint: take the menu of the month, which is 4 Euro compared to 10…). Does the view feel familiar to you?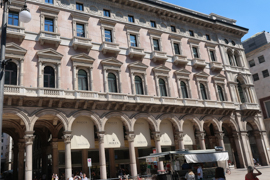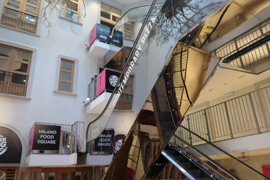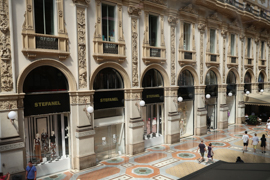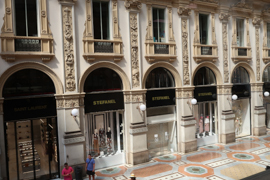 The fast food temple is surprisingly having a view to Galleria Vittorio Emanuele II – likely the most well-known (and also likely: the most beautiful) shopping mall of the city. I just enjoyed to stroll through it.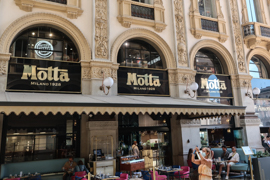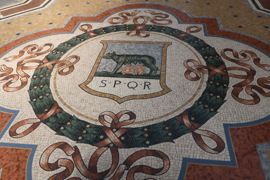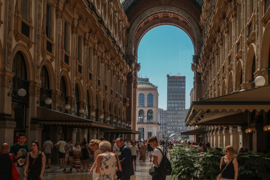 Leonardo, Scala e Gelato
I would have loved to take pictures at the Leonardo3 museum to share a full review with you later. They have reconstructed a lot of machines which have been thought through by Leonardo da Vinci – unfortunately, photography is prohibited (which I feel is super-silly nowadays). It is still an interesting place. As it was already around 14:00 hrs (I left the hotel around 8:45…), the famous Scala and its museum was closed already.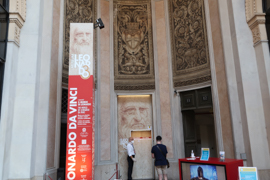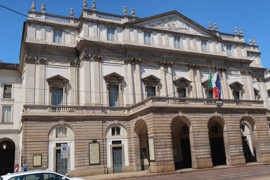 There was one very important thing about Italy, which I hadn't tried so far on my list: gelato / ice cream. Lovely!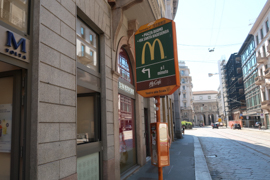 I took one of the old trams (not in the pictures) to the hotel area. By the way, there are also modern trams – but I definitely prefer the traditional ones (see Day 1 posting).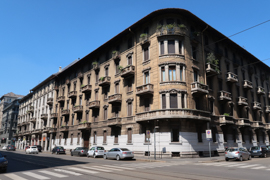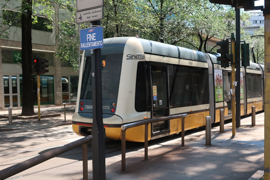 Travelling with a Smile… Behind the Mask
I am not sure what I looked forward to most before the whole trip – the Frecciarossa Executive class ride from Milan to Rome or the Nightjet train to Munich. It does not matter. After having some time in Milan and feeling the North Italian heat, I looked forward to have some enjoyable transportation in luxury style, definitely. I had some time to enjoy Milan Central / Milano Centrale station. Beautiful one!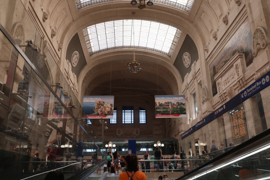 The trip started with my first lounge visit since 16th March 2020 (which was a rebooked trip from London to Dusseldorf) – so I even more appreciated the FRECCIALounge at Milan Centrale station, which was included in my rail ticket.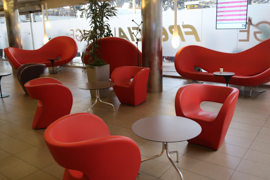 The train, which had slight delay from Torino already, was an absolute blast. Lovely seats, some really nice snacks (unfortunately, I have been too early for dinner…) and a lovely service – highly enjoyed the trip and loved to relax a bit while rocketing through Italy with up to 300kph (the best moments, of course, were when we rode in parallel to a congested Italian motorway… Schadenfreude (a German word you just cannot translate).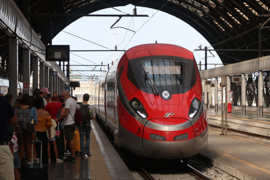 Buonasera Roma
Already the days before the trip, I was thinking when I have been to Rome the last time. I had an overnight near Rome Airport before the Italian WFC Qualifiers in 2017, but did not see anything of the country. Likely, I hit Rome the last time in the late 1990's or so… The more I was looking forward to be back there – and also to see, how the less impacted capital will deal with the Covid-19 situation. However, for that day, I wanted to have it short: arrive at Roma Termini station, grab my hotel, doing some stuff (like this diary entry)… and good night. I definitely had a good sleep at Hotel Massimo D'Azeglio.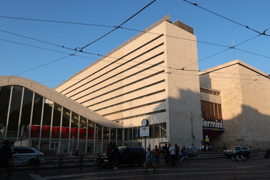 Four Countries, Four Trains – Day by Day
Here are the links to my daily coverages. I will assign the entire Nightjet trip to the final day.
Day 2: 8.8.2020 – Milan to Rome
Flyctory.com about Italy
Here are all postings related to Italy:
Flyctory.com Views from Above
Here are all postings tagged as Views from Above, dealing with any kind up-in-the-air viewpoints: