First day of my Weird Al trip in April 2022. I was initially even thinking about merging it with Day 2, as there will likely not be happening too much – but then I felt a slow starter might also be a good one. Getting over the big blue one on the very first day of my trip.
| Date | Flight | from | to |
| --- | --- | --- | --- |
| 25.4.2022 | AA 6681 | Dusseldorf (DUS) | London (LHR) |
| 25.4.2022 | AA 141 | London (LHR) | New York (JFK) |
Late Starter this time
The flight to JFK was expected to land at 2230 local time. I generally like these flights. The key factor is that JFK is rather empty so that all the immigration stuff works easy and smoothly. I could also have an almost full workday and then head to Dusseldorf Airport (DUS). They really have more and more issues with airport security there. Despite just having four or five people in front of me in the line, it took me some 20 minutes to get airside. At least, it gave me sufficient time to grab a bite at the airport's Open Sky Lounge and hurry preparing the Upsahl interview – hope you enjoy it as much as I do.
Heathrow Chaos
Dusseldorf Airport (DUS) is having issues – but Heathrow (LHR) feels to beat them easily currently. Yeah, I am used to have endless holding pattern there and waiting somewhere as your gate is not free. This day's experience has been unique, though: even though we departed some half an hour, we just made it in time… To wait at the gate. The automatic plane parking position stand guidance system was not working in major parts of the airport. There was also too few staff to do the good, old parking process. It took us twenty minutes to finally be at the parking position and some five additional ones to find a jet bridge driver. I was in a great hurry now. Sorry that I did not do too many pictures here.
90 Minutes… Too Early
Good news: I made it – and my suitcase made it as well (which I have honestly been a bit of surprised about). Did I ever say that I love Global Entry? Again, had a very smooth immigration to the US, waiting for the luggage rather than waiting in the line.
However, the flight was really weird. On the positive side, I feel I never had such a quick Westbound service from Europe to the US. 6:30 hrs flight time is what you typically have with tailwind going back home. The American Airlines Premium Economy cabin is a nice one (see my A330 based review), but the service was really weird. My seat was blocked, they did not communicate about it and then they skipped the second meal service. I don't care too much about the sandwich or whatever, but the drink service is highly appreciated. And giving the reason "the flight was so short, we just did not make it" is a bit too thin as an argument, American Airlines, ain't it? It was still a six hours thirty minutes flights, not just a thirty minutes flight.
Good Night!
Good thing about all that: I was already in my room at the Microtel Inn Long Island City in Queens, when I was originally thought to be in the immigration queue or maybe wait for the luggage. The pickup area for Uber etc. was so chaotic, I went for a classic yellow cab – which was surprisingly cheaper than the price Uber gave me finally. The hotel: no place I would recommend for your honeymoon, but clean, nice room, good staff – and all the restaurants around closed as well as vending machines broken. Good night New York City… Without a drink (later, I felt I could have used Uber Eats or similar… Too late…)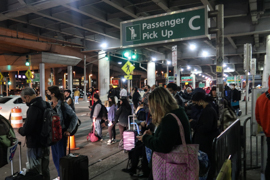 Weird Al Yankovic 2022 Tour Kick-Off – Day by Day
Here are the episodes of my 2022 Weird Al Yankovic tour kick-off trip report
Day 1, 25.4.2022 – A really weird Trip… But at least fast!
Weird Al Yankovic 2022 Tour – Flyctory.com Playlist
At the morning of Day 2 of the trip, I decided to create a playlist with all the originals (and very few covers). Just when you need a warm-up soundtrack:
New York on Flyctory.com
Here are all postings about the "Big Apple":
Travel Postings about London
Here are all travel related postings about London: