Day 1 of my trip to the Penguins. The travel days to the US are typically not too thrilling. Leaving home, airport, another airport, immigration, rental car, hotel… Something like this. At least this 25th February 2020 had some promising stages, including my debut in flying Air New Zealand. There were two flights scheduled for this day, from Frankfurt via Heathrow to Los Angeles.
| Date | Flight | from | to |
| --- | --- | --- | --- |
| Tu 25.02.2020 | NZ 4202 | Frankfurt FRA | London LHR (T5) |
| Tu 25.02.2020 | NZ 1 | London LHR (T5) | Los Angeles LAX |
No Germans on the ice this trip!
First bad news before heading to Los Angeles was already on the evening before the trip: the Penguins confirmed that they traded Dominik Kahun – I was really looking forward to see the German forward again – but they just moved him to the Buffalo Sabres. Bad luck. Even worse is that the second German I was aiming to see on the ice, Korbinian Holzer, just left the Anaheim Ducks and joined the Nashville Predators. Thus, the only German left is Los Angeles assistance coach Marco Sturm, who also played for my home town team Cologne. Thank you, Dominik, for your time at the Pens!
Early morning drive to Frankfurt Airport
Flying from Frankfurt Airport is typically a rail ride from Cologne. The high-speed train is very reliable and efficient and takes just less than an hour. However, there was still carnival season in Cologne, so I did not really dare to see the human party remains at the main station. From my home, the drive to Frankfurt Airport is less than two hours, even though the weather was terrible.  I finally found a parking slot in the by far too narrow Frankfurt Airport parking garage and went for the check-in at the airport.
Senator Lounge & Heathrow
Instead of using my preferred Air Canada Lounge, I gave the Lufthansa Senator Lounge a try, majorly to take some pictures for a lounge review. While I have been asked not to take pictures in a nearly-empty lounge at my last visit, it was really crowded this time – but I could get a seat in the working area and do some stuff for the website as well as preparing a New Year's trip later this year.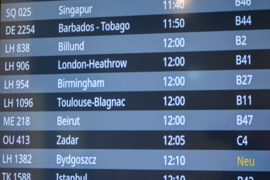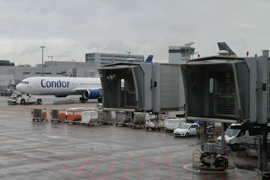 The flight to Heathrow was slightly delayed, but overall very fine. The only odd thing was a girl right behind me, who felt to have terrible aviophobia during take off, but then made jokes with her sibling about crashing planes during arrival. Lufthansa is just a wonderful airline, I guess. Maybe it was just the input of her mother who felt to cheer loudly after a smooth landing in quite easy weather conditions.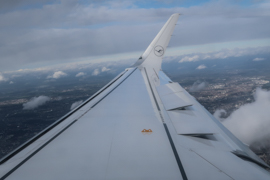 Singapore Airlines SilverKris Lounge
I directly headed to the B Gates, where the flight to Los Angeles was expected to depart. Though the Lufthansa Senator Lounge at Heathrow is not on Flyctory.com yet, I have been there so often that I felt to try out something new. After the amazing First Class Lounge experience in Singapore, I was looking forward to the SilverKris Lounge – finally a really nice some one hour stay.
Air New Zealand!
I could have taken a Lufthansa First Class ticket on award miles for this trip – but I felt that having my debut on Air New Zealand just was the better option, even this was more than 1,000 Euro for a Premium Economy ticket. Boarding was a complete mess as the ground staff and sent me to different places for check-in so that I finally boarded Premium Economy very late and could not take cabin pictures. At least most bulkhead seats were free and I could work quite some time in the plane. Nice service, good food, especially the pre-landing Refreshment.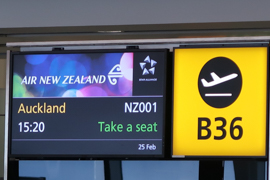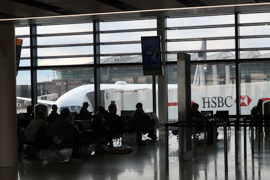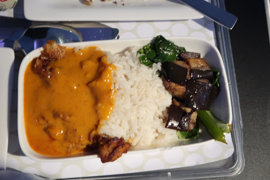 Welcome to L.A.
It was the third trip I had into Los Angeles Airport from Europe. The first two ones were somehow messy – during my wedding trip at the end of 2013 as well as visiting the Weird Al Yankovic Hollywood Bowl shows in 2016 meant long queues at the immigration, traffic jam to the rental car facilities and even more traffic jam to the hotel. I now have a Global Entry – and the airport changed the traffic concept. Wow, everything went sooo smooth – and one hour after touchdown, I was already driving towards Anaheim. Cool! The lights you see in the sky on the last picture are planes by the way – perfect organisation made in L.A.!
Good Night, Mickey!
I knew that my hotel is not too far from Disneyland – but I was quite surprised that DoubleTree Anaheim Convention Center is actually a walk away from Downtown Disney. Maybe I will make use of it the next days… But for today… Good night, Mickey 🙂
California with the Pittsburgh Penguins – Day by Day
Here is the overview of my daily postings on this trip report.
Day 1, 25.2.2020 – Transatlantic with a touch of New Zealand
Flyctory.com in Frankfurt
Here are all postings related to Frankfurt:
Airline Postings
Here are all postings related to specific airlines and their flights: