After the helicopter adventure on Day 3, travelling to the other major Spanish exclave in Spain, Melilla, was on the more "traditional" side as there are frequent (plane) flights. After all the interesting experience on that trip, I was really looking forward to my last major destination that weekend.
Back to Africa
I somehow did not check the regional train schedule correctly – so when I arrived at the train station in Malaga in the morning at some 7:15am, I found out that the next (likely: the first) train will leave in some 40 minutes. As I also just missed an airport bus and was not sure about the traffic at the airport, I rather went for a taxi.
There is no self-check-in service at Air Europa in Malaga Airport (felt very strange..), so that I had to queue to get my boarding pass despite I just had hand luggage. There has not been too many flights already departing at that time, so that security was really smooth and I had much more time to stroll through the airport than I thought.
The Air Europa service to Melilla is operated by Swiftair. I don't like them too much, not just because they completely messed up a connection in Ibiza about half a year ago (which also lead to the situation that I had to drive to Frankfurt thereafter in order to catch my suitcase two days after arrival). The best thing about the sparsely booked flight was the bus transfer with some nice views of the apron and a very unintended piece of entertainment: one of the passengers was bound to a wheelchair. The mobility services of the airport completely struggled to get the guy into the ATR 72 – after more than ten minutes with us watching the desaster from the transfer bus, they decided to simply carry the boy into the plane. The plane was absolutely run down, there was hardly any service – at least there were some nice views around.
Another Spanish Exclave – Melilla
In order to structure my Melilla review a bit, I split it in three sub-chapters.
Melilla – Plaza de Espana and City Center
There is no airport bus or similar, so that you have to take a taxi to get to city centre by taxi. You may walk if you do not luggage, but the maybe three to four kilometre drive may not be the nicest one you ever took. I left at Plaza de Espana, which is somehow the heart of the modern city – and was also nicely decorated as the Spanish army had the 100th anniversary of their presence.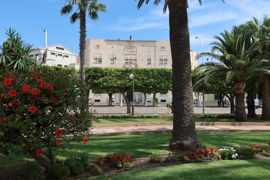 Afterwards, I took a walk through the modern city. In general, Melilla has introduced quite a cool idea of a self guided walk – there are posts, which tell you about the place you are currently at and how to get to the next one. This "old-style city geocaching" experience is unfortunately very impacted by the small fact that most of the posts are nowadays missing. The city is beautiful. According to Lonely Planet, it is the place in the world – apart from Barcelona – which has the highest number of modernist buildings. Out of city centre, the buildings sometime feel very run down, but the streets around Plaza de Espana are a real gem! Similar to Ceuta, there are a lot of stores of most major brands – however, a huge number of stores were closed to my surprise. Fashion is definitely dominant in Melilla and there are significantly less electronics stores compared to its exclave sister.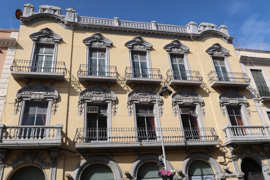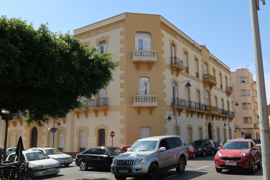 Climbing up the Hill in Melillas Old Town
While the city centre is more or less on one level, you do have to climb if you want to explore Melilla La Vieja, the Old Town. You quickly forget that this place has been reconstructed. Apart from the beautiful fortification walls, it also covers some very interesting museums (some are for free). If you finally make it to the summit, where the Military Museum is located, you are granted with magnificient views of the Mediterranean Sea. Lovely walk up the hill!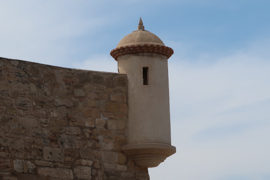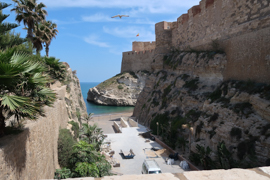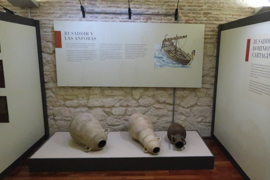 My favourite Place – Parque Hernandez
My absolutely favourite place in the exclave has been Parque Hernandez. though. Being direclty adjacent to Plaza de Espana, it the large green oasis of the city centre with a lot of vegetation, many benches to have a rest and also some small stores where you can grab an ice cream or a cold drink (or even can rent some kettcar-thing vehicles for both, kids and adults). I absolutely loved that place.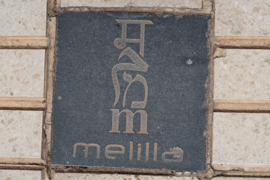 Overall, though, I have to say that I iiked Ceuta much more than Melilla. Melilla has a vast potential to be a beauty, but it felt too sleepy, too laid back to me. Maybe, it has much more vibrant feelings and action in the very high season, when masses of tourists invade the city. Nevertheless, I loved enjoying the city and relaxing in there – and, of course, if you are an architecture lover, you just have to visit this place!
Back to Malaga in Style
After the at most reasonable Air Europa / Swiftair experience on the outbund flight, I had much higher expectationsm flying Iberia's regional spin-off Air Nostrum on the way back to Malaga. I had a lot of positive experience with them already, they are one of my very favourite regional services. Despite that, it has been my first ATR 72 flight with them – in fact, the flight was taken by a Danish Air Transport plane with a Danish cockpit, but Iberia / Air Nostrum flight attendants. Before the flight, I had quite some time to look around the tiny Melilla aiport (there is a designated review of the airport on flyctory.com).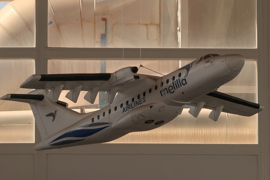 I had a business class ticket (which also included the transfer on Day 5 to Dusseldorf), so that I had the funny experience to sit on the very back of the plane for that (ATR 72 is boarded from the back). The plane has been numbered from back to front, so that row 1 was in fact the row in the very back, which I never saw before. Air Nostrum service has been great again – you get a nice small meal / snack (could even have the choice of two different things, I opted for a spinach quiche) and drinks. I took the regional train back to Malaga and had a nice evening snack in a Tapas place in the station before heading back to the hotel.
Six Intercontinental Flight Weekend Gallery
Six Intercontinental Flights in 72 Hours
Here are the other postings of this Trip Report
Day 4, 26th May 2018: Melilla