There are a lot of factors which made me look forward to the first destination of my trip, Tangier in Morocco: first of all, it felt to be a thrilling place to me, being the African Gate to Europe. One other factor which influenced me has been a song by one of my favourite bands, hometown Cologne-based band BAP, who wrote about a roadtrip to Tangier more than ten years ago. You might not understand too much (even if you know basic German) due to the slang, but maybe you liket he song nevertheless:
Flight Delay in Cologne
Did not really know what will lie ahead. First of all, two interesting flights, the TAP / Portugalia service from Cologne to Lisbon, shortly followed by the connection to Morocco. I went from the office right towards Cologne / Bonn airport and have been quite relieved that the flight seemed to be in time – the connection in Lisbon was just one hour, so that felt to become very challenging… However – bad luck! Despite the plane's boarding in Lisbon has been on time, the expected delay in Cologne was about 40 minutes – at least, this has been shorter than the days before. If I missed my connection in Lisbon, this would have significant impact to my trip – next flight Lisbon to Tanger would be Monday, which of course would have been ridiculous. The adventure became adventurous and I decided to look for flight alternatives to Tangier instead of working on posts on my recent Munich experiences.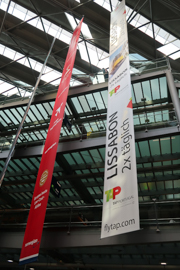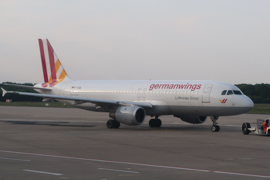 Finally, boarding began at 19:05, roughly as announced, and felt terribly lame for an Embraer 195 which was maybe half booked, Apart from passengers, there was also a full crew, two pilots and three flight attendants off-duty, which boarded the plane and took seats in Business Class. The flight itself was lovely, the catering on TAP regional services is also absolutely fine and I had some really cool views of the clouds in the plane. Unfortunately, the purser was just terrible in my point of view. She barely missed to sit down for take off as she was talking to one of the off-duty pilots all the time at taxiing – and shortly after take-off (first with the seat-belt signs on, and then off), she continued to chat with the off-duty crew, of course not being properly seated. Maybe ten minutes after the seat belt signs have been turned off, the business class passengers already became a bit nervous and she started to close the curtain… Of course, being more concentrated to keep on chatting with her colleagues. After landing, being some 25 minutes still delayed in Lisbon, the off-duty crew delayed unboarding because they blocked the aisle to say good-bye to their colleagues in cabin and in the cockpit. I really loved the performance of TAP on my trip to Sao Tome, but this Portugalia experience was really worsened by the crew.
Good Luck, Bad Luck – Flight Delay in Lisbon
Being a bit nervous at landing whether I would make it to Tangier this evening (and if I could persuade the TAP ground staff to book me on the next early morning Iberia connection there via Madrid) took not that long after landing as I received a text message from TAP that my connection was also delayed by some 30 minutes. The gate was close to passport control, so the transfer was easy – I might have even taken some Pastel de Nata from the nice TAP lounge instead of buying them in a shop. The White Airways ATR 72 was boarded on an apron position, so that we passed by some interesting planes in the transfer bus. The service on the short 1:20 hrs flight was absolutely fine, I have just felt a bit sleepy. Apart from that, the guys sitting behind me, who also came from Cologne, were terribly strenous – I am sure there was a party at their home town that they are gone to Africa for a couple of days…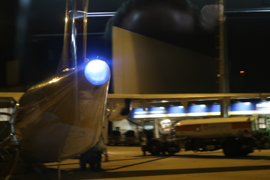 The border control in Tangier, where the White Airways plane was the only one at that time, were smooth, luggage has been already at the belt and apart from that I did not manage to get money out of the cash machine, everything went fine, including a very nice driver in an old Mercedes 190 taxi (I am sure this one did its duty in Germany before 🙂 ) bringing me to the hotel. The town looked Arabic, the smell was a bit like when I walked in Delhi from the hotel to the tennis stadium (which is not charming…) and Tangier just won the Moroccon soccer championship, so people were cheering on the street – nice welcome 🙂
Good Night Tangier – Staying in a Grand Hotel
The hotel which I originally booked was closed for renovation, so they reserved me a room in the Grand Hotel Villa de France – an absolutely lovely place at first sight with a spacious room and very nice staff. However, I did not do anything special apart from going to bed – will explore the hotel on Day 2.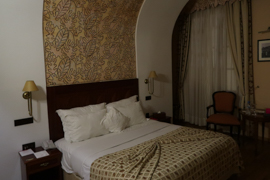 Six Intercontinental Flight Weekend Gallery
Six Intercontinental Flights in 72 Hours
Here are the other postings of this Trip Report
Day 1, 23rd May 2018: From Cologne to Tangier